~~posted by Jen
So last night I got semi-ambitious and made Low Country Boil for our Friday night dinner. For those who're asking "WTH is Low Country Boil?", I'll tell you! It's a very common dish in Coastal Georgia and the Carolinas. For you Northeastern folks, it's like a clambake in a pot. Quite simple to make, here's how:
Basically you bring a ginormous pot of cold water up to a boil, season it with some Old Bay, and a couple tablespoons of butter. For your main ingredients, base the amount of each on how many people you're feeding. Once the water is at a good boil, throw in some whole potatoes and kielbasa or smoked sausage links.
Let them boil for about 5 minutes, then add in some ears of fresh corn on the cob, boil another 5 minutes, then add your seafood. I usually add shrimp, crab claws, crab legs if I get a good price on them, and sometimes clams. (You can use lobster, mussels, whatever seafood you like. I would not try fish, only shellfish or mollusks.)
Boil it for another 2 or 3 minutes, just until your seafood is done. (When the shrimp turn pink, they are done. Same with the crab claws. MAKE SURE NOT TO OVERCOOK THEM, or they will be rubbery and your pouch will NOT be happy.) Then drain the water out, spread your table with newspapers or brown paper bags, and pour the whole lot down the middle of the table. (Kids LOVE this because it's like making a big mess, only not.)
Serve some melted butter, lemon wedges, mustard, and cocktail sauce as condiments for the seafood and sausage. Toss a loaf of crusty bread on the table to pass around. It's a great way to entertain, very easy, and LOTS of fun! Everyone eats with their hands, then when it's all finished, roll the whole thing up and toss it in the trash. Best of all, only 1 pot to wash!
I had some leftover shrimp from dinner that I wanted to use up, so I made Shrimp Fritters today. You can also use leftover salmon, crab, tuna, or basically any kind of fish if you prefer. I hate serving leftovers in the exact same form I originally served them, so I try to make them over into something "new" for the second round. It's kind of a challenge, and I think it's fun. But y'all know I am twisty like that anyway. Sooooo, here's how I did it!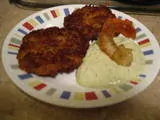 Shrimp Fritters with Lemon Pesto Dipping Sauce
Jen's Shrimp Fritters
12 large shrimp, peeled, deveined, chopped fine, I use
mini chopper
1 c
TVP
, ground fine (I use mini chopper)
2 large eggs
1 tbsp Onion Powder
2 tbsp Garlic Powder
2 tbsp
Old Bay Seasoning
2 capfuls Lemon Extract
2 tbsp celery flakes
4 tbsp multigrain pancake mix, I use
Arrowhead Mills
1 c Fage 0% total Greek yogurt
4 tbsp minced dried onions (or you could use fresh onions, just sauté them first)
¼ c French's Spicy Brown Mustard (or Dijon if you prefer)
2 c shredded cheddar cheese
4-5 tablespoons of olive oil for frying
In a mini food chopper or food processor, combine TVP, onion powder, garlic powder, celery flakes, Old Bay seasoning. Pulse until TVP is ground to consistency of coarse bread crumbs. Pour the dry ingredient mixture into a large mixing bowl and set aside.
Add the shrimp to mini chopper and pulse until well chopped. Add shrimp to the mixing bowl. Stir in the eggs, Greek yogurt, minced dried onions, mustard, and cheddar cheese. Fold ingredients together until well blended.
Form into 20 small patties. Pre-heat olive oil in a skillet and fry the shrimp fritters on each side for 2-3 minutes until golden brown, turning once. Drain on a paper towel lined plate until ready to serve.
*****Note: I formed up a very tiny patty and cooked it to test for seasoning before I formed and cooked up the whole batch. This is advisable anytime you make fritters (or meatballs, meatloaf, etc ) so you don't end up with a big batch of under or over-seasoned meat patties.******
Makes 20 small shrimp fritters, 2 fritters is my usual post-op WLS portion. Stats for 2 fritters (without sauce), using these EXACT SAME INGREDIENTS:
Calories: 211 Fat 7.9 g Carbs 13.5 g Fiber 3 g Protein 20.3 g
Jen's Lemon Pesto Dipping Sauce:


Ingredients:
1/2 cup Greek Yogurt
3 tablespoons Pesto (I make my own, but you can buy it prepared in the Italian food section of the supermarket)
2 tsp Lemon Extract
Directions:
Combine all 3 ingredients in a bowl and whisk together until well combined. Give it a taste to make sure you don't need to add any salt or adjust the seasonings. Great dip for seafood or chicken, also an awesome sandwich spread, or even salad dressing!