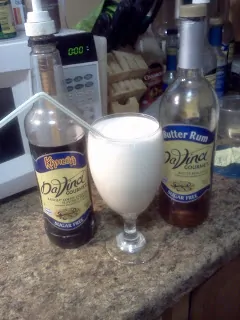 It's been a while since I posted a protein shake recipe. There is a good reason for that.
It's been a while since I've actually had a protein shake.
Don't get me wrong, I still love my shakes. But as I get further out, I'm capable of getting all my protein from solid food and these days I've been doing a fairly traditional "three meals, two snacks" sort of eating plan that hasn't included many protein shakes.
But last night it was HOT and I just got a craving for a shake. So I had to make one!
These days, I've been trying to cut back on the shake recipes that depend on sugar free syrups, but I have to tell you, this one is well worth the investment. If you already have the two syrups I use in this recipe, it's a great way to utilize them (especially since they don't integrate all that naturally into many different flavors) and for those that don't have them, it's definitely worth giving them a try!
Nik's Kahlua and Scream! Protein Shake
8 oz. milk (whatever kind you use)
1 scoop vanilla protein powder

2-3 pumps (or 2 tablespoons) sugar-free Davinci Kahlua syrup
1-2 pumps (or 1 tablespoon) sugar-free Davinci Butter Rum syrup

(NOTE: there is no actual alcohol in the Butter Rum Syrup)
3-5 ice cubes
Optional (and not in the picture): 1 tablespoon sugar-free French Vanilla pudding mix (if you like a thicker, creamier consistency) and 2 tbsp fat or sugar-free whipped topping for garnish.
Directions:
Mix according to the Triple X method or your favorite shake mixing methodology. Pour in a nice glass and SLURP! I didn't have a little paper umbrella handy but it is totally THAT kind of drink. This is a good one for the family barbecue when everyone else is imbibing. You can have this, FEEL like you're having a cocktail, and you won't end up with embarrassing pictures on Facebook.
It's a win-win.
Enjoy!