~by Jen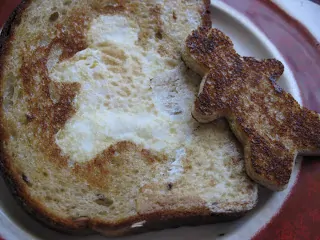 Most every region of the country has their own name for this popular breakfast dish. We called it eggs in the basket or toad in the hole, Paula Deen calls it "One-Eyed Sailor" in honor of her husband Michael, and I'm sure y'all may call it something completely different in your neck of the woods.
Basically, it's a piece of bread with the middle cut out and an egg fried in the center of the bread. I made it this morning for breakfast using P-28 bread, and it was NOM! This is one of those breakfast dishes your kids will love, because it's fun. They can even help with this one and that gets them in the kitchen, too.
Cooking with your kids is good for them AND for you. One of my earliest memories is sitting at my Granny Kent's kitchen table and pulling chicken off the bone and shredding it up for her famous chicken salad. An added bonus? Picky eaters especially benefit from "helping" in the kitchen, because kids are lots more likely to eat something if they help make it. Proven fact!
1 pan, 4 ingredients, and less than 10 minutes of your time are all you need to have a delicious, WLS-friendly breakfast your whole family will enjoy! You could make the family's with multi-grain bread, but I made this for the RV and myself with the P-28 today. Use cute shaped cookie cutters to cut out the center of the bread, the kids will LOVE that part! Nik uses heart shaped ones, I made mine with gingerbread men shapes because my snowman cookie cutter is M.I.A.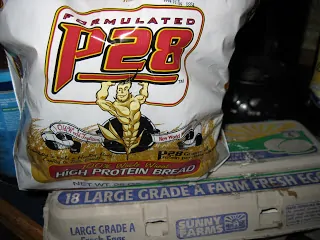 The Main Ingredients
The ingredients list is per serving, so multiply the amounts by however many people you are feeding.
Here's how it's done:
Jen's P-28 Egg In the Basket:


Ingredients:
1 slice P-28 Bread
1 large egg (you need a real egg here, not Egg Beaters)
I Can't Believe I'm Not Using Real Butter (But Nik Made Me) Spread
Salt
Directions:


Using a cookie cutter, remove the center from the slice of P-28 bread and set it aside (we'll make a cute little toast with this later). Spread the faux butter on each side of the bread slice. Heat a non-stick skillet, and put the bread slice into it. Crack the egg and pour it gently into the hole in the bread.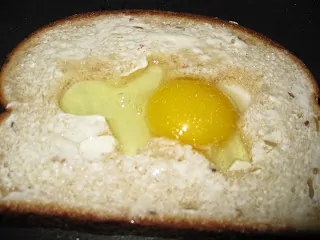 The Egg Man Cometh
Cook on medium high heat for about 2 minutes, then gently flip the bread over. Continue cooking until the egg has reached your desired level of done-ness. I like mine over medium, so I cook it about 2 minutes on each side.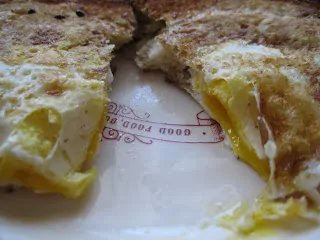 Perfectly over medium!
Remove the cooked "egg in the basket" to a plate and serve warm. Now we have two options with the cut-out pieces of bread. You can either butter each side and toast it in the pan now, like I did, OR you could make french toast out of the bread shapes and cook and freeze them for later in the week.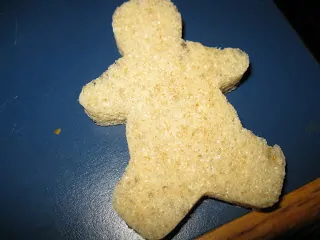 Plain toast or French toast? Which do I wanna be?
Your kids would probably like option two better, but play with your food! Do what YOU like. You could also serve some turkey sausage on the side, but half of 1 Egg Basket was a meal for me at 2 years out. Luckily the RV is a bottomless pit and ate the other half of mine.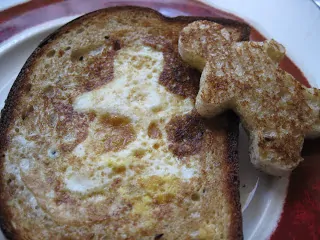 Dig In!