Free samples of this product were provided for the purposes of this review.
Chocolate Chip Cookie Dough.
Chocolate. Chip. Cookie. Dough.
Really Quest? It's like you looked into the mind of the average weight loss surgery post-op and searched for the one thing we miss and cannot seem to find a reasonable substitute for and THAT is what you made your next flavor.
Well played, Quest. Well played…
So this is the newest offering and they were nice enough to send me some to try! So here, of course, is my review.
The 360


I didn't do a complete 360 photo (showing both sides of the packaging) because…well I didn't. BUT, here are the stats for this bar (from the Quest website):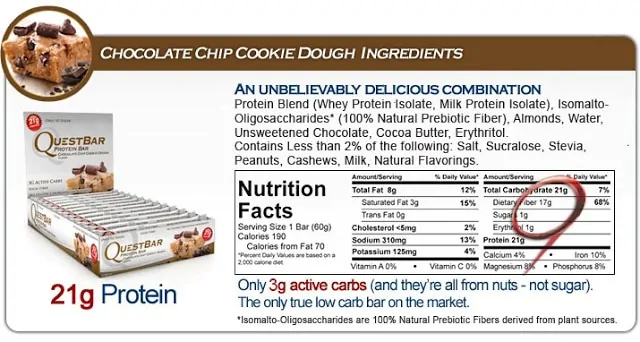 So let's go over my protein rules. For me to consider something a good source of protein it must:
Have one gram of protein for every 10 calories
Be significantly higher in protein grams than net carbohydrate grams
So how does this stack up? Well for the first, it would need to have at least 19g protein to match up with the 190 calories. It has 21. So CHECK!
For the second it has 3 net grams of carbs (since we don't digest fiber or sugar alcohols, here erythritol, we don't have to count either in the net carb count), so yeah…21g protein vs. 3 net grams of carbs would be significant in my book. So CHECK!
Aesthetics
For those new to my reviews, aesthetics are the look, smell and texture of the actual product.
The Look/Texture: Now, opening the bar, it looks like most any other Quest bar.
I recently had the pleasure of having an in-depth conversation with the folks at Quest about how they make their products and learned that all Quest bars are made with a base of nut butters (for those with allergies usually this is almond butter except in peanut flavored bars) which contributes to their…waxy…appearance and semi-tough texture.
BUT no worries, Foodies! We know from
former Quest experiences
that we can get around that texture by microwaving the bar for about 12-15 seconds in the microwave (more on that later).
The smell: Ok, here's a mystery. I opened the package and I smelled chocolate, that wonderful "sugary" cookie dough smell and…coconuts. So I look at the packaging. There is no ingredient that indicates the use of coconuts in any way. But I smell them. So…that's interesting. Just to make sure I asked the Foodie Nation on Facebook and several others picked that up too. It's noteworthy that when I gave a bar to La Grande Diva to sample she also mentioned it. I dunno. Your guess is as good as mine!
Mouth-feel/Taste
This is where I go into the actual taste. When I say mouthfeel it literally does refer to what happens when the product goes into your mouth!
Mouth-feel: I took a bite before nuking my bar just to test it out. Quest must be playing with their formulation because this bar is WAY easier to bite unheated than past bars. It's still a bit chewy though, so on to the microwave we went and after 12 seconds, here's what I had:
Notice the ability to make indentations easily with the finger. It's soft and gooey! It's also noteworthy that there's a good bit of chocolate in this thing. It's like when you grab a cookie fresh out of the oven – you have melty bits of chocolate on your fingertips!
Taste: Ohhhhhhhh, Quest. You had me at cookie dough but…(cover the kids eyes) HOT DAMN AND HOLY SHIT! (sorry, I'm not usually a big fan of expletives but they really are necessary here). These bars are GOOD! It really does taste like cookie dough. Again, you get the sugary, buttery taste, the chocolate, the gooeyness. It's all there for you!
It is noteworthy to mention I also picked up the TASTE of coconuts in this bar. Not strong. Very slight. Where is it coming from???? I'll give a dollar to the first person who can tell me! 😉
Value
A box of these bars will set you back what any Quest bar will ($24.99 for a box of 12, which shakes out to $2.08 a bar). However, they are also sold in some retailers as individual bars if you'd like to pick up just one to try or a few instead of a whole box. I believe they are sold at GNC Living Well. I would be remiss not to tell you that if you order through
this link
OR the ad on the right menu bar of this blog, Bariatric Foodie gets a little kickback, which keeps the Foodie Nation rolling!
Final Verdict:
So Quest sent me two boxes of these bars. Those boxes are now gone (although to be fair they sent them MORE than 2 weeks ago). I loved them. My kids loved them. My friends with whom I shared them love them (I really should be on Quest's payroll for my conversion abilities). The bars have great stats (high in protein and fiber, excellent number of net carbs) and they just taste goooooooood! So I deem them worthy of consumption!
I know I usually do a giveaway with a review but since the Bariatric Foodie Pledge just ended I have some sorting out to do before I do another giveaway. HOWEVER, Quest would like to give you some bars so look out for a giveaway of these babies within the next two weeks!
In the meantime don't forget to use the ad in the right menu bar if you want to
order yourself some
!