~~posted by Jen


Obligatory Disclaimer: Let me start by clearing up a common misconception about Mahi Mahi, it is NOT Dolphin. It is a fish nicknamed a "dolphin fish", here's a link with more specific info about what type of fish it is.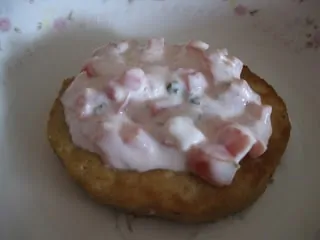 Sauteed Mahi Mahi Burger with Greek Yogurt & Salsa "Remoulade"
Trader Joe's is one of my favorite stores, they have lots of good options for WLS patients that are easy to cook for a quick & healthy meal when you're in a hurry. Tonight was one of those nights when I was rushed for a healthy dinner and didn't feel like leaving the house to eat out. (I had a horrendous migraine all night and most of today, it finally let up about 5:30 pm and I am actually feeling human again.)
So I was scrounging in the freezer for a dinner idea when I happened across a box of Trader Joe's Mahi Mahi burgers that I bought a couple weeks ago when I was there.The stats are good, they cook up in a few minutes, and even the non-ops in this house loved them. (Yes, even the vegetarian who only eats seafood or tofu protein.)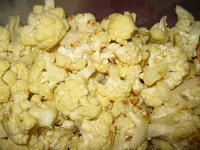 Roasted Cauliflower–I eat it like popcorn sometimes but don't tell anyone!!
I had 2 heads of cauliflower in the fridge, because I almost always do, so I roasted them in the oven as the side dish, and dinner was served. You can get the roasting cauliflower how-to on my previous BF Basics: Roasting Vegetables post from awhile back. Rachael Ray would be proud, she could totally call this one of her new "20 minute meals."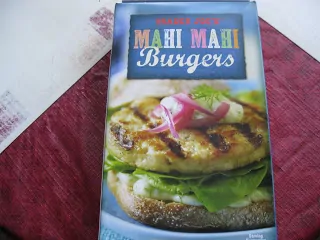 Here's the package
Since the burgers were such a hit, I thought a review was in order, so here goes! They're Trader Joe's brand frozen Mahi Mahi burgers, you can find them in the frozen seafood section at Trader Joe's.
4 "burgers" come per box, and they were $3.99 at my TJ's in Princeton, NJ. (I took a pic of the label but I'm not smart enough to rotate it so you can read it, sorry.)
1 burger patty is a serving, with these nutrition stats:
Calories–110
Total Fat–5g (all mono & polyunsaturated, NO Saturated fat)
Total Carbs–1g
Protein–15g
The texture is very moist and tender, they don't smell or taste "fishy" at all. They have a very mild, fresh fish flavor. I honestly enjoyed these more than fish cooked in some restaurants, and the boys agreed. I topped them with my salsa/Greek Yogurt sauce from the Nachos recipe.
1 patty is a very generous WLS portion, especially if you're early out. I ate 1 and a half, but I was really hungry since I've been sleeping most all day. I cooked them on the stove top in a non-stick skillet
with a drop of olive oil, about 2 minutes on each side. You COULD microwave them, but given the texture I would suggest either stove top, oven, or maybe even on a George Foreman grill
if you have one.
The only bad thing I have to say is that there aren't more in a package, because for a family of 4, especially when 3 are non-ops, we could have used some extras. These are on my "must have" TJ's list from now on. Next time I'll try serving them as grilled burgers on Arnold thins with Pesto Sauce topping and my Protein Coleslaw on the side.
Verdict: Divas Say Divine!
.