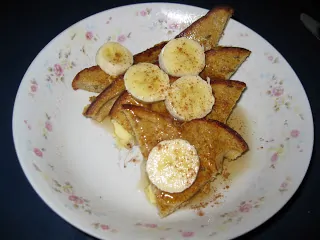 ~~posted by Jen
Remember I told y'all I made a scrumptious breakfast concoction the other morning? Well I finally got it typed up for your enjoyment! The more ways I try this P-28 Protein Bread, the better I like it. After I posted my review of it the other day, I was inspired to make some French Toast.
OK, let's be real for a minute here. Pre-op, I was a carb crackhead. I am not kidding. If it was bread in any way, shape, or form, I was on it like fleas on a hound dog. French toast was an absolute favorite of mine, and until now I have never found a way to make it work with my plan. If I do pancakes, they're usually Nik's CarbQuik ones.
Once in a blue moon, I will indulge in a "regular" pancake if we go out for breakfast. But it's so FILLING and I can only eat half a pancake, so I end up feeling crappy and frustrated. (Not to mention having to pound protein the rest of the day to meet my daily goal.) SO not worth it to me.
Needless to say, once I worked this out, the clouds parted and I heard angels singing! Definitely an "AHA" moment if ever I had one. I felt joy! Once I tasted it, I almost needed a cigarette if you know what I mean. Scrumptiously delicious and the perfect start to a beautiful weekend morning!
This recipe makes 2 slices of French toast, I could only eat 1 slice (cut into 4 triangles for the pic at the top of the page), so multiply according to how many servings you need to make. It passed the non-op test in my house, so it should in yours, too! Here's how you do it…
Jen's High Protein French Toast


Ingredients:
2 slices P-28 high protein bread
2 eggs (or equivalent Egg Beaters if that's your thing)
1 tbsp Vanilla extract
1 tbsp Splenda
1 tsp Ground Cinnamon
2 tbsp milk (I use 2%, use whatever works for you)
4 or 5 slices of banana (this is less than 1/3 of a medium banana)
Sugar Free Pancake Syrup, I use Smucker's
2 pumps Davinci SF Caramel Syrup
Cooking Spray


Directions
Beat the eggs in a small rectangular shaped bowl, I used this one
since it fits the bread nicely. Add the milk, vanilla, Splenda, and cinnamon. Whisk together until thoroughly combined. Spray a non-stick griddle or skillet with cooking spray.


Place the bread in the egg mixture and let it soak for a bit on each side. Remember this bread is a bit more dense than regular bread, so I let it soak a tad longer than you would with plain white or wheat bread. Flip to the other side and soak it.


Put the soaked slice of bread in the hot non-stick skillet or griddle pan, let it brown on one side for almost a minute, then flip it over. Make sure you let it get nice and toasty brown on both sides, so it will be cooked through. Nothing worse than a bite of eggy gloop running out of your french toast!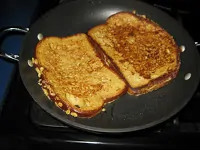 Browning on the stove.
Once it's brown on each side, remove it to a platter. Spread some "I can't believe it's not butter" or whatever you use on each slice while it's warm. Set the skillet back on the stove, we need it for the topping.
Now here's the "Bananas Foster" part. In the still warm pan, place your banana slices, Sugar Free Pancake Syrup, and 2 pumps of Davinci Sugar Free Caramel Syrup. Stir it around for a minute just til the syrup warms up and the flavors combine. Don't turn the stove back on, we're not looking to cook the bananas, just want to heat it all up together and there's enough residual heat in the pan for that.
Pour the banana syrup mixture over your warm French toast and dig in! As I said before, 1 slice is a serving for me. I cut it unto 4 triangles, stacked it, then poured the syrup over it. Made with the exact same ingredients I used, 1 slice is 22g of protein.
Freeze the other slice for another meal later in the week, you can even cut it into "sticks" for a quick kid-friendly school day breakfast!