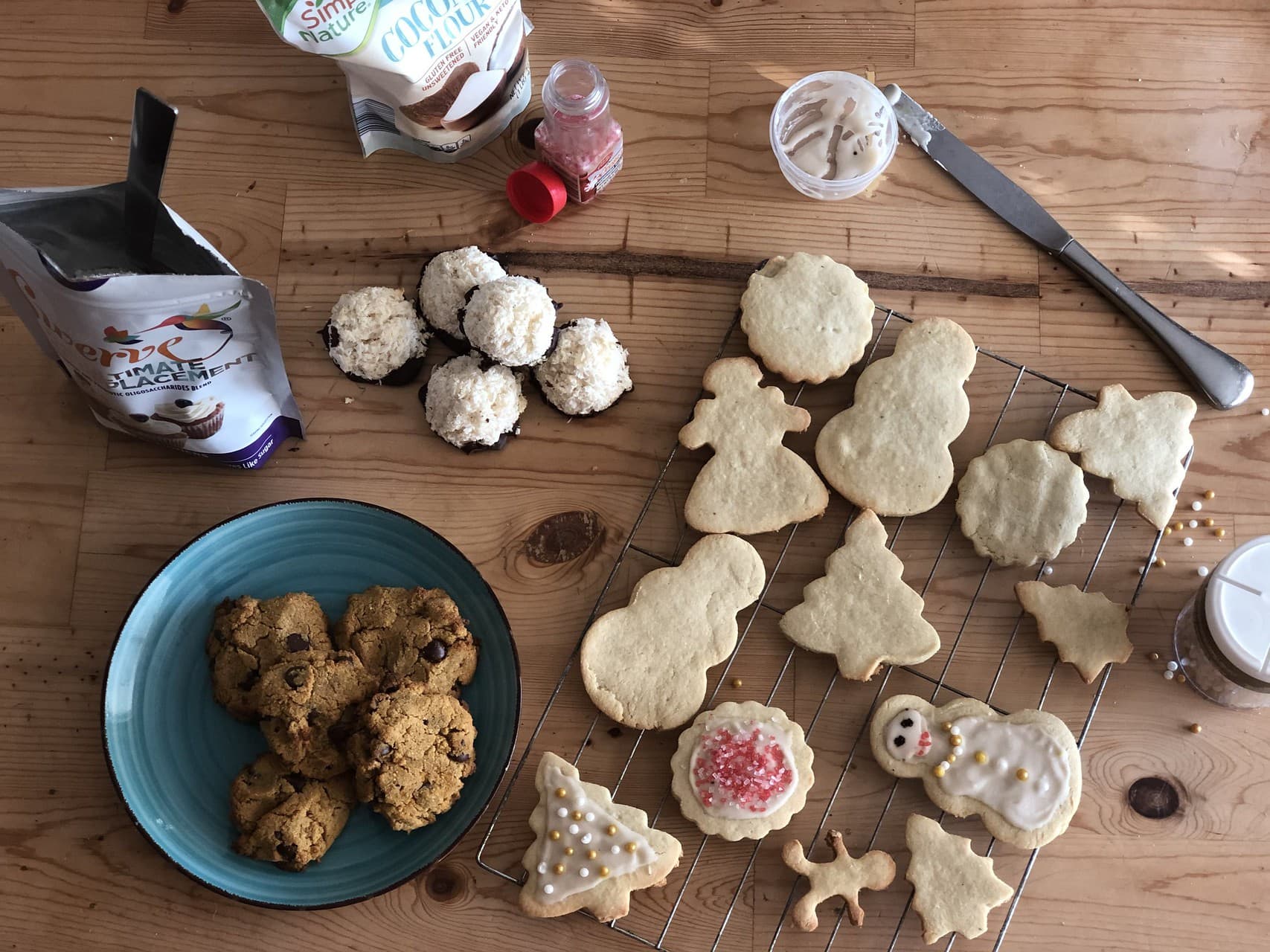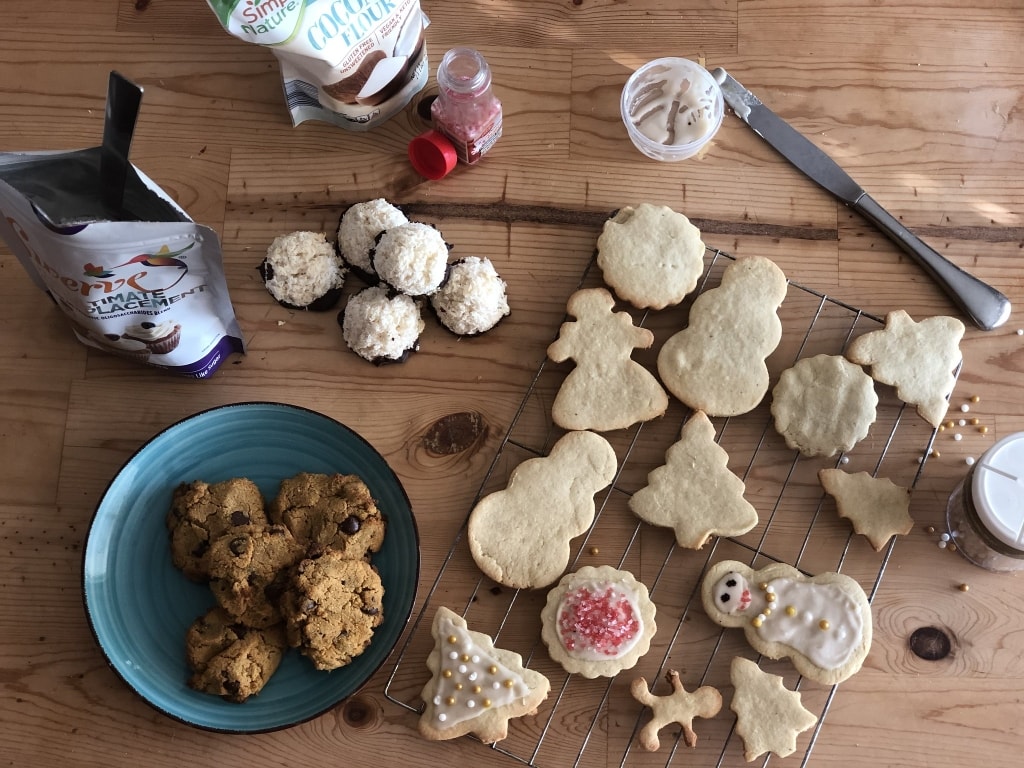 I know I say this every year but…COOKIES!
This is honestly one of my favorite projects to work on each year. Not only because making small-batch, no white flour, no sugar added cookies is a challenge my brain likes, but also because…cookies are fun, right?
At least that's how I have always felt. In this year's collection, I tried to capture the spirit of "fun cookies" while still providing a variety of flavors and adhering to my self-imposed cookie collection rules:
Small-batch: I am committed to creating cookie recipes that yield about 10-12 cookies. That's enough to eat a few, share a few, and be done with them!
No white flour, no added sugar: That part is even in the collection name but I must say that now that I've been doing this a few years, and see how seriously not hard it is to bake cookies with non-wheat flours, I may never go back! (For cookies for myself, that is.)
Common ingredients: To the extent possible, I try to use common ingredients in each recipe so that you guys don't have to go out and buy a bunch of expensive stuff. For the 2018 collection, for example, all three cookies were built off the same base recipe.
This year's recipes do have a few special buys. You'll remember in 2018, I used Sola as my sweetener of choice. This year, I used Swerve products (brown sugar, and confectioners blends). Those are a bit pricey but they both worked exceptionally well so I think I'll have no problems using it up! I also used a combination of almond flour, coconut flour, and desiccated coconut for reasons I explain inside the cookie recipes. Aside from that, you need only a few other kitchen staples for these recipes and most can be found at your local grocery store!
Keeping those rules in mind, let's get acquainted with this year's recipes.
Snowball Coconut Macaroons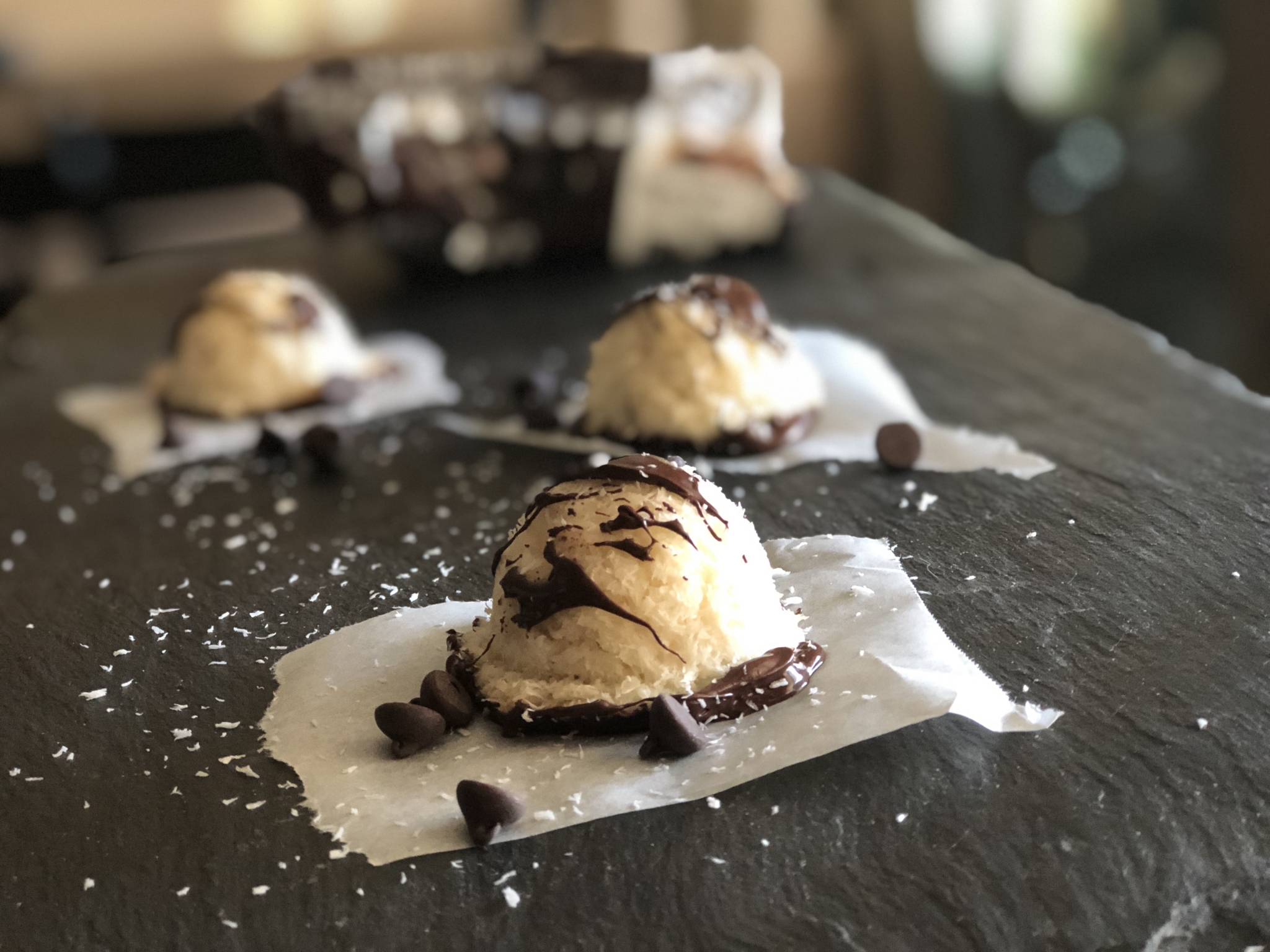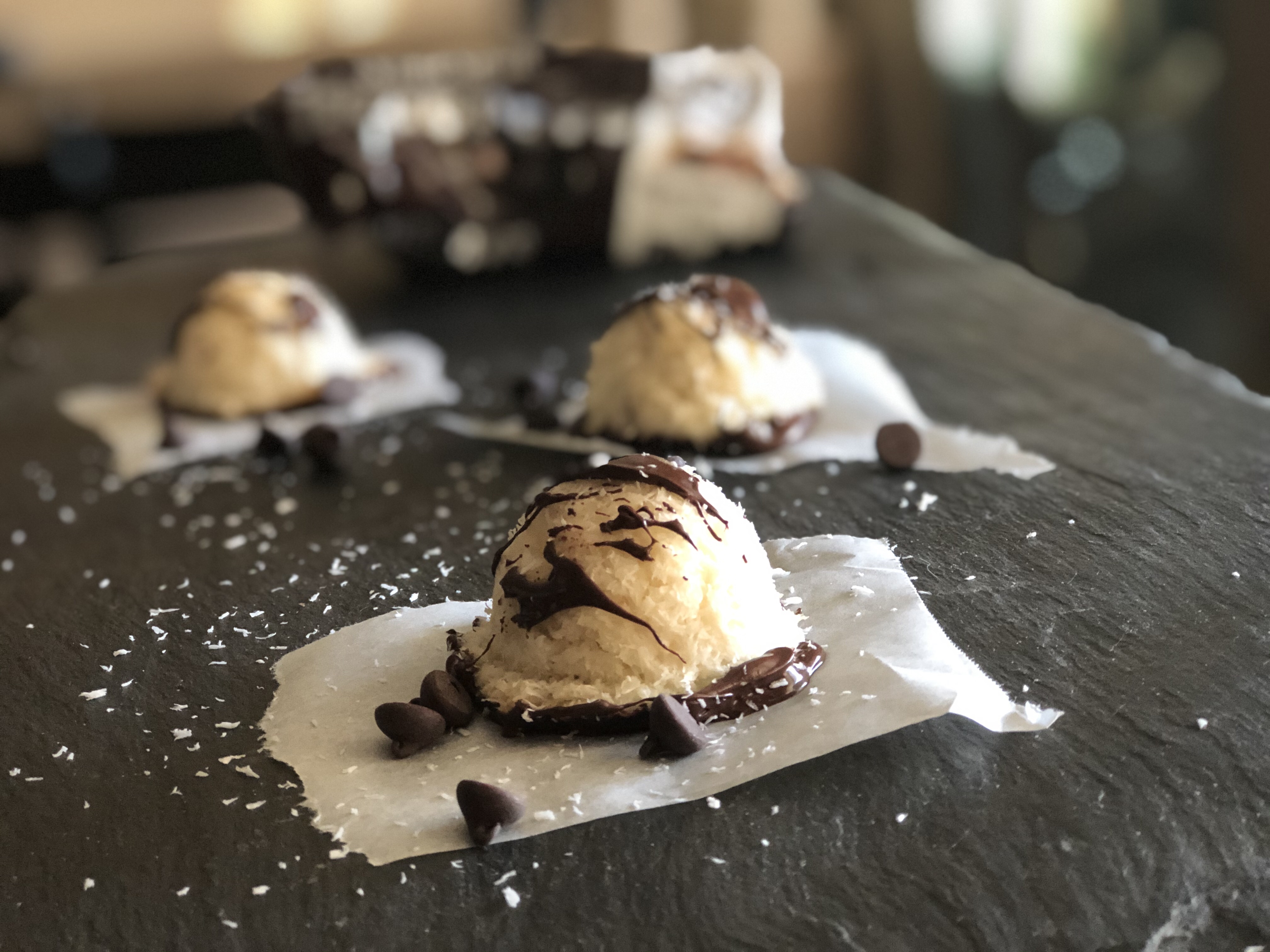 These are simply called "coconut macaroons" in recipes online but I also have a coconut macaroon that is flat. These are domed and…adorable! They remind me of snow and they are so easy to throw together and even to finish off. One other thing I tried to do in this year's collection is to be sensitive to various levels of sweetness tolerance. In short: some of us can't tolerate very sweet things. This recipe, along with one other below, is a mildly sweet cookie that has an optional sweet addition. If you don't like very sweet things, skip the chocolate. If you do, add it on!
Classic Roll-out Cookies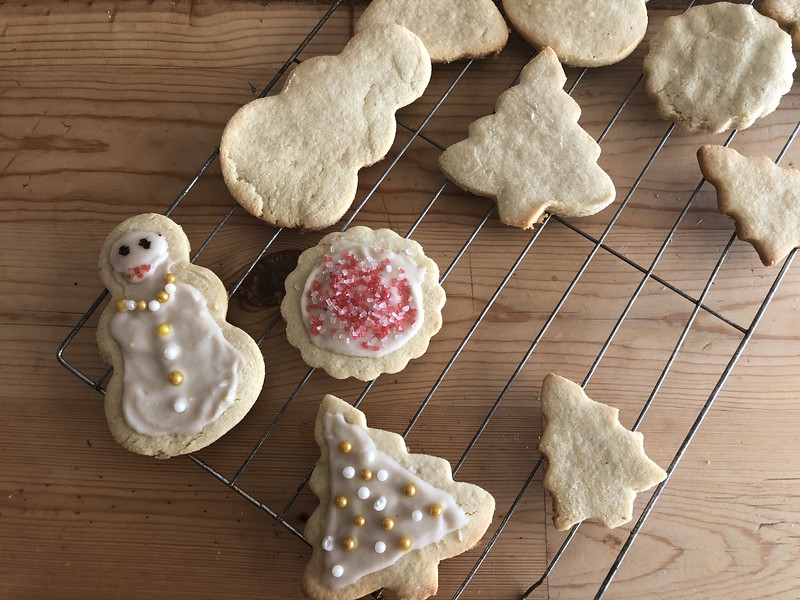 What could be more fun that roll-out cookies? Honestly! When I was a kid, I used to go to a friends house where we'd spend the cold afternoons leading up to Christmas making and decorating hundreds and hundreds of roll-out cookies in all kinds of shapes. These cookies are also lightly sweetened to accommodate for the icing that goes on top. (And if they still seem like they'd be too sweet, you can cut down the sweetener without affecting the cookie too much since we aren't using real sugar.)
And I just know you guys will do better with decorating them than I did. I have a documented history of jacked-up cookie decorating! 😉
Pumpkin Chocolate Chip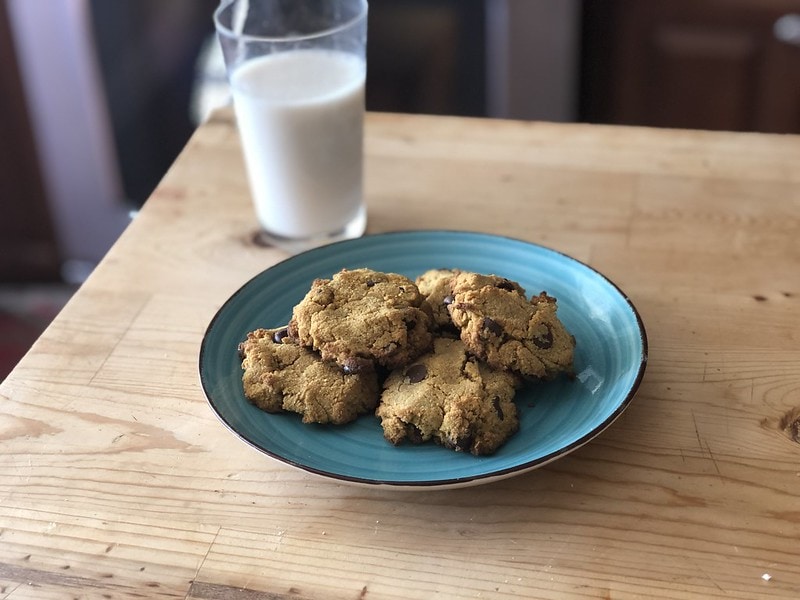 This is this year's "Shannon cookie." Shannon is my dear friend and co-host on Bariatric Foodie Live. Usually I ask her to pick one cookie recipe, but this year I wanted to surprise her. She loves pumpkin and these pumpkin chocolate chip cookies are awesome! They come out very velvety and the addition of pumpkin spice to chocolate was an unexpected, yet pleasant, surprise!
Download this year's recipes for free!
As in past years my Christmas gift to you, dear Foodies, is a free downloadable recipe book of all three cookie flavors.
Please accept it with my thanks. My life is so much better because you are in it. You guys are more than "readers," you're my community and I appreciate you!
Simply fill out the form below and I'll send you this year's cookie collection by email as a PDF e-book.
[convertkit form=1136032]
But don't forget the other collections!