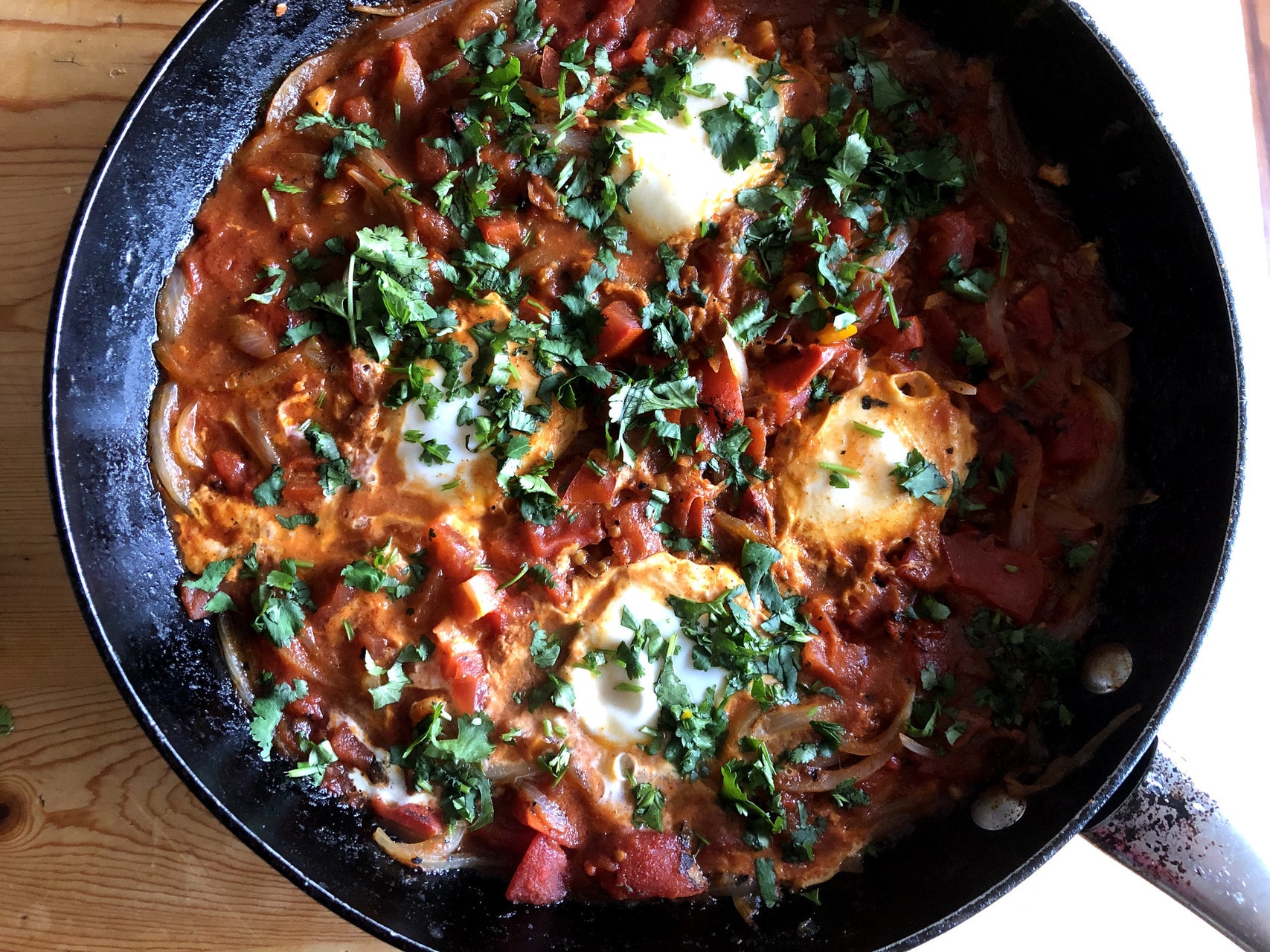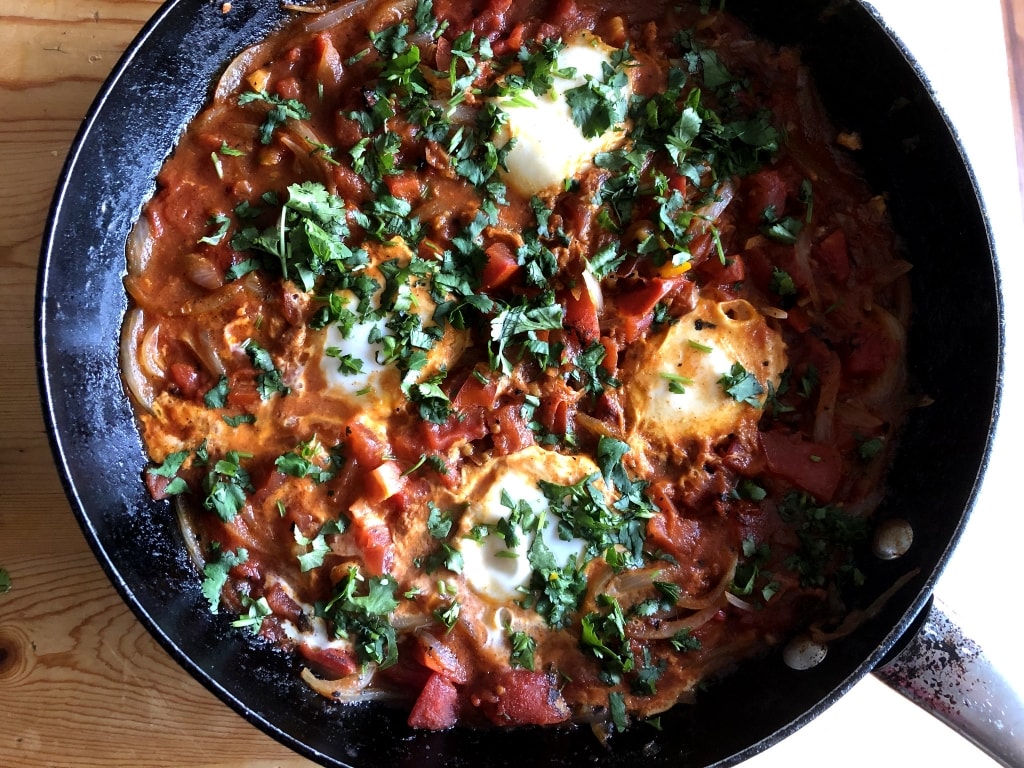 It's about time for me to admit it. I like food with unique names. Shakshuka.
Like…when you say that to someone not in the know, their first reaction is, "Whaaaaaa?"
And I LOVE THAT!
Also, I love trying foods from different cultures. I always learn something about food and myself by doing so. That, Foodies, is a big part of the joy of food for me. (And, yes, in my life, there is still a LOT of joy to be had in the interaction, preparation and eating of food! Stick with me…if you're not there yet, you'll get there…promise!)
So back to this Shakshuka. It's the easiest thing in the world to make. No…seriously…it is! It also lends itself well to a "semi-homemade" cooking technique. (Did anyone else watch that show with Sandra Lee? It had such an impact on how I cook!)
Now before we get to the recipe I'm going to answer the question that, by now, is probably projecting from your lips…
What the hell is Shakshuka?
Shakshuka is a breakfast that is popular in parts of North Africa and the Middle East. While you'll see variations, the core recipe seems to be onions, garlic, spices, tomatoes and poached eggs. All fairly simple, once you start to factor in the preparation!
I first heard of Shakshuka when visiting with a friend of mine who is a food afficianado. Like she seems to know everything about almost any cuisine imaginable. Anyhoo…I was bored of breakfast foods and we started to talk about breakfasts around the world and this one struck my fancy. I'm big on tomatoes. (Like I LOVE tomatoes) and tomatoes with poached eggs just seemed like my kind of breakfast! So one day I decided to give it a whirl.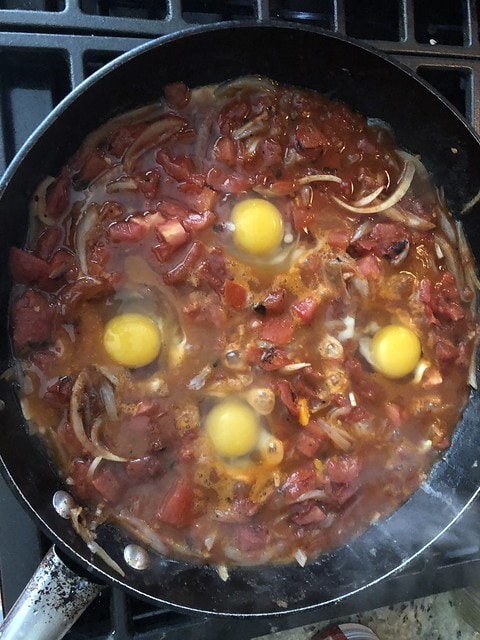 I was fairly confident about most of the process, except poaching the eggs. These days I pride myself on my egg poaching skills but back then not so much. But even that is super easy with this dish. Whether you use canned or fresh tomatoes (I'll get to that in a sec), the water in the veggies gives you what you need to poach the eggs and since you don't have to extract the eggs from the pan until you're ready to serve the dish, it's a lot less stressful than traditional poached eggs!
A few Shakshuka tips…
There aren't very many tips for this dish. Seriously…it's that easy to make! But I do have a few:
The recipe I'm posting is fairly standard fare. It's spice-ful but not spice-y. I like mine spicy so I add a few extra things, namely I use a super-concentrated smoked paprika (I get it from the Amish Market) and a pinch of ground chipotle pepper. That gives it the heat I want. Conversely, you could also add hot peppers into the tomato mixture (stems removed, but cut and with the seeds) and see if that does it for you.
I use a combination of canned and fresh tomatoes. I really like canned fire-roasted tomatoes so I usually use those along with a few diced fresh tomatoes. I usually remove the seeds from the fresh tomatoes.
If you choose to share this with your significant other or fam (and I totally respect if you choose not to!), this pairs well with a nice slice of whole wheat toast with butter, for dipping! If you choose to keep it to yourself, it keeps well for a few days in the fridge. I personally have never frozen this but just keep in mind that when you reheat this the egg is going to cook further, so this may not be the best make-ahead option (or, if you are super committed, you could just save the tomato mixture and poach an egg the day you reheat).
To cilantro or not to cilantro: that's a personal choice. Some recipes call for both cilantro and parsley. I'm personally not the biggest fan of parsley so I just use cilantro, which I personally love for both its flavor and for the color variation! Make it yours, Foodies. Make it yours…
And, lastly, I know what you're saying. "This doesn't look like a lot of protein, Nik!" You're right, you're right. I personally love this breakfast and am perfectly capable of making up the protein deficit in other parts of my day. But if that's not the case for you, feel free to have a little breakfast meat on the side! 😉
And with that, let's get to the recipe!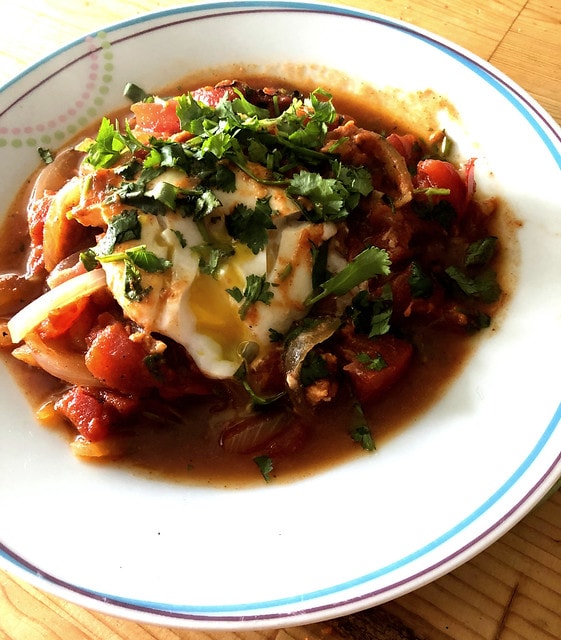 Set a skillet over medium heat and allow it to get hot before adding olive oil and then onions. Sautee about 2 minutes until they are softened.

Add the garlic and saute another minute before adding the canned and fresh tomatoes and stirring.

Add the spices, including salt and pepper and stir again.

Make four "holes" in the tomato mixture. Crack a whole egg into each hole. Reduce heat to medium-low and cover the pan.

Cook for about 5-8 minutes or until eggs are poached to your liking. Turn off heat and allow the pan to cool. Tomato mixture will thicken upon standing.