What? You thought it was over???
No! We've got TWO more giveaways to do! That should ride us into "2014 Bariatric Foodie Pledge" Season nicely (click this link to check out last year's Pledge to get familiar – it's so much FUN!).
This week's giveaway is a little bit different. To explain how, I made a video BUT if you don't have 3:19 minutes (or just don't feel like listening to me talk) the run-down is below the video! (Or if you wanna skip it all and go to the contest widget, scroll down but do stop and read the information listed under IMPORTANT STUFF…cuz…like…it's important stuff….)
The Run Down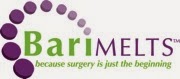 This week's giveaway item is BariMelts! It's a new vitamin product for bariatric patients and I got the opportunity to sample them at the Obesity Action Coalition's "Your Weight Matters" Convention in Phoenix. I liked the product and so I reached out to them to see if I could get some for my Foodie Nation.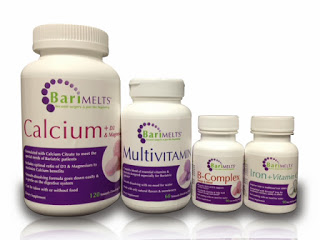 As it turns out they are doing a full-on launch of their products in 2014: a website, Facebook Page, Twitter handle…the whole nine! You know what this means? You guys are getting the chance to win a product that few post-ops have tried yet!


So let me tell you a bit about this product.
BariMelts will offer four products:
Multi-vitamin
Calcium + Vitamin D3 & Magnesium
Iron + Vitamin C
B-Complex
And of course I had to ask all the important questions I think you guys would want to know.
These are flavored vitamins, but they are made using only natural flavors and sweeteners.
The tablets really do dissolve in your mouth (I've tried them, they do!) so there's no need to take them with water (which can be really helpful for newer and/or "on the go" Foodies)
They are made in the United States (Florida to be exact and were formulated by a team of scientists/pharmacists)
If you have any other questions, leave them in the comments and I'll ask them and get right back to you!
My full review of the vitamins is forthcoming BUT I didn't want to wait to give some away. THREE Foodies will get the chance to win the full line of vitamins.
IMPORTANT STUFF (if you've skimmed thus far, please read this!)
Because BariMelts is such a new company, we want to get the word out there about this new option! As such, the rules for this giveaway are a bit different than others. You may claim as many of the entries in the widget below as you want, however, in order to be selected as the winner you have to have either liked BariMelts on Facebook or followed @BariMelts on Twitter. From there, grab up as many entries as you can!
I really want us to rock out this contest because I've told the BariMelts folks about the power of the Foodie Nation in getting the word out about a product. So let's DO this!
This giveaway is open to Foodies in the 50 United States and Canada.