~by Nikki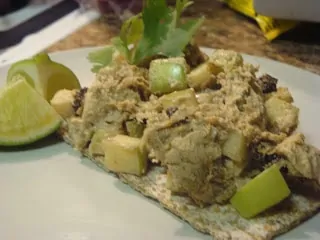 This might sound corny but, this is a recipe that was born of friendship. Which makes it precisely the kind of recipe I love. You guys know me well enough now to know there's almost ALWAYS a story behind my food.
So my wonderful friend Pam sent me a picture of something called "peanut butter salad." It looked sort of like a fruit salad with some sort of peanut buttery dressing holding it together and it was served on whole wheat bread. I was intrigued, but a little concerned. Here's why:
There didn't seem to be a lot of protein in the dish
There DID seem to be a lot of fiber, which wasn't bad, but lots of fiber + no protein = not the greatest idea. You eat it, you won't be hungry again for hours and you've wasted an opportunity to get your protein
The idea as-is, for my tastes, was a little basic
Fast forward a month. It is a little known fact that Jen and I actually have production meetings every week to decide what will go on the blog and who is going to make it. That peanut butter salad was still on my mind so I mentioned it to Jen to see if she had a good idea about it. Well, she won't tell you this, but Jen has this really awesome skill. She spits out the perfect idea, almost as if by accident.
So she says, "why not do some sort of peanut Waldorf salad with chicken?"
BRILLIANT!!!
So I got to work in the "lab" (erm…kitchen) to see what that would look like. So then I started to think about my Thai chicken skewers. And this salad. And how much I loved those skewers. And this salad. And…DING! An idea formed. I made it, I taste tested it out and folks really liked it. So now I'm proud to present that idea to you!
Nik's Thai Waldorf Chicken Salad
Ingredients
10 -12 oz. chicken breast, shredded (Update: Our friend Dee made this and found hers had WAY too much dressing. I think I wrote down an incorrect amount of chicken. This is changed from 6 oz. to 10-12 to reflect that)
1 small apple, diced (I used Granny Smith)
1/3 c. raisins (I used a mixture of regular and golden)
1 small onion, diced
Optional: 2 stalks celery finely diced (if you're new or have trouble with celery, don't use)
Dressing:
1/3 c. unflavored Greek yogurt
1/3 c. cottage cheese
2 tbsp PB2 (or Peanut Flour from Trader Joe's)
1 tbsp soy sauce (I ended up using 2 but start with 1 and see how it goes from there)
¼ tsp ground ginger (you can also use minced ginger)
1 tsp lime juice
1 tsp minced garlic
2 packets Splenda
A dash of salt
A dash of cayenne pepper (for a little kick. You can skip if you don't like it)
Directions:
Combine chicken, apples, onion and raisins and make sure it's well combined.
In a mini-food processor, combine cottage cheese and Greek yogurt and pulse until all curds are broken and mixture is smooth. Add the rest of the dressing ingredients and pulse until well mixed.
Give the dressing a taste. It should be sweet but somewhat salty (remember, most of what you've got in your bowl to mix it with is sweet so the salty has to offset that). Once you've got it where you want it, mix into chicken mixture.
Refrigerate until you're ready to use. I served on a whole wheat cracker, but a pop rice or a rice cake would do just fine as well OR on a section of P-28 protein bread. One of our Poucher friends, Dee, made this on her own. Here's her version (way better presentation than mine, by the way)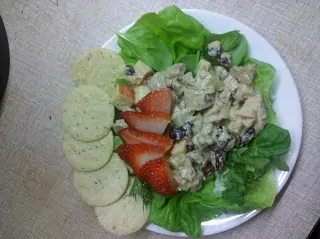 Dee plays with her food. Do you?
So…one of the reasons this wonderful recipe was possible was because I had leftover ingredients from doing the final test on one of the recipes we'll be sampling at the 2010 Pouch Party Holiday Preview! We promised a sneak peek into a dish this week…so here goes.
This one, too, has a story. I'll give you the abbreviated version.
My surgeon has a Christmas party every year for his patients. The food, while good and technically safe, is not necessarily the most weight loss surgery friendly. One offering in particular seems to call my name: the curried cheese spread with fruit. It's a delicious, luxuriious, fancy cheese spread, shaped into a ball that hits all the right sweet and salty notes. And you guys know how I love my curry.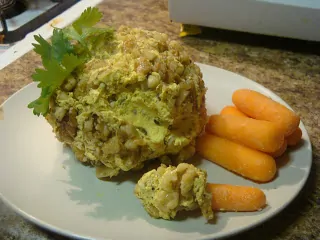 Nik's Curried Cheese Spread with Nuts and Fruit
It seemed to me that this cheese ball is actually pretty genius for a holiday party or special occassion, so I had to do a remix. So here is my interpretation of the uber-yummy cheese ball.
For those that attend the preview, you'll get to sample this yummy cheese and get the recipe to take home. For the rest of you…too bad! (Kidding) We'll be posting some (not all) of the recipes from the preview and our preview guests will help decide which ones those are. I hope they pick this one because if you make this and take to a party…you will be the hero of the party, trust me on this one.