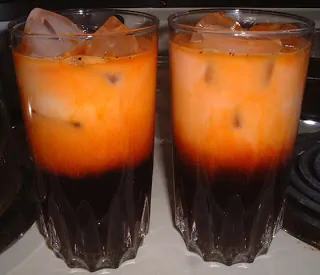 I used to love this stuff. Creamy, super sweet, cold…what's not to love? I'd drink it alongside a mountainous plate of Pad Thai…I should look up how many calories all that would be. Yikes. Maybe not.
Anyway…even this specialty drink is not off limits for us! It is, however, off-limits for drinking at the same time as you eat…even if you do eat some of my Ghetto Pad Thai…(I have no pic of the ghetto pad thai but will list the recipe below.
So this one requires a little bit of extra shopping and equipment. Well worth the expense and effort if you love Thai Iced Tea as I do…
To make this you will need:
2/3 c. Thai tea leaves (go to the Asian market…tell them you are a naive American…they will hook you up)
1 and 2/3 c. water
1/2 c. Splenda
1 1/2 cup fat free Evaporated Milk (12oz can)
You also need some sort of tea strainer (sieve, tea sock or the like).
So here's the methodology: You boil the water and then remove it from heat before adding the tea leaves (and yes you are using a lot of tea leaves). Let it sit for about…oh…five minutes. Be patient and let it sit!
Next, strain liquid through sieve or tea sock into a small pitcher. Add Splenda and stir, stir, stir!!!
Refrigerate until cold.When you are ready to drink it, fill a cup with ice. FIll 2/3 of cup with iced tea and the remaining 1/3 with FF evaporated milk (also note you can use soy milk, skim milk, or whatever kind of milk you like…Me? I'm partial to lite coconut milk).
Stick a straw in it and SLURP!
Ok, so ghetto pad thai…really isn't pad thai at all but it does incorporate some of the flavors. It's sort of what would happen if Pad Thai, peanut noodles, and Satay chicken got together, had a threesome and a baby resulted. Ew. Moving on…
Ghetto Pad Thai
On top:
6 chicken breast tenderloins
Juice from half of one lime
2 tbsp lite soy sauce
1 tsp minced garlic
½ tsp red pepper flakes
1 tsp grated ginger
On bottom:
2 c. spaghetti squash
1 bag Thai or Asian stir fry vegetables
2 tbsp lite soy sauce
Juice from half a lime
1 tbsp PB2 (peanut butter)
1 tsp red pepper flakes
2 tbsp rice vinegar
4 packets of splenda
½ c. chopped unsalted peanuts
Other stuff:
1 tbsp. sesame oil
Chopped green onions for garnish (if desired)
Directions:
Combine chicken ingredients in a storage bag and marinate chicken for at least two hours (overnight works best)
Heat sesame oil in a wok. Cut up marinated chicken and place in wok, cooking until done. You can add the rest of the marinade in there as well.
When chicken is done, add stir fry vegetables and turn until well mixed
In a bowl, combine soy sauce, lime juice, red pepper flakes, vinegar, PB2 and Splenda and whisk until blended
When veggies are cooked through add spaghetti squash (I advise making it ahead and putting it in the refrigerator. I think the key is cooking this from cold to hot very quickly) and mix through.
Very yummy and exotic. Try the two on the same night (at least 30 minutes apart…the surgery mafia requires I say this…) and have a theme night!
Pour liquid mixture over the stir fry and add peanuts. Mix well and warm through