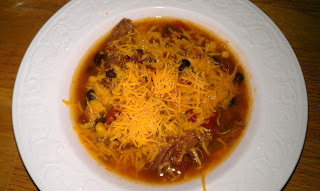 I am so behind on reader submissions! But I hope to get to some this week and next, so stay tuned!
This one comes from Teddi, who sent me a bunch of recipes. Out of fairness, I had to pick one and go with it. I chose her taco soup. I have an affection for tacos, as evidenced by my undying love for
taco casserole
!
Here's how Teddi soothes her craving for tacos.
Teddi's Taco Soup
1 lb of beef or boneless chicken
½ c. chopped onion
28 oz. can diced tomatoes w/liquid
1-2 pkg taco seasoning
3-4 oz. can diced green chilis
4 c. chicken or beef broth
4 c. water
14 oz. can black beans drained & rinsed
17 oz. can corn drained & rinsed
Grated Cheese
Tortilla or corn chips
Directions:
Combine meat, onion, tomatoes, taco seasoning, green chili, broth and water in crockpot. Let cook on low overnight.
Shred the meat when stirring the next morning. Continue cooking on low stirring occasionally.
Two hours before serving add black beans and corn. Add additional liquid if needed.
Serve topped with grated cheese and crushed chips.
Make 15 cups
Nutrition (approx)
Serving size: 1 cup (8oz) without cheese and chips
Calories: 118
Fat: 5.5
Carbohydrates: 9.2
Protein: 8

Serving size: 1 cup (8oz) with 1 oz Mexican blend cheese but no chips
Calories: 218
Fat: 13.5
Carbohydrates: 10.2
Protein: 14