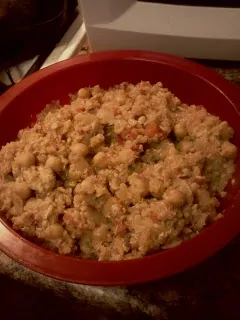 Yesterday I posted the above picture on the Bariatric Foodie Facebook wall, calling for folks to guess what was in it. This will be my lunch throughout this short work week, so I thought it'd be fun to give folks a peek into some of the stuff I like to make that hasn't yet made it to the blog.
Well, folks guessed the ingredients correctly and a few folks expressed interest in the recipe. I make this quite often for myself (the divas are diabolically opposed to any other fish besides tuna in a can) but the recipe requires a few special ingredients which, to me, make or break this dish.
Still, here's the recipe. Overall, this dish is a nutritional slam dunk: great (and complete) proteins, fiber, complex carbs, Omega-3's. Hey…I think I just thought of a name for this dish.
Nik's "Super Lunch"
Ingredients
1 small onion, finely diced
1 large clove fresh garlic, finely minced
1 can tomatoes & chiles (whatever heat level you like)
1/4 tsp red pepper flakes (omit if you don't like spicy food)
1 tbsp low-sodium soy sauce
3 tbsp rice wine vinegar
3 tbsp fish sauce ("what's that?")
1 can of pink salmon, bones removed
1/2 c. quinoa ("what's that?")
1/2 c. water
1 can garbanzo beans (chick peas)
Directions:
Spray a pot down with nonstick cooking spray and let it get hot over a medium flame.
Add onion and cook a few minutes until the onions soften. Add garlic and stir, cooking 2-3 more minutes.
Add tomatoes & chiles, red pepper flakes, soy sauce, vinegar and fish sauce and drop your heat down to low and allow it to come up to a simmer.
Add salmon, quinoa and water. Turn the flame back up to medium to bring it all to a boil then drop the heat again to allow it to simmer.
Cover and allow the quinoa to cook. You can tell it's done when you can see the little white ring of fiber pop out from the grain. Watch your pot! Quinoa, like rice, absorbs liquids.
Lastly, drain and rinse your garbanzo beans and add to the mixture last (I like them for the chew factor…nutrition is good on them too).
This dish is a bit tangy, a bit spicy. It does smell like it has fish in it, so if that is bothersome to you, you might think about whether you want to make this.
Ok, so…fish sauce. It's a…condiment, I'd say? It's used almost like we use table salt. It is tangy and salty and my favorite use of it is to mix it with rice vinegar to dip seafood in. If your town has an Asian market, they most certainly sell it. You might also find it in the international aisle of your grocery store (although it tends to be more expensive there).
The fish sauce, to me, makes or breaks the flavor of this particular dish. BUT, like I say…play with your food. You may come up with some variation of this that has nothing to do with fish sauce!
And for the inevitable carb nay-sayers, folks with small pouch capacities and those who just shy away from food like this, I'd encourage you to get to know quinoa. It's a good food. A superfood. And it's super delicious!