~~posted by Jen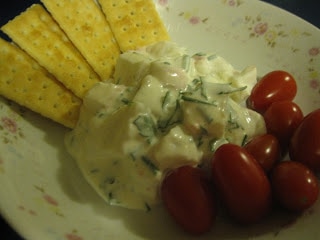 Last night was the bi-weekly fridge cleaning at my house, and y'all know what that means! Anything I find that needs to be used is fair game for a new concoction!
I had 2 packs of imitation crab meat that were purchased a couple weeks back with the intention of making my Crab Dip, but they got relocated to the back of the fridge and overlooked. (Hence the scheduled bi-weekly fridge cleanings, this is a common occurrence in a house with 3 adult males and 1 female. Oy.)
Seafood salad is a particular favorite around here, so I decided to do a spin on traditional seafood salad. The kind from the deli typically has crabmeat, sometimes shrimp, celery, onions, and mayonnaise or coleslaw dressing.
I had no raw vegetables in the house for once (too busy making recipes for Soup Week and used them all up!) so I summoned my inner Iron Chef and decided to get resourceful.
I still have quite a few chives and bunches of parsley in what is left of my herb garden on the balcony, so I decided those would make a nice substitute and give it that taste of fresh green without onions or celery.
It worked out perfectly! So well in fact, the only portion I got to eat was what you see in the pic above. By lunchtime today, the whole family-size bowl was completely GONE!
This would be a great way to use up your leftover seafood from Low Country Boil. I made it with just the crab meat, but next time I will do half shrimp and half crab. Here's how:
Jen's Crabby Seafood Salad
Ingredients:
2 (8 oz) packs imitation crab meat (or use real if you have it)
OR use 1 pack crab meat and 1 lb cooked peeled shrimp
1 bunch chives
1 bunch parsley
1/4 cup mayonnaise (DO NOT USE FAT FREE–light is ok)
3/4 cup 0% Greek Yogurt
2 tbsp White Vinegar (could also use White Wine Vinegar or Champagne Vinegar)
2 tbsp Splenda
2 tbsp Garlic Powder
2 tbsp Onion Powder
3 tbsp Salt
1/2 tsp Old Bay

Directions:
Snip the chives and parsley into small pieces using kitchen shears then combine with the seafood and set aside. In a mixing bowl whisk together the mayonnaise, Greek yogurt, vinegar, and spices until thoroughly combined.


Taste the sauce mixture and adjust seasonings accordingly. Too sweet? Add a bit more vinegar and a pinch of salt OR some dill pickle juice (yes, right from the pickle jar). Too salty or tangy? Add a bit more Splenda.


Once your seasonings taste balanced, combine the sauce mixture with the seafood and herbs. Fold together until seafood and herbs are completely coated with the dressing mixture. Store in an airtight container
in the fridge for up to a week, if it lasts that long!




***NEWBIES TIP:*** For those of you still on the pureed/soft stage, follow the same recipe, but puree it in your food processor