~~posted by Jen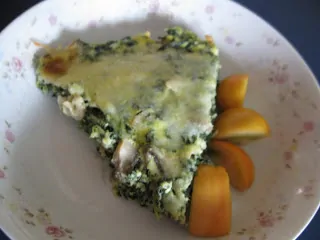 I spent today with my boys Zeus and Mickey and with my ex father-in-law for his 81st birthday. We had a nice visit and I got home much later than I had originally planned. That made me REALLY glad I had some of this awesome Spinach and Bacon pie in the fridge to heat up for a quick dinner.


This is one of those "go to" meals that can be served for breakfast, lunch, or dinner and is always a big hit with everyone. I made creamed spinach the other day, so I used that as the filling. If you don't make it homemade, there are lots of great frozen creamed spinach at the supermarket.
Or you can always just use regular frozen spinach with an onion diced and sauteed, a splash of heavy cream, and some fresh ground nutmeg. Fresh nutmeg is the PERFECT "extra something" to bring out the flavor of dark leafy greens (spinach, kale, chard, etc). I buy the whole "nuts" of nutmeg on the spice aisle and grate it fresh with my Microplane Zester/Grater



The bacon and cheese really complement the spinach beautifully. If you don't want to make this frittata style, you could always pour it into a mini muffin tin
for "bites" or ramekins
for individual pies. This is also a great brunch dish if you're having company. I serve it with a salad on the side, some fruit, and maybe soup if the weather is cold enough. (That's for the non-ops, I usually just eat the pie.) So here's how you make it:


Jen's Spinach and Bacon Pie


Ingredients:
6 eggs (use eggbeaters if that's your thing)
1/4 cup 0% Greek Yogurt
1 tbsp garlic powder
1 tbsp onion powder
1/4 cup 2% milk
1 1/2 cups leftover creamed spinach (I used homemade, you can use frozen, Boston Market makes a really good frozen one, so does Wegman's if you have one in your area)
1 cup shredded Italian blend cheese (use whatever you have or like)
3/4 jar of Hormel Real Bacon Bits (or you can cook and crumble bacon, but I am lazy)
1 small pat butter
1 tsp Olive Oil (or you can use cooking spray for the butter and oil, personal choice thing)
salt and pepper to taste
OVEN SAFE SKILLET make sure it is oven safe to at least 400 degrees, I LOVE this one



Directions:

Preheat oven to 400 degrees. In a mixing bowl, combine eggs, milk, yogurt, bacon, half of the cheese, and seasonings. Beat this well, so that everything gets really combined. You don't want lumps of yogurt in your eggs. I used a hand whisk, but you could use an electric mixer on low for maybe a minute or two. Set the remaining cheese aside for later.


On top of the stove, heat the skillet and add butter and oil or spray well with cooking spray. Once it is hot, add the creamed spinach and stir it around until heated through, then pour in your egg mixture. Using a rubber spatula, slowly stir the egg mixture and spinach until thoroughly combined. You want the eggs to be about 2/3 done but still in a solid mass (think omelet) and not in pieces like scrambled eggs. Sprinkle the remaining cheese evenly over the top of the egg and spinach mixture.


Remove the skillet from the stove top and place it in the oven for about 8 to 10 minutes or until the cheese is thoroughly melted. Let it cool slightly before cutting it into wedges, that gives the eggs extra time to set up so it comes out in one piece. Makes 8 pie-slice sized servings.