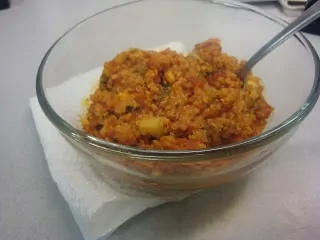 So the other day I posted about this great vegetarian (possibly vegan, you all tell me) meal I made.
We really have Hillery, our Foodie Fitness Correspondent from the email newsletter, to thank for this one folks. She made a chicken dish that inspired me! It was wonderfully yummy: herby, savory, a touch spicy!
But for whatever reason I just felt like showing some vegetarian love up in here. So I decided to make the dish without meat. Having said that, I feel like there's lots more protein to be added to this dish. I kept it simple. But for meat eaters, chicken, shrimp or fish would go great in this. For vegetarians and vegans, I'm not exactly sure what to suggest, so if you might please give some suggestions in the comments I will love your veggie-lovin' selves forever!
Although I've never had Paella before, for some reason this is how I imagine the dish tastes. I dunno. Feel free to shoot me down on that one if I'm dead wrong.
At any rate, away we go!
Nik's Spicy Quinoa & Tomatoes
Ingredients:
1 tbsp extra-virgin olive oil
1 small onion, finely diced
1 medium zucchini, diced
1 small green pepper, diced
1 seeded and diced hot pepper of your choice (jalapenos work well but habaneros are good for us who like it REALLY spicy!)
1 clove garlic, minced
2 c. water
10 oz. can crushed tomatoes
¼ tsp. red pepper flakes
A dash of hot sauce
1-2 tbsp tomato paste
Salt and pepper, to taste
Directions:
Set a
large sautee pan
over medium heat and allow it to get HOT (when you hover your hand inches above the pain the heat level feels uncomfortable). Add oil to hot pain then add veggies and sautee until soft, about 3-ish minutes.
Add garlic and herbs and stir through.
Add quinoa and stir over heat for about 2-3 minutes (it toasts the quinoa a bit, deepening the flavor just a touch) before adding water, tomatoes, hot sauce and red pepper flakes.
Cover and allow that to cook over medium heat about 6-8 minutes or until quinoa is done (the little ringlets should pop out of it, see
here
for full instructions on how to tell if quinoa is done).
If quinoa is done but the mixture is extremely liquidy: add two tablespoons of tomato paste.
If quinoa is done but mixture is only slightly liquidy: add one tablespoon of tomato paste.
Stir thoroughly, drop your heat down to low and allow it to simmer another 10 minutes or so and you get a pan full of love that looks something like this: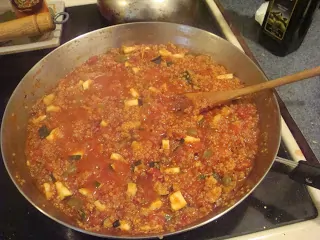 I brought this for my lunches this week. I like it as is but was curious to see how shrimp would pair in it, so today I steamed some and brought those along too. NOM! (Although they would have been better if they'd been added in at the step where you add the crushed tomatoes so they could soak up all the flavor).
This was also my first time trying Herbs de Provence. The name intimidated me but Hillery and I hit the Amish market and I saw some there. The Amish have NEVER steered me wrong, so I decided to give it a go. Glad I did!
Enjoy!