So in addition to my Asian-style Cold Quinoa salad, many of you submitted your own recipes for the inaugural week of the "BF Cook-along!" This is a round-up of the first week's recipes, all of which used quinoa. Some folks have not gotten back to me with full recipes so I just put what information they gave me. I'll add the recipes in as I get them! If you have any questions leave them in the comments!
Now we're in week TWO! And the cook-along ingredient is Eggplant! There are a few different ways you can submit a photo & recipe (and both must be present to make it into the week two round-up):
Post the picture of WHAT YOU MADE (not someone else's recipe…you do actually have to have cooked it at some point) on BF's Facebook Page along with the recipe (or the link to the recipe if you got it off the internet). Please include any modifications you made to the recipe!
You can also Tweet a photo and mention @BariatricFoodie but be sure to either include a shortened link to the recipe OR email the recipe to me at bariatricfoodie@yahoo.com.
You can simply email a recipe/pic to bariatricfoodie@yahoo.com.
Simple, right?
1 c. quinoa
2 c. water or vegetable broth
1 large or two medium tomatoes, chopped small
1 cucumber, chopped (optional)
4 scallions, chopped
2 cloves garlic, minced
2 tbsp chopped fresh mint
1/2 c. chopped fresh parsley
1/4 c. olive oil
1/4 c. lemon juice
1/2 tsp salt, or to taste
Preparation:
In a medium pot, cover quinoa in water or vegetable
broth and bring to a boil. Reduce heat to a slow simmer, cover, and allow to
cook about 15 minutes, or until quinoa is cooked and most of the liquid has
been absorbed. Allow to cool to room temperature.
In a large bowl, combine tomatoes, cucumbers,
scallions, garlic, fresh mint and fresh parsley. Add cooked quinoa, olive oil, lemon
juice and salt, tossing gently to combine well. Season with salt, to taste.
Chill for at least one hour before serving,
preferably overnight, to allow flavors to mingle.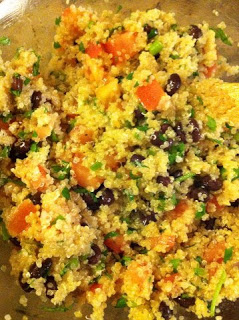 Brandy's Quinoa & Black Beans – FULL RECIPE FORTHCOMING!
Brandy used
this recipe from Epicurious
as her starting point, but here's what she had to say about how she made it hers!
"So this is basically quinoa, black beans,
scallions, cilantro, tomatoes, lime juice and lime zest…salt & pepper,
too. I can link the recipe if anyone is interested. The original recipe called
for 1 tsp of sugar – I left it out and didn't miss it! I served this last night
with Caribbean Pork Chops."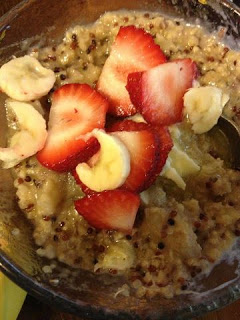 Selby's
Quinoa & Millet Porridge – FULL RECIPE FORTHCOMING!
quinoa and millet cooked in almond and coconut
milk with nutmeg and cinnamon . Bananas and strawberries . I used brown sugar
for sweetness but you can use agave, or your favorite sugar substitute.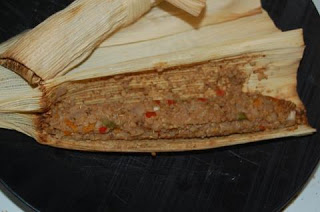 Shannon's Smoked Quinoa Wraps –Makes 12 ¼ Cup
wraps
1 c. Quinoa
2 c. Chicken stock (could use any stock or water)
½ c. Onion finely chopped
½ c. total of Red, Green, Orange, and Yellow Peppers or ½
cup of your choice pepper finely chopped
Green peppers will get bitter when cooked so do a combination
of one other and green if you choose.
2 cloves Garlic crushed and finely chopped
¾ c. roasted and chopped Walnuts
1 Tbl Salt
½ Tbl Pepper
½ Tbl Cumin
½ Tbl Paprika
4 Tbl Egg Beaters
Measure and rinse quinoa set aside. In a sauce pan
bring chicken stock to boiling and add quinoa. Reduce heat to simmer and cook
for 20 minutes. Roast walnuts at 400 for about 3-4 minutes, watch closely. Chop
and mix all veggies in a bowl, add cooked quinoa still hot to veggies. Mix
well. Add chopped walnuts, garlic, and seasoning to bowl. Let cool.
Soak corn husks in hot water for at least 15
minutes.
When mixture is cool add eggs and mix well. Portion
out ¼ cup onto flattened husks, and roll as you would a tamale.
Prepare grill for indirect cooking. Coal fire, 2
piles of coal on either side of grill leaving the middle open, with a gas grill
use side burners only not center. Bring grill to 275-300, add Wood chips to
smoker drawer for gas grilling, or soak chips in water and add to charcoal.
Place wraps between hot zones in the cool area of your grill (between the
burners/coal). Leave on grill for about an hour and a half. Remove, allow to
cool slightly, unwrap, and eat directly from the husk.
Using the grill with a smoker allows for the egg
and veggies to cook as well as imparting the smoke flavor to the mix. Truth be
told, I could have skipped adding the egg, sautéed the veggies and added that
to the quinoa and ate as is….adding a drop of liquid smoke (my husband is anti
liquid smoke) to give it that flavor…but these would be delicious as a side
with some shredded pork I think. I am not completely satisfied with this recipe
as is, and will probably do some more playing around (thinking of adding cheese
and maybe more egg to get it to stay together). But I am delighted with the
flavor of this dish.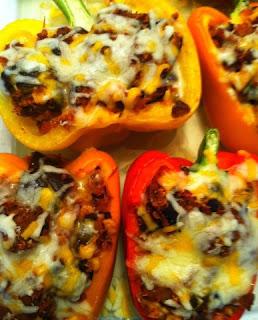 Barbara's Quinoa Stuffed Peppers
I actually saw this recipe on Pinterest and
just had to try it!! I did change a few things. I'm not a huge fan of ground
turkey so I used ground pork. This time around I used a red, orange and yellow
pepper just for the added color. The sweet from the peppers is great for
cutting the spice a bit I absolutely DISPISE cilantro, so I
didn't use it either. OH, and I added in 1 cup of cooked Quinoa (YUMM-O!!!)
Other than that everything was left the same. This is the picture of the ones I
made today (3rd time making them because they are just that good!!!)
Original recipe can be found at: http://www.skinnytaste.com/2012/09/santa-fe-turkey-stuffed-peppers.html