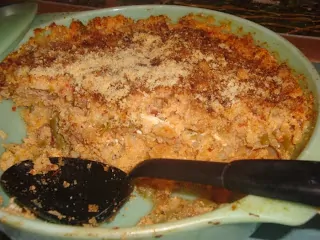 Remember Zatarain's? Yeah…back in the day I used to jazz it UP!!! My favorite was the jambalaya, although they had several "meals in a box" that I loved to fix. I am a spicy food fanatic so anything I can put red pepper flakes in is a done deal.
Funny thing is, though, that I did not intend for this to come out as a Zatarain's knock off. I had a head of cauliflower and I didn't feel like making faux mac 'n cheese, which is what I usually do. Truth be told, I wanted sausage and when a girl wants sausage there is nothing to be done but to give that girl her sausage (ok, it's been too long since I've had a boyfriend cuz there was innuendo all UP in that statement…). So I started playing around and tasting, playing around and tasting (which technically is a violation of the "no grazing rule" but ask me if I care…) and I'm adding stuff and adding stuff until I was like "hot diggity dang! I think I'm on to something here!"
And so this was born. Tentative name: jambalaya casserole.
Yes, yes I know traditionally jambalaya has shrimp and okra and a bunch of other stuff that's not in here. But notice that I based my comparison on Zatarain's. It's kinda like putting a recipe out there for something that was made from Taco Bell and comparing it to authentic Mexican food. It just don't work. Apples and oranges. But this is good in its own respect and I kinda loved it. It got the divas seal of approval too which was cool.
"Fake Me Out" Jambalaya Casserole
Ingredients:
1 pkg lowfat turkey smoked sausage, sliced1
small onion, diced
1 head cauliflower (cut into florets)
1 c. shredded cheddar cheese
1/4 c. skim milk
1 c. cut okra, rinsed (I didn't use this…I used a can of drained green beans cuz the divas have attitude about okra)
2 egg whites
2 heaping tbsp "I can't believe it's not butter" light
salt, pepper, red pepper flakes
1/2 c. either medium or hot salsa1 tsp minced garlic
1 c. whole wheat bread crumbs (this is a rare instance where I seriously think Fiber One would be a disservice)
1/2 c. grated Parmesan
Directions:
1. Sautee onions and smoked sausage together until sausage gets crispy on the outside. Add red pepper flakes and okra (or green beans) once everything is done cooking and mix through Set aside
2. Boil cauliflower florets until tender. When done drain and then return to pot. Add "butter" salt and pepper along with milk and mash then put back on low heat.
3. Add cheese to cauliflower mixture and mix well, letting it continue to simmer (milk will bubble but it's ok).
4. Add onion/sausage/veggie mixture to cauliflower mixture and stir well. Add egg whites and mix well.
5. Pour into casserole dish. Top with bread crumbs and parmesan cheese and bake on 350 for 30 minutes.
The above pic is what's left of it after the divas and I had our fill. I had 2.5 (me-sized) portions of it (prolly about 1.5 c total), le petite diva (my youngest daughter) had 3 helpings and le grande diva had 2. So I'd say it was a success…yes?