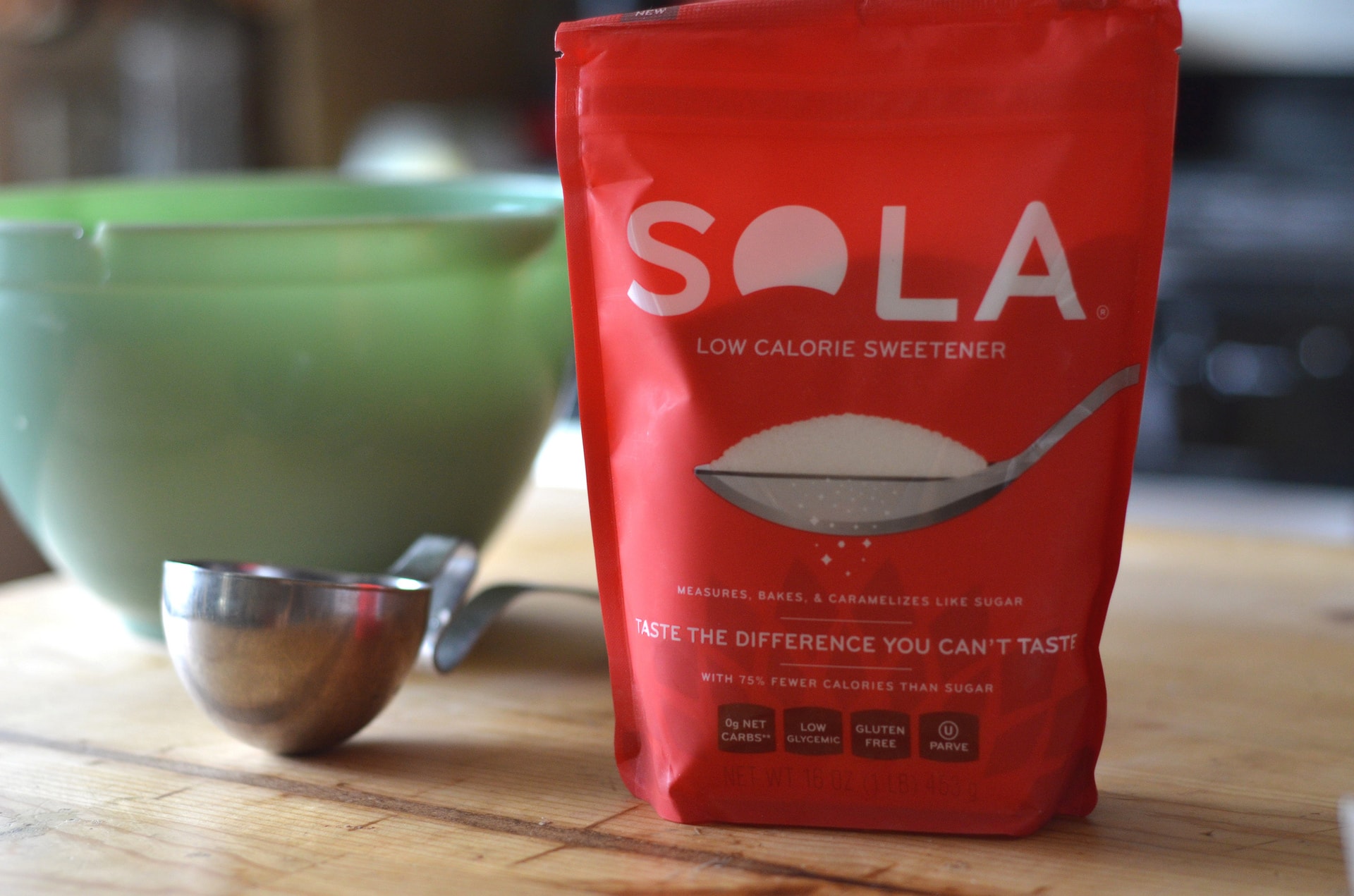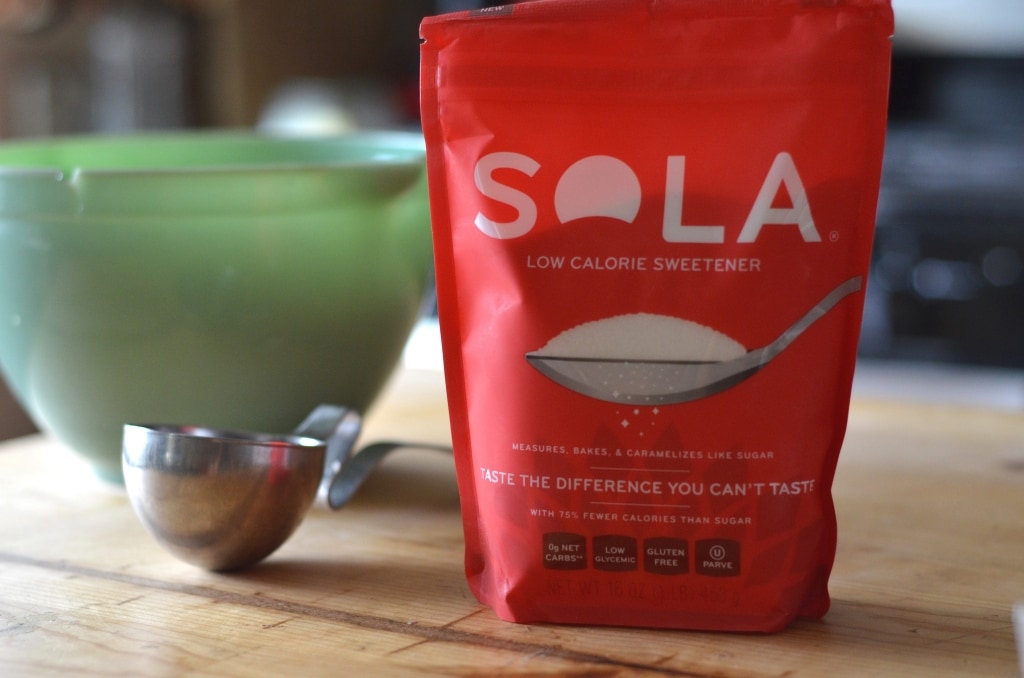 This review was sponsored by The Sola Company. All views are my own.
So you all need to know that this product review started with investigative journalism.
Now if you're like me, and on Facebook, you begin to notice when you see an ad come across your newsfeed many, many times. And maybe the first 56 times you ignore it, but that pivotal 57th time you go, "Ok, Zuck! I'll look at the damn product!"
Such was the case here.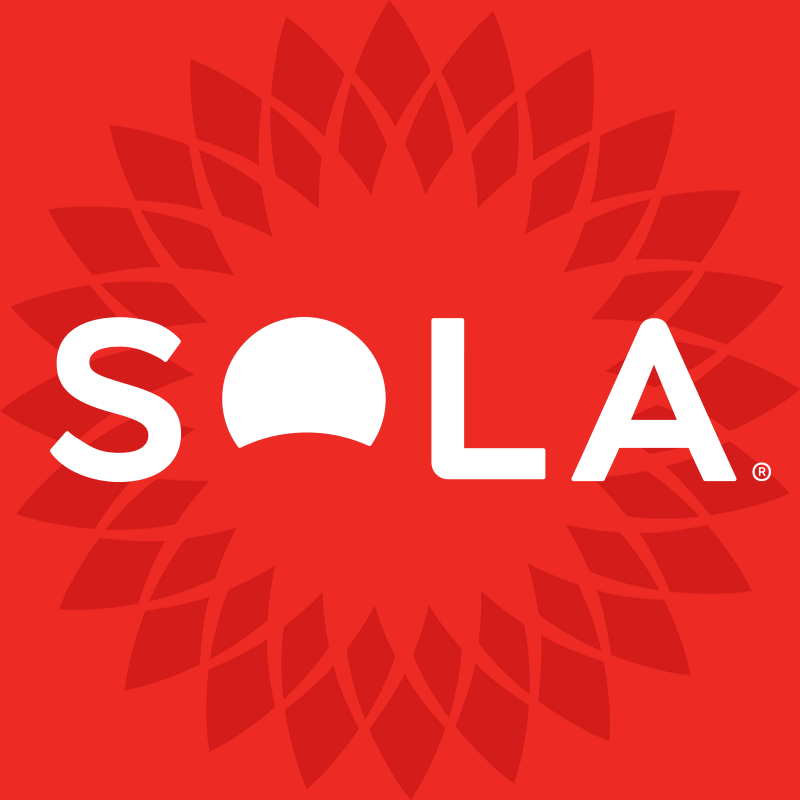 I'd seen ads for Sola over and over again. But I admit I wasn't paying good attention so I didn't really get what it was or why I should check it out, until I saw an ad that says, "Tastes like sugar. Bakes like sugar."
That got my attention.
So I clicked through and checked them out. Looked interesting enough. So I put it on my "to order a sample list" on Evernote and went on about my business. About a week later, though, fate stepped in. (If you believe in fate.) A rep from the company reached out to me to see if I'd like to try it.
Why, sure! But first…what the hell is it?
I asked this not only for myself, but because I know you guys are pretty sweetener savvy. I can't get anything past you guys! And over the past few years many of you have stopped using artificial sweeteners in favor of more natural choices. (I respect that but traditionally I've been a Splenda girl myself.) So I was eager to know what's in it. The rep from the company…let's call him Bob (because…that actually is his name) was happy to help me understand. But there was one ingredient  I had never heard of (more on that in a minute) and he even helped me with that too!
So here we are now, together. Exploring the wonderful world of Sola. Shall we dive in?
(And, if you need to do your own investigative reporting about Sola, here's the link to their website!)
The Aesthetics
So there are two things to talk about here. The packaging and the look of the product itself. Now I should say that every time I talk about this product I keep wanting to say Solar instead of Sola. I think they know that, which is why the package design was bright and cheery and had sun-like imagery going on. They sent me a gamillionty-seven sample sized containers (about 1.5 cups each), but by the time you read this, they should be very close to releasing their 2 lb. bags.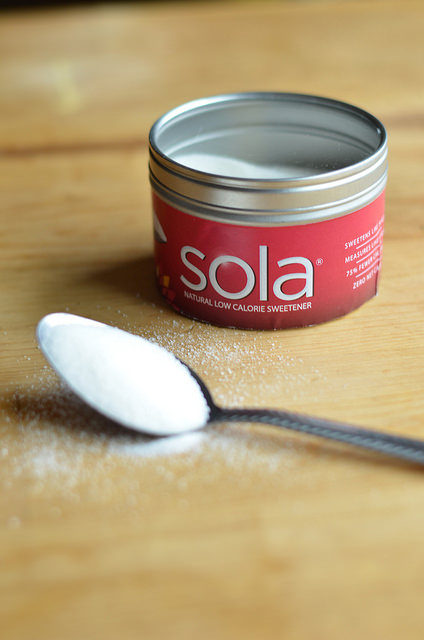 The second thing we need to talk about is the actual look of the product. In a word: wow. So the first thing I did when I got the product was to pop off the lid, dip my finger in there and take a taste. (I'm ghetto like that). And it was the very first thing I noticed – this stuff looks like sugar.
Like…Splenda. Ok, so it is much lighter in weight than actual sugar and even though they call it Splenda granular it's sort of…powdery. So are most other major sweeteners. But Sola is not. It is actually granules. Real granules. That crunch between your teeth and release little bursts of sweetness (more on the flavor in a moment).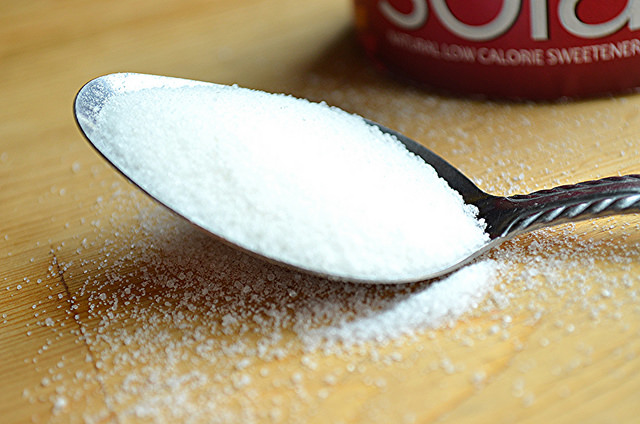 This was both exciting and displacing to me. Over the course of the past few weeks I've tried Sola in a bunch of things and when I bake with it, that granular aspect is cool. But when I put it in stuff like cottage cheese, it's a little odd. Now granted crunchiness is something I LOVED about sugar. But I haven't had that particular crunch in 9 years so it was a little bit odd for me, if that makes sense.
Anyhoo…let's move on because I know you want to know what's in it, how it tastes and what I ended up doing with it.
The Nutrition
Sola has some interesting wording about how natural the sweetener is. It says it is made up of stuff found in nature – but then, so is everything (even chemicals) so I pressed a little further! Let's go through the ingredients list one-by-one, shall we? (And here's where you can get all the info you'd ever want on Sola!)
Erythritol: You all should be familiar with this sugar alcohol. But don't get too scared. Studies show that this sugar alcohol doesn't have a super negative impact on the human digestive system, which is why it's used in a lot of stuff.
Tagatose: So this one tripped me up. I had never, ever, ever heard of it! After reading a very helpful Wikipedia article, I discovered it's another type of sugar located in milk (the main sugar we are used to hearing about is lactose). But tagatose has a much lower glycemic impact (meaning it doesn't raise your glucose level the way sucrose does) and still manages to be sweet.
Maltitol: Also a sugar alcohol that is extracted from starch (corn, as best I can tell). From my reading, I believe it is also the source of an interesting side effect I talk about below.
Monkfruit Extract: Monkfruit is one of the newer sources of sweetener on the block. Alone, it is sold in many supermarkets already.
Xanthan Gum: This is an ingredient usually used to bind or thicken things and is a byproduct of sugar fermentation (and before we get too panicky there are lots of times we ferment sugar…vinegar anyone? Or…wine, anyone?)
Stevia Leaf Extract: So we all know what that is, right?
Natural Flavors: Ah…the most irksome ingredient the Food and Drug Administration says companies don't have to explain! I don't fault Sola for this. Sometimes it's easier to just say natural flavors. But still…what is that???
So here's how the macros shake out. For a teaspoon it has: 0 calories, 0 fat, 4 total carbs, 1g sugar (that's that tagatose), 3g sugar alcohols and 0g protein. Since neither the tagatose nor the sugar alcohols have a negative glycemic effect (they don't shoot up your blood sugar), by law Sola is allowed to subtract them from the carb count, meaning that a teaspoon of Sola has 0 net grams of carbs.
You all still with me?
Can we just pause and appreciate the mental fortitude it took to condense all that into digestible bits? (Pun intended.) #YoureWelcome
The Taste
I'm glad I did the finger dip because it gave me a chance to taste it without any extraneous flavors getting in the way. So what did it taste like?
Well, first let's admit that I am biased because I've been eating no-calorie sweeteners for nearly a decade, but…it tasted like sugar to me! But I didn't trust my opinion so I then proceeded to take the container around to every member of my family, make them dip their fingers in it and asked what it tasted like. (So now the Sola container is probably hella germy!) They all said it tasted like sugar. But there was one interesting thing.
When it hits the tongue there's a slight cooling sensation, not unlike mint. But without a minty flavor. That's the best way I can describe it. It wasn't unpleasant at all, but it did happen so I thought I'd mention it. Apparently that's due to the maltitol. Interesting.
So I was all types of excited at this point, but Sola had one more test to pass. Does it really bake like sugar?
The Practical Application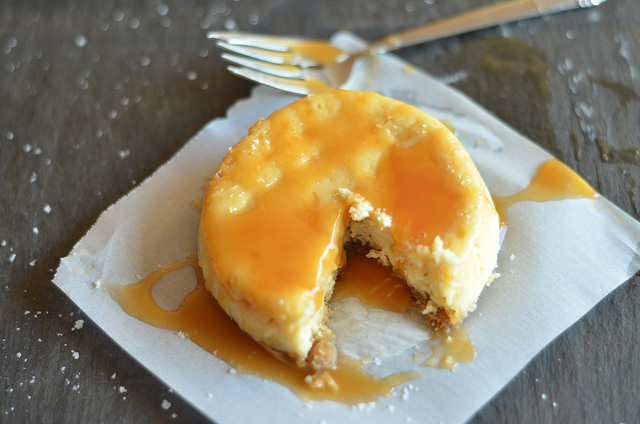 For those of you who are new to Bariatric Foodie, you should know this. I. Love. Cheesecake.
I love cheesecake!
To me cheesecake is one of the most bariatric friendly desserts. While traditional cheesecake recipes sometimes use flour, you don't have to. And you can substitute lower fat ingredients for high-fat ones. (NOTE: I would not suggest trying to make a fat-free cheesecake. I'm not even sure that's possible but even if it is, you shouldn't do it!)
So when I was deciding what to bake with Sola, naturally, I wanted to do a cheesecake! Salted Caramel Mini-Protein Cheesecakes, to be exact!
And, yes, here is the recipe for you! 😉
But save that for later. Right now, let's not lose focus!
The important thing here is…how did the cheesecake turn out?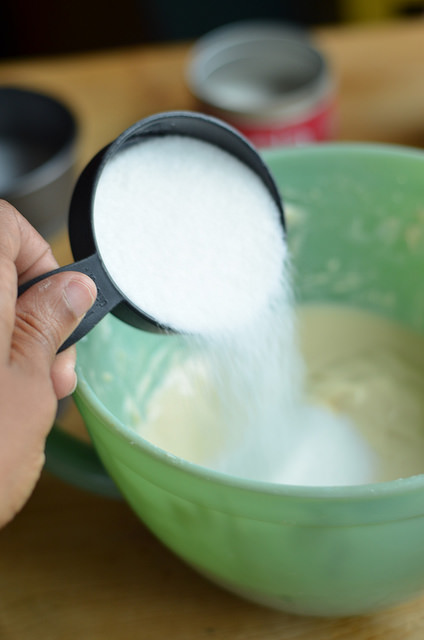 ZOMIGOSH IT WAS SO GOOD! Granted I added some extra Sola to the mix (don't ask me why, I just did) so it was a tad over-sweet to me. But the flavor was legit. I had a few co-workers taste test it without telling them it didn't have white sugar in it and they couldn't tell the difference. Score! (For what it's worthy, they did pick up on the slight texture difference as a result of the protein I added, but that wasn't bothersome. Everyone said it was delicious but just a little different.)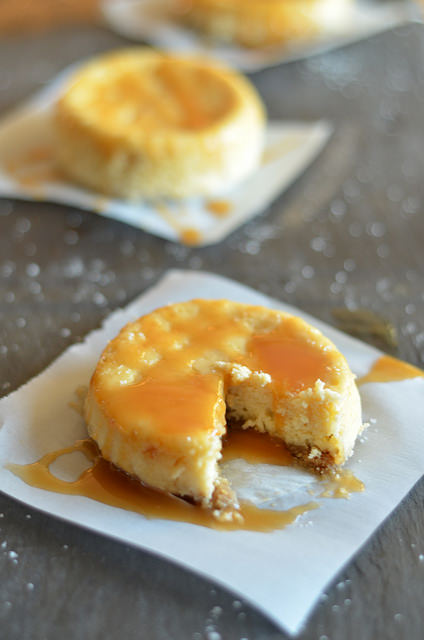 So let me answer the obvious questions:
Yes it did bake just like sugar. I did a cheesecake do-over and even tested some of my no-flour cookie recipes with it and all of them came out perfect.
No, I didn't have any adverse reaction to Sola. None at all! And, yes, I am very sugar-sensitive so if there was a reaction to be had, I would have had it. But I did just fine with it.
No, the cooling/quasi-minty sensation did not carry over into the baked products. At least not as far as I could tell.
So overall, I was impressed! I love, love, love to bake but doing so with sugar subs just frustrates me. The texture is always a bit different, it doesn't brown right. Just a bunch of problems…none of which I had with Sola. So that's exciting to me!
The Value
Ok so here's where I'm a bit impaired by this product being so new. I actually don't know how much a bag of it will cost. I can tell you their Starter Kit, which comes with 1.4 lb. sampler bag and a recipe book, retails for $18.99 on Amazon. I'm hoping the actual product will be far less, but it's not available yet, so I don't know!
But here's what I do know. Sola has offered to give the Foodie Nation a heads up when the full product is released, along with announcements of giveaways and discounts! Go here to get on the list to receive those notifications.
The Verdict
So…this one is a hard because I don't have the final price on the product. I will say though that I've been using it since early January and I've been able to enjoy all sorts of low-carb baked treats. It truly does bake like sugar so there isn't some of the wonkiness that comes from baking even with Splenda (and which, in the past, drove me to use Splenda Brown Sugar Blend to achieve better results).
Anyhoo…here's where I netted out with the whole thing. I love this for my baking. It's still a little weird for my yogurt and cottage cheese and stuff. I may go to hell or have my left arm fall off or something, but I do like my Splenda for that stuff, just because I've become acclimated to the texture of it in those things.
But for baking? Oh I am definitely using this stuff! And my family likes it for their everyday consumption. When I put this out, they didn't touch the sugar. So that's encouraging!
Again, you want to get on their notification list for when they release the full product. I' calling that my official verdict. Because this stuff is worth checking out!
Oh…and by the way…I have a friend named Nichelle who runs a company called "My Bariatric Box," which is a subscription service where you can get different WLS-friendly products every month. I do believe Sola is going to make an appearance in a box very soon, so you might want to check that out as a way to try it (and lots of other things), too!