Ah, cookies. They are a hallmark of the holidays. And as a post-op we spend a lot of time trying to avoid them, am I right?
I actually respect that a lot. Cookies are tricky territory. They are small. Unassuming. There doesn't seem to be much harm in having just one little cookie, right? That is…until one cookie becomes four cookies and you either feel deeply regretful OR you've made yourself sick.
And this is why I have cookie rules. Let's review them:
While Nikki will make large batches of cookies to give out as gifts or for holiday parties, Nikki does not make large-batch "Nikki-friendly" cookies. Typically cookie recipes I make to be safe for me yield no more than 10-12 cookies.
Nikki does not eat cookies alone. Ever. If I want a cookie, I eat it either when I'm around other people or I take a chance to chat up one of my ever-reclusive teenaged daughters. For whatever reason I am good at reigning myself in when I'm around other people.
Nikki only bakes what she should eat unless she has a direct plan to share with others. So unless I'm going to a party or something, I'm very good at removing precisely the amount of dough I need from the freezer (I freeze dough balls, not whole batches of cookies) and I am not above baking approximately two cookies.
These rules – along with the fact that my surgeon seemed to yank my sweet tooth when he did my gastric bypass – have kept my cookie consumption in check for the past nine Christmas seasons. So that's what works for me. You need to know what works for you! (Including not eating cookies if you know it won't lead anywhere good…know thyself, Foodies!)
The cookie recipes I'm outlining here are a bit of a departure for me for several reasons.
First, I used Splenda Brown Sugar Blend to bake most of them. I usually stay away because it has actual sugar in it. But I find that the bit of brown sugar in the blend actually helps the texture of my cookies a LOT.
I also used almond flour in all of these recipes. Even with my peanut butter cookie recipe (which I also have in a completely "no flour of any kind" version), the almond flour just did lovely things. The caveat is that when using almond flour in a cookie recipe you should use twice as much almond flour as the amount of white flour called for in the recipe (so if the recipe says 3/4 c. white flour, use 1.5 c. almond flour…got it?)
Other than that, I tried to stick to good, honest ingredients. To me, cookies aren't health food. So I did not put protein powder in these. (You can if you want…protein powder just makes it very hard for me to control the final texture of my cookie!) And, again, these cookies are meant to be a better option, but they are still a treat!
So without further adieu, here is my no-flour, low-sugar cookie collection. Click on the buttons to go straight to recipe!
Chewy Pecan Cookies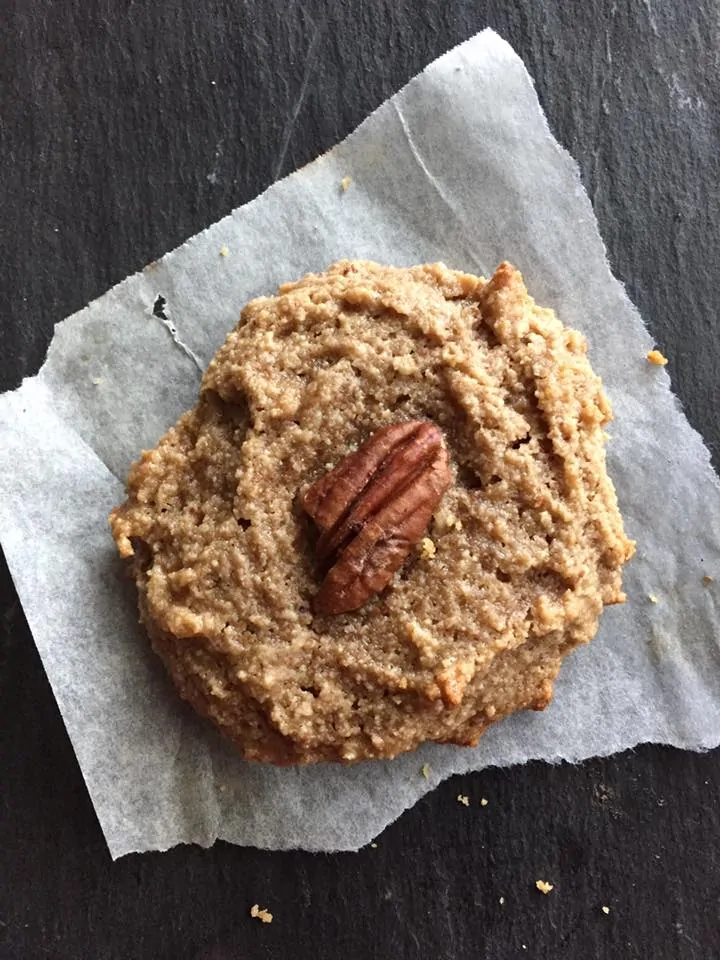 You all have Shannon to thank for this recipe (for those of you who don't know her, Shannon is our social media manager who keeps the conversations hopping over on the Bariatric Foodie Facebook page). She requested a chewy pecan cookie so I did some research and found a good recipe at the blog Unconventional Baker (click that link for the original recipe). I made a few tweaks based on what I had on hand and these cookies turned out to be SPECTACULAR.
They taste like pecan pie. Srsly. I'm not messing with you.
Thumbprint Cookies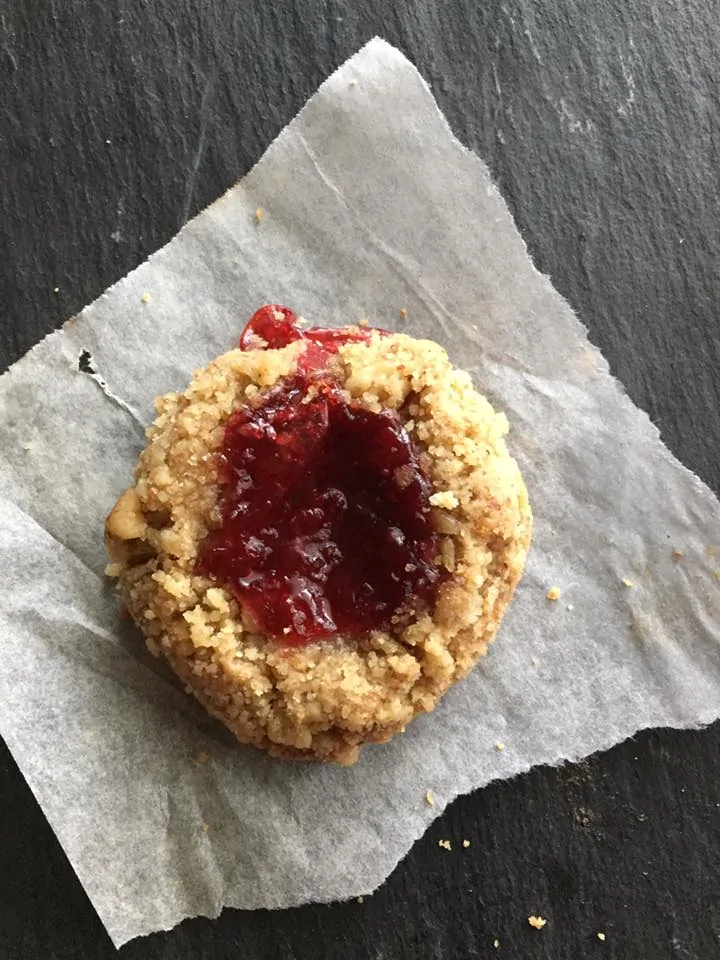 I've made thumbprints loads of times. But in seeking out a base recipe, I looked to the one on Allrecipes (by the way, that's where a lot of the base recipes I play with come from…). These were a little different in that they were nut crusted. I was dubious about this at first but at the end of the day I LOVED how these turned out.
But the thing I love most was the swap I found for the butter because…that's right, Foodies…there is absolutely NO butter in this cookie recipe!
Click through to see what I used instead.
Peanut Butter Cookies 2.0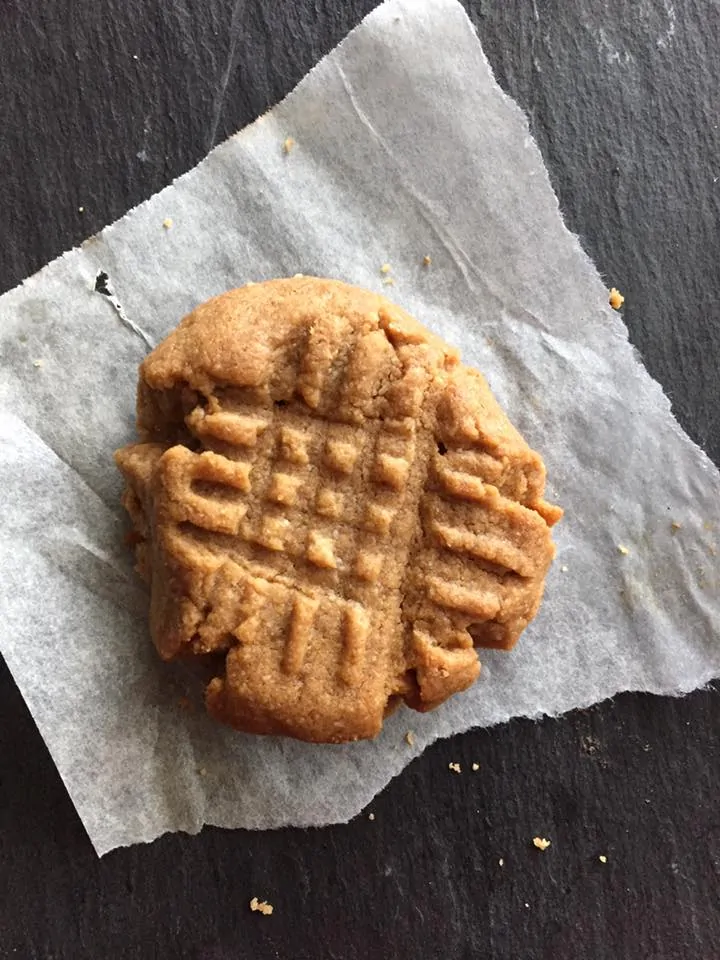 Y'all knew I had to do a peanut butter cookie, right? I mean…this is me we are talking about here.
I already had a no-flour almond butter cookie recipe that I also used to make peanut butter cookies but here was the problem. Those suckers were hella crumbly! Like "it's good for one bite before the rest crumbles in your hand like an ancient scroll" type of crumbly. I'd even heard about that on social media.
I have heard your cry! And I tweaked the recipe so that it doesn't disintegrate after the first bite!
Now go forth and…cookie!