~~posted by Jen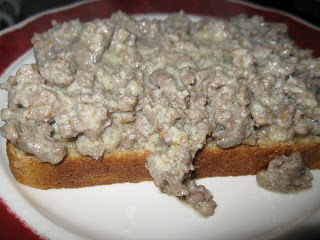 Raising a family of four kids, sometimes more, since there were inevitably extra kids at our house, my parents became experts at stretching a food dollar. It certainly didn't hurt that my Momma was the "State Homemaker" for a few years running in her High School Future Homemakers of America Club and the undisputed Queen of Home Ec at Berrien High School.
I like to think that is where I learned it from. I can remember my Momma buying a family-size pack of ground beef (usually about five pounds) and making four or five meals from it. For those of you who were around back then, the 1970's were a pretty tough time economically, with the oil embargoes and such. (Remember waiting in line for gas? It was hot as hell in the back hatch of that station wagon waiting, let me tell y'all!)
Ah, memories! Anyway, one of our mealtime favorites, and I think it was more because of the name than because of the actual dish, was "Sh*t on a Shingle" as it's called in the military mess halls. Daddy calls it "S.O.S.", but it always made us kids giggle and look forward to dinner.
The actual dish is Creamed Chipped Beef on toast, and it's one of those comforting dishes that most everyone loves. Not to mention it's another recipe perfect for any meal of the day, which I love. You can eat it with or without the toast, so it's great for any post-op WLS stage from purees on up.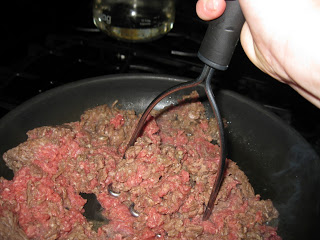 Quick Tip: Break up your ground meat with a potato masher as it's cooking, this is MUCH easier than a spoon
Last night I had some 85/15 ground beef in the fridge that I was cooking up to make a few meals for the week, so I decided I was in the mood for S.O.S. I've been testing out the Atkins Baking Mix to write a review for y'all, so instead of the usual Arrowhead Mills Multigrain Pancake mix I use for gravies, I tried some of that. It came out really good! You could probably use Carbquik here, too, but I haven't personally tried it so I can't vouch for how it comes out in a gravy.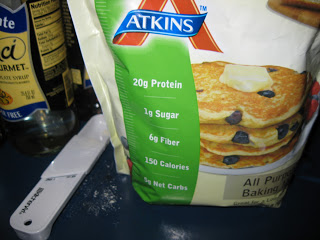 This stuff is awesome, review coming later this week, so stay tuned!
Even the two non-op carnivore boys in this house, who prefer chicken or seafood to beef, loved this. I went to heat myself up some for breakfast a few minutes ago, and the whole bowl of it is GONE! It's very simple to make, and my version is better for us than the original. Here's how it's done:
Jen's WLS-Style S.O.S.


Ingredients:
1 lb lean ground beef (I used 85/15–you could also use turkey or chicken if you prefer)
1 teaspoon olive oil or canola oil (you'll need a bit more if you use turkey or chicken because of the lower fat content of the meat)
4 tablespoons Atkins Baking Mix
1 tbsp Garlic Powder
1 tbsp Salt
1 tbsp Onion Powder
2 cups hot water
Directions:
In a large non-stick skillet, heat the oil and add the ground meat. Using a potato masher, break up the meat into small pieces as it's cooking. Season meat with salt, garlic powder, and onion powder. Continue cooking until meat is completely cooked through.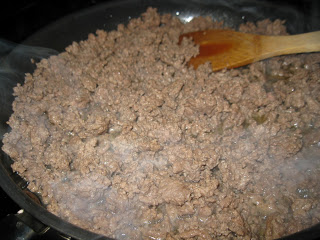 That potato masher really does the trick on breaking up the meat.
Using a "spider", remove the cooked meat from the skillet and reserve the pan juices. You need these for the gravy, so don't drain through a colander. If you don't have a spider or slotted spoon, put the colander over a big bowl so it catches the drippings and you can pour them back into the skillet.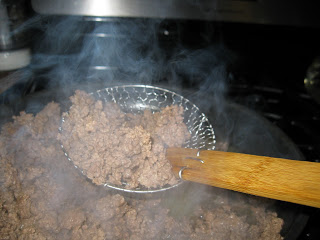 It takes mad skillz to take a pic with one hand while draining meat with the other over a steaming hot pan lol.
Sprinkle the Atkins baking mix into the pan drippings and whisk quickly over medium high heat. You want to get all the lumps out and slightly "cook" the baking mix so it doesn't have a "raw" taste in your gravy. It will start to bubble up around the edges, this is normal. Once it's bubbling pretty well, whisk in your hot water.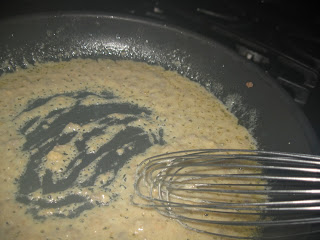 Whisk it well, this is your "roux"and you don't want lumps!
The mixture will thicken up into gravy, just make sure to keep whisking it so no lumps form. Taste for seasoning and adjust if needed. Once gravy has thickened (usually after about 3 minutes or so) add the browned meat back to the pan and combine it into the gravy.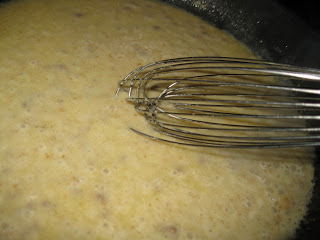 Water is added, now to get it hot and thickened into gravy.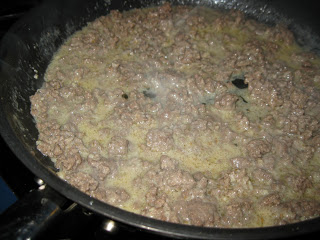 The finished creamed beef
Serve warm over toast, or it's also great on mashed potatoes or in my case "faux-tatoes". I would NOT suggest using the P-28 bread for your toast on this dish. Simply because that bread is already extremely filling on its own. This would be a great place to use the Pepperidge Farm thin bread, or even an Arnold thin.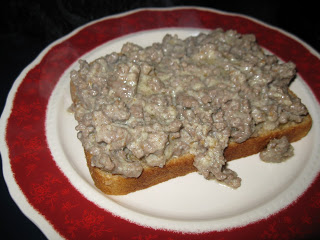 I served mine on Multigrain Toast