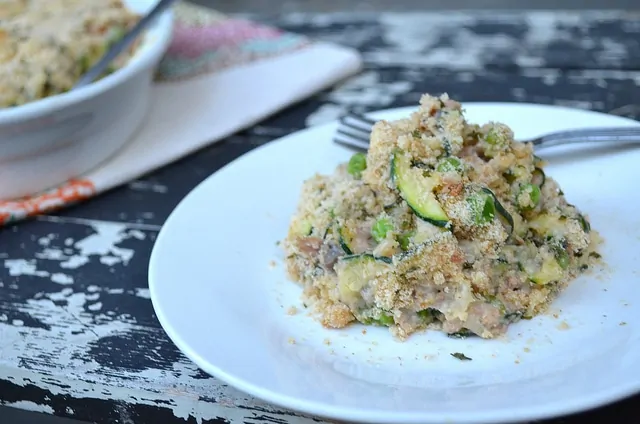 Tuna casserole. Do you love it or hate it?
I love it, as does my youngest daughter. My oldest daughter (who hates 99% of food) hates it. I've found this is generally true. You either absolutely cannot get enough of the stuff OR you cannot stand the sight of it.
If you are a tuna casserole lover, you are in luck! This is one of the easiest casseroles to convert to being WLS-friendly. In this recipe I use zoodles (zucchini noodles) but you can easily omit the noodles altogether. It's also very easy to play around with the size of this casserole to make just enough.
This particular recipe requires special equipment – a vegetable spiralizer. In my upcoming zoodle recipe book (it's coming, I swear!) I'll go over the different options for vegetable spiralizers but for now, you can use whichever one you want. Although I recommend cutting the zoodles into spiral shapes, this recipe also works with them cut into a long noodle shape as well.
[convertkit form=4851741]
Preheat your oven to 350 degrees.

Spray a nonstick skillet with cooking spray, set it over medium heat and allow it to get hot. Add onions and sautee about 2 minutes, or until tender.

Add peas & carrots, tuna and soup. Do not dilute soup. Heat an additional 2-3 minutes, stirring to combine veggie mixture with soup.

Add zoodles and stir until completely integrated. Transfer to a very small casserole dish or into individual ramekins.

In the microwave, melt butter then mix in bread crumbs and Parmesan cheese. Stir until thoroughly combined. Top casserole with crumb mixture and bake at 350 degrees for 30 minutes or until topping is crispy.