~by Nikki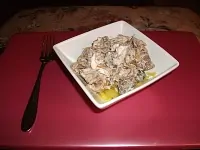 We've gotten great reviews of our decision to start doing recipe remixes. And we've even got a reader submission–from our friend Jane!
Now Jane totally saved my butt his week. I was scheduled to do a restaurant remix this week, but unfortunately life got in the way. You may not know this, but during the day I work for an disaster relief and development organization. If you've been watching the news you know that yet another disaster is headed for Haiti. It is in times like this that a) I become very, very grateful for everything I have b) my heart hurts for people who have had hardship upon hardship heaped upon them and c) my blog recipes go out the window.
In essence, food is great. My desire to help my fellow human is a bit stronger though. So please do your girl, Nik, a big favor and keep the people of Haiti in your thoughts and prayers. For today, however, the restaurant remix will have to wait.
But no worries. Jane to the rescue with a yummy recipe! So leftover pot roast. We've all had to contend with this at some point in our existence (unless you are a vegetarian in which case…maybe not…but then if you are I doubt you'd like this blog very much either…). There's about a million and one things you can do with chicken, but how can you remix beef?
Here's what she had to say about this dish came to be:
I had a leftover pot roast and leftover spaghetti squash and no idea what to do with either one. Staples in my kitchen are mushrooms and onions because they go with just about everything. I put it all on the counter and the following was created. I have no idea what to call it besides delicious.
Jane's Pot Roast with Mushroom Cream Sauce & Spaghetti Squash
Ingredients
1 pound precooked pot roast
½ onion, sliced
½ package mushrooms, sliced
1 c wine
½ c Greek yogurt
1 pat butter
2 cloves garlic
Yield from one spaghetti squash
Directions
Coat pan with butter. Add mushroom slices and onions and sauté. Add 2 cloves crushed garlic and cook additional minute. Add wine and using a spatula, deglaze pan. Add shredded pot roast meat. Simmer until liquid reduced by half. Add Greek yogurt and stir allowing the yogurt to warm. Serve over warm spaghetti squash.
Ah…I miss beef. It and I are no longer friends except once in a VERY blue moon.
Thank you Jane! Both for saving my butt and for sharing your WONDERFUL recipe with us. If you have any questions about the recipe, hit us up and we'll forward them along to Jane.