~~by Jen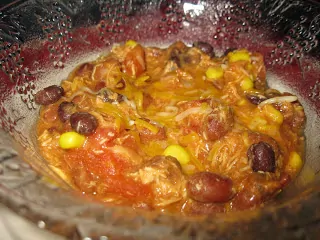 A big bowl of deliciousness

Here's a fun fact! I am one of those weird people (yes, thank you for noticing) who has more than one person I consider my "BFF." In fact, I have four, and two of them even have the same name!
One of my two friends named Liz is a non-op, but we were friends long before I considered WLS. She's known by my other BFF's as "The Cuban", the very same one who inspired my "Havana Heaven" recipe.
Liz has been very supportive of me throughout this journey and she always makes sure to have healthier food options for me at her house when I come over. The best part is she's considerate of what I need without being the food police, if that makes sense. Plus she thinks she is my Mom, even though I am 5 years older, so she takes it upon herself to text me notes like "Did you have enough protein today?" Ever helpful!
She and I work together for a utility company, and we were both working Christmas Eve day before I spent the holiday with her family. Liz very considerately texted me and told me not to bring lunch to work, she had made something for us and was bringing it in.
After the first bite of this, I KNEW I had to get the recipe. She laughed when I asked her for it, and pretty soon I understood why! This is one of those completely easy, super delicious meals you will make over and over again for yourself and your family. It's loaded with protein and fiber, and the perfect warm up on a cold winter's day.
Here's how it's done:
Liz's Cuban Chicken Chili
Ingredients:
4 boneless skinless chicken breasts
1 can dark red kidney beans, rinsed and drained
1 can black beans, rinsed and drained
1 can whole kernel corn, drained
1 jar mild salsa
Shredded Mexican blend cheese and Greek yogurt, optional for garnish
Directions:
Add all ingredients to your 4 or 5 quart crockpot. Cook on low for 7 or 8 hours. I shredded the chicken in mine once it was done, but you could leave it in chunks if you prefer.
Top with shredded cheese, and some Greek Yogurt if you like the "sour cream" effect. Dig in!
If chicken isn't your friend, this would be delicious with ground turkey or beef, or with steak tips or stew beef like I use in my
"Practically Famous Chili."
If you want to go meatless, just increase the beans (maybe double them) and add some TVP like Nik does in her
Turkey & TVP Chili
.
The possibilities are endless!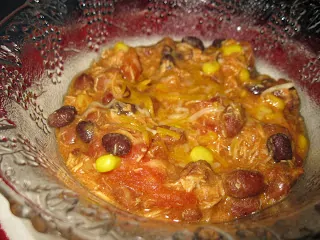 This is really scrumptious as nachos topping too!