~~by Jen
So we're expecting another big snowstorm in NJ starting tonight. I work for a utility company in my "day job," so I am considered an "essential" employee. That means I get to go to work, snow or no snow. We're told to always bring a change of clothes and extra food when big snow storms are predicted, that way if we have to stay at the office at least we're prepared.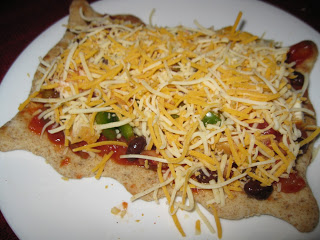 I deliberately didn't melt this cheese, since this is my lunch for work today.
Of course I didn't have time for grocery-palooza, so I had to get some extra things together from what I had on hand. Luckily the RV (resident vegetarian) loves loves LOVES my Cowboy Caviar, so I had a big bowl of that on hand. I also had some Arnold Multigrain Flatbread thins (perfect pizza crust!) and some leftover chicken. You know what I did, right? I played with my food! The result? This scrumptious Chicken Quesadilla pizza!
I made a full sized one on a Boboli Whole Wheat crust for the meat-eating boys in my house, and brought my mini version to work as an extra meal. The boys ate theirs for lunch today, and it gets 2 enthusiastic non-op thumbs up!
Super quick and easy, the perfect remake for leftovers, and the whole family will love it! Here's how it's done:
Jen's Chicken Quesadilla Pizza
This recipe is for 1 individual pizza, increase it if you're making a family size.
Ingredients:
2 tbsp salsa (I used thick 'n chunky mild, use what you like)
1 Arnold Multigrain Flatbread
1/4 cup taco blend shredded cheese
4 tbsp Jen's Cowboy Caviar
2 oz leftover roasted chicken (or you could use the Fit 'N Active grilled bites, or whatever you like–beef or sausage would be good, too)
Directions:
Preheat oven to 400 degrees. Put the flatbread or pizza crust on a cookie sheet and place it in the oven for a couple minutes to get crispy. Remove the crust from the oven and spread salsa over it for your pizza sauce.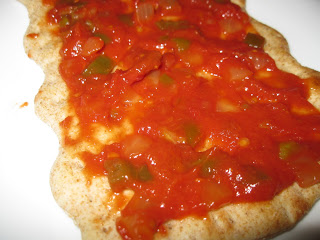 Crisped crust with the salsa "sauce"
Cut the chicken into bite-sized pieces and sprinkle it over the crust, then spread the Cowboy Caviar over the chicken and sauce.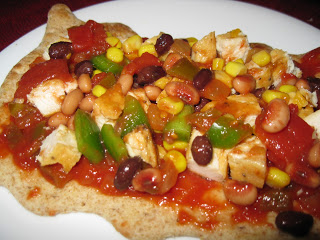 Ready for the cheese


Sprinkle the cheese evenly over the top of the pizza. If you're going to eat it right away, return it to the oven for 5 minutes or so until the cheese is melted and bubbly. I skipped this step for my lunch one today, since re-heated cheese is not always my friend. (Sorry for no ooey, gooey cheesy goodness food porn!)
I just finished my lunch break at work, and I heated my pizza in the toaster oven here in our breakroom for 5 minutes. You could also microwave it to melt the cheese. Delicious and filling, I will definitely have this one again.
If you're early out and can't handle bread-type items yet, you can pulse the topping ingredients in a food processor until smooth, then heat it up with the cheese. It's delicious with OR without a crust! Enjoy!