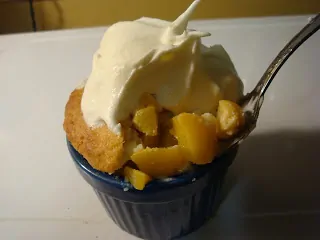 Break out your ramekins, kids, it's time for more fun! Next up: peach pie!
When trying to think of something sweet I experienced a phenomenon I call "information overload." Quite simply, there were too many choices and I couldn't decide which one to move forward with. If you've been keeping up with this blog for a minute, you know I already attacked ramekin cheesecakes. But there is a whole WORLD of food, savory and sweet, that we can experience in a ramekin.
Then one night I got a little help making my decision. From the Soap Opera Network.
You see, they run old episodes of Beverly Hills, 90210 and I was watching it. I used to love that show as a teenager. No, that's not quite right. I was OBSESSED with that show as a teenager. So anyway, I'm watching the show and it hits me. The Peach Pit. But of course!
Ramekin Peach Pie. Let's do this!
Now, I served mine with a bit dollop of fat-free whipped cream. Since this is purely dessert and not particularly protein forward (although if you use the
Quest All-Purpose Mix,
it has a lot more protein than a normal slice of peach pie), you want to go easy on the toppings.
This was light and sweet and actually made me long for summer. Still a few months away though. Until then…I always have Brandon and the gang to keep me company…
Prepare the crust by first mixing in the salt and the Splenda, then cutting the butter in (there was so little mix, I just did it with a fork). Add cold water, ½ teaspoon at a time, until a dough ball forms. Stash your dough in the fridge until you are ready to use it.

In a bowl, mix together the peaches, lemon juice and sweetener. After that is mixed, add your thickening agent and stir again. It might look a little grainy, but trust me…this will work out. Fill your ramekins with the peaches and set aside.

Roll out your lil' dough ball and cut two rounds out of it. (I had to take a pic of this. The dough ball was so small I didn't even bother with a rolling pin. Instead, I used these groovy Ikea kids cups which also doubled as a cutter).

Top your peaches with the crust and cut a venting hole in the middle of the crust. If you'd like you can brush some additional butter over the top (and I did…just for flavor and color effects).

Bake in a preheated 350 oven (I used my toaster oven) for about 10-12 minutes or until the crust is nice and golden. Allow to cool before serving.