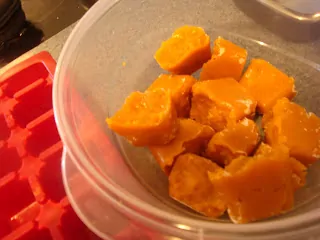 I'm really busy most days. Are you?
If so you know that making some of the more decadent dessert shakes can be a hassle. Take pumpkin shakes for example. You have to crack open a can of pumpkin, dole out what you need for your shake, find something to store the rest of the pumpkin. All this makes those types of shakes not feasible for when you're on the go.
I have a solution.
Protein shake starters!
"What the HELL is a protein shake starter, Nik?"


I'm glad you asked. I make protein shake starters so that I can quickly and easily assemble my shakes with all the flavors I love but without all the mess and time investment.
I just made up a batch of pumpkin protein shake starters and here's how I did it:
Step One: Assemble the ingredients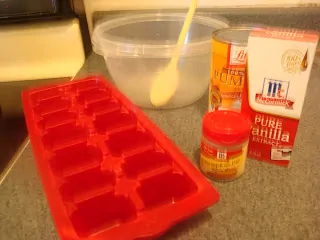 So here we have a can of pumpkin, some pumpkin pie spice, some vanilla extract (or you can use some sugar-free vanilla syrup), a bowl, a wooden spoon and an ice cube tray.
Step Two: Mix it Up!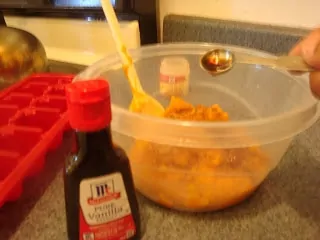 Combine the ingredients in your bowl and mix well! You want the flavors to be well distributed. Here I used the whole can of pumpkin, 1 tsp. of vanilla and 1/4 tsp. of pumpkin pie spice. You can adjust to your liking though! I did not add sweetener. I'll add that directly to my shake if I want it.
Step Three: The ice cube tray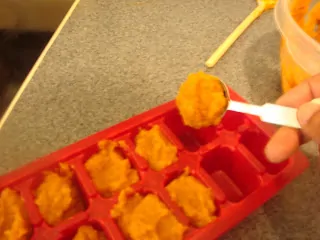 This is your secret weapon in this whole deal. The one thing that always irked me about pumpkin shakes was feeling like I had to figure out what to do with the rest of that can of pumpkin. Well, once you mix up your starter, fill an empty ice cube tray with it, using a tablespoon measure. On a standard ice cube tray this should get you perfect, one ounce servings of your pumpkin mixture. Remember to tap down your ice cube tray on the counter to make sure it settles in there nice.
Step Four: Freeze!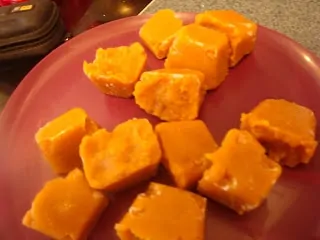 Then all you have to do is pop it in the freezer and freeze until solid. When they're done, you pop them out of the ice cube tray and into some freezer bags (I recommend getting smaller bags and only putting a few in each bag).
Then when you're ready to make your shake, combine your shake starter (two cubes) with milk (or water, if that's your thing), protein powder and any other flavor additives you like (additional sugar-free syrups, etc.) and away you go!
These starters take about 10 minutes to make but they save you time and money. Now that you have your canned pumpkin all prepped to become a shake, and now that you have it all frozen (so it lasts longer) you waste less pumpkin and you can mix up your pumpkin pie shake in no time!
And it's automatic portion control. Remember, generally one ice cube slot = one ounce.
I make protein shake starters out of all sorts of stuff. Look for more combinations to come!