I have a low-carb pancake recipe on the blog already but I actually switched to using this recipe. Why? Well low-carb is good. But high protein is better!!!
This recipe is from "The Bariatric Foodie Breakfast Book" available in hardcopy and Kindle on Amazon.
To make these pancakes first I have to tell you how to make low-carb baking mix. You can buy it if you prefer, but it's easy enough to make and if you have most of the ingredients on hand it can be cheaper!
Nik's Low-Carb Baking Mix
Yields four 1/3 c. servings
Ingredients:
1 c. Hodgson Mill soy flour
45g (roughly 2 scoops) unflavored protein powder (I used BiPro USA)
1 tsp. baking powder
¼ tsp. salt
Nutrition information (entire batch – so divide by four!): 480 calories, 0g fat, 40g carbs, 24g fiber, 16g sugar, 96g protein
Now to make these beautiful pancakes you see above.
Ingredients:
1 serving Nik's Protein Baking Mix + additional teaspoon
1 tbsp. sugar-free banana pudding mix
2 tbsp. unflavored Greek yogurt (Note: Use 1 or 2% but not fat free)
3 tbsp. milk (any kind of milk works here)
1 egg, beaten (or equivalent amount of liquid egg substitute)
¼ tsp. pure vanilla extract
For topping:
A few sprays no or low-calorie butter spray
¼ banana, cut into slices of desired thickness
¼ c. sugar-free pancake syrup
1/8 tsp. rum extract
1/8 tsp. cinnamon
Directions:
Spray a griddle (or griddle pan) with nonstick cooking spray, set it over medium heat and allow it to get hot.
Meanwhile, combine all ingredients in a bowl and mix thoroughly. If mixture is too thick, add milk, by the tablespoon, until it reaches the consistency of not-quite-set pudding.
Use a tablespoon to drop heaps of batter onto your skillet and spread them into rounds. Cook about one to two minutes before flipping and cooking on the other side. Transfer to plate when done.
To make topping: Spray down a small skillet (like 7 and 1/8 inch) with nonstick cooking spray, set it over medium heat and allow it to get hot. Add bananas and spray with butter spray. Cook about one minute before adding pancake syrup. Allow it to come to a low boil, then drop the temperature down. Add rum extract and cinnamon and stir, then top pancakes.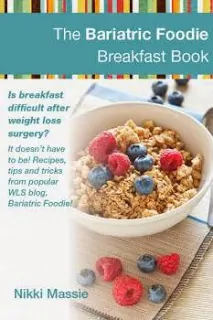 Breakfasts for small pouches
Make-ahead/Grab 'n go breakfasts
Lazy weekend breakfasts
Breakfasts for people who hate breakfast food!
No matter what your breakfast challenge is, this book has you covered.
Check it out on Amazon
in hard-copy and Kindle today!