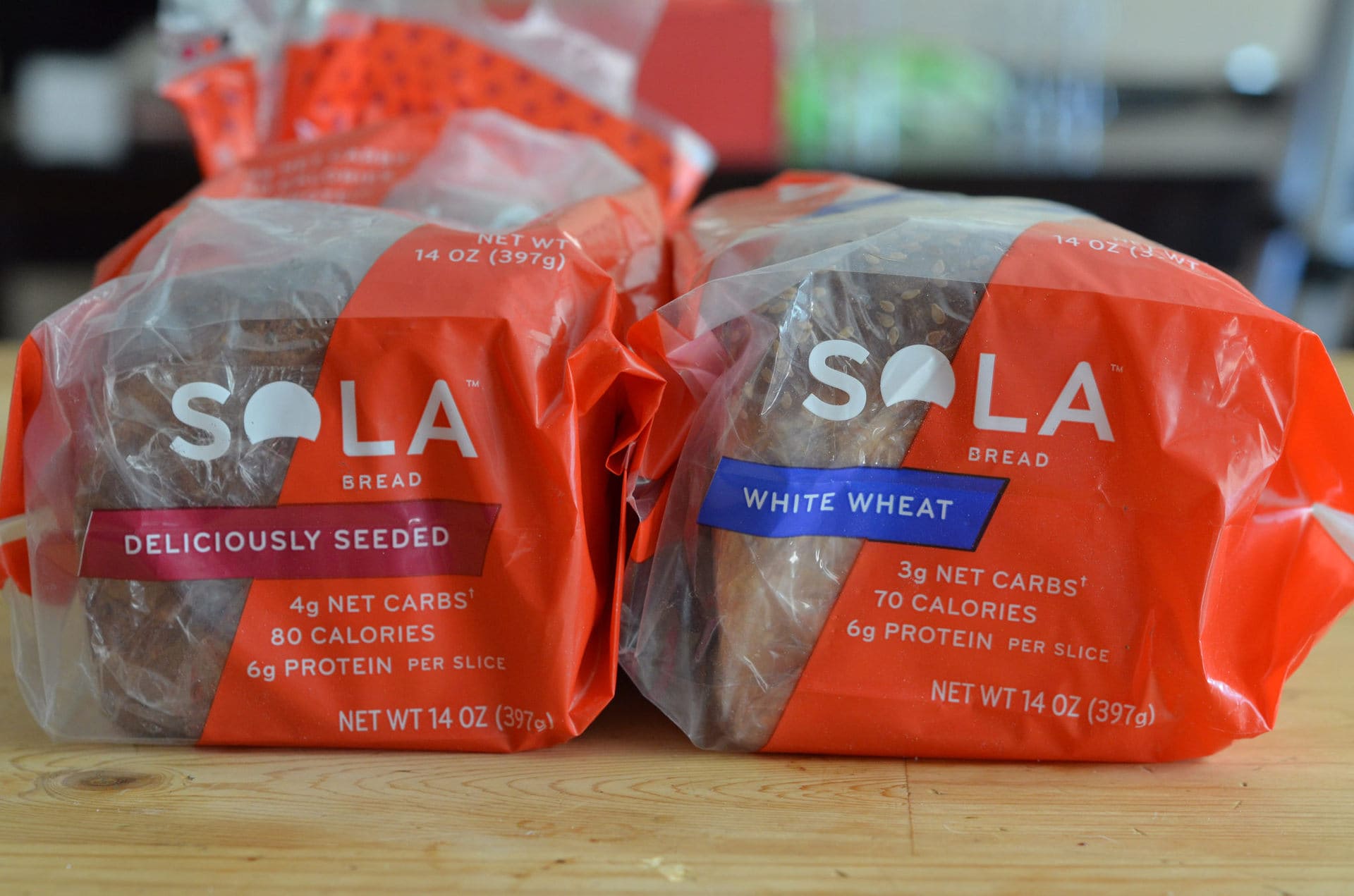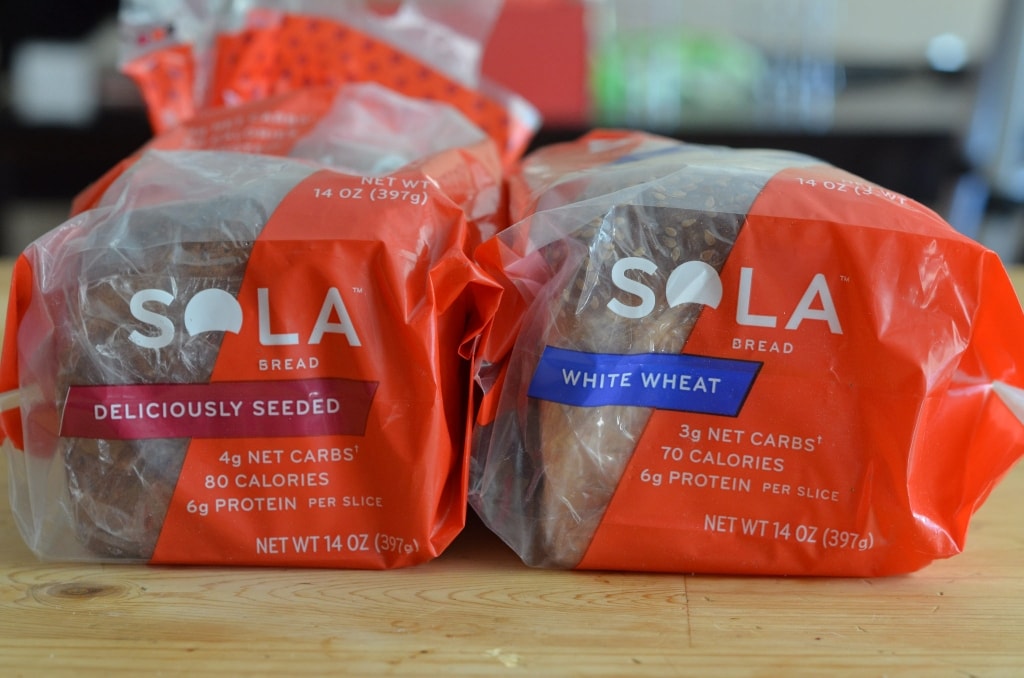 This post is part of a mega-review of Sola's full product collection. Click here to get back to the review home page. 
Yep. Bread.
Pick your jaw up off the floor.
For the record, I don't think bread is evil. It's not the pathway to total regain. It's just bread. Some post-ops eat it. Some don't. If you don't, I respect that! I'm covering this product for those who do eat bread and want to know what options are out there.
So let's get started, shall we?
Sola Bread: What the hell is it?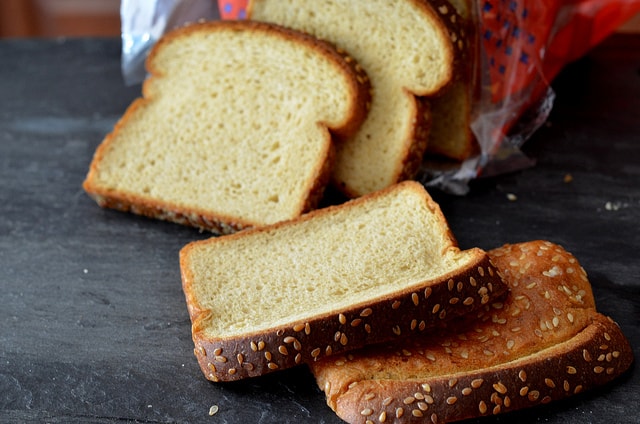 I mean, obviously it's bread, but bread for healthy living tends to have a schtick. P28 bread is super high in gluten (spoiler alert: I'm not a fan, mainly because of the texture). Other breads may be made with alternative flours, or sprouted grains, or gluten-free.
Every bread has a story. So my first order of business was to find out the story behind Sola bread. What's it made of? Why's it different from other bread?
Forgive me the departure, but we really do have to go through this before I even get to if I like it or not. So let's go down this hole together, k?
Here's what the Sola website has to say:
Trying to reduce your carb intake? Or quit buying bread altogether? Moist, flavorful Sola® low carb bread, with 4 grams or less of net carbs, is here to make sandwiches possible again -and you won't be able to tell the difference!
30% Less Sugar than the average adult breads
4g or less Net Carbs*
80 Calories or less
6g of Protein
Sola bread will stay fresh for up to 2 weeks at room temperature, and can be stored frozen for up to 6 months. We recommend freezing shortly after receiving, and remove from freezer as needed.
After I finished contemplating (and giggling at) the thought of what an "adult bread" might be, I came to realize the last statement in particular is quite true. Sola sent me a huge box of products. I did not touch those products for about a week, and then only to get to the sweetener so I could work on the 2018 No-Flour, Low-Sugar Cookie Collection, which was made with Sola.
So by the time I got around to the bread, it had been two weeks and I truly wondered if it'd be moldy. It was not. Which was good! It kept just fine and makes me more confident that it'd work out well if I freeze it as well.
The stats check out ok (more on that below), and it looked almost deceptively normal in the package. I got two flavors: white wheat and deliciously seeded. So I was still searching for the schtick. Remember, Foodies. All healthy bread has a schtick!
The Ingredients and Stats
So there are some things you should know about bread.
First off, it is not the devil. In fact, it's one of the world's oldest and most enduring foods. But what's in it really, really, really counts.
So let's take a look at the ingredients list for both of these bad boys and see how that shakes out in the nutrition information, shall we? For your convenience, I'm going to highlight the ingredients I think are important to talk about, but please be sure to read them all! (And here's where you can get the full stats.)
Deliciously Seeded:
Stats (serving size = 1 slice): 80 calories, 4g fat, 9g carbs, 5g fiber, 1g sugars, 6g protein.
Ingredients: water, vital wheat gluten, soybean oil, resistant tapioca starch, oat fiber, resistant starch, seed mix (hulled millet, flaxseed, sunflower seed, chia seed), egg, wheat flour, sunflower seed flour, contains 2% or less of the following: soy flour, instant dry yeast, vinegar, erythritol, salt, flaxseed meal, nonfat milk, tagatose, buttermilk powder, cane sugar, cellulose gum, calcium proprionate, maltitol, soy lecithin, for freshness (wheat flour, enzymes, salt), guar gum, dough conditioner (wheat flour, salt, enzymes, absorbic acid), additional enzyme, monkfruit extract xanthan gum, stevia leaf extract. CONTAINS: eggs, milk, soy and wheat.
Golden Wheat (which I assume is the same as the "white wheat" as shown above): 
Stats (serving size = 1 slice): 70 calories, 4g fat, 8g carbs, 5g fiber, 1g sugars, 6g protein
Ingredients: Water, vital wheat gluten, soybean oil, resistant tapioca starch, oat fiber, resistant starch, egg, wheat flour, sunflower seed flour, contains 2% or less of the following: soy flour, instant dry yeast, vinegar, erythritol, salt, flaxseed meal, nonfat milk, tagatose, buttermilk powder, cane sugar, cellulose gum, maltitol, soy lecithin, for freashness (wheat flour, enzymes, salt), guar gum, dough conditioner (wheat flour, salt, enzymes, absorbic acid), monk fruit extract, xanthan gum, stevia leaf extract. CONTAINS: eggs, milk, soy, and wheat.
So first let's talk ingredients. The ones I highlighted were ones I thought you might not know too much about (or wonder why it's included). But, as with anything, if any of them are a mystery to you – Google is your friend!
Resistant tapioca starch/resistant starch: resistant tapioca starch comes from the cassava root. In general, resistant starch is beneficial because it feeds the friendly bacteria in your colon and turns them into important short-chain fatty acids. It feeds good gut bacteria and may lower your blood glucose levels.
Cane sugar: I just wanted to highlight this because some folks freak out about it. I'm 99.9% sure there's sugar in this because yeast needs sugar to activate. By law, sugar must appear early in the ingredients list if a food is made up of a lot of sugar. But, as we can see from the stats, it has 1g. So I'm fairly sure that's why it's there!
Maltitol: That's a sugar alcohol. Sugar alcohols provide sweetness but can't be absorbed by the human body (WLS or otherwise), so they don't count in the carb count of a food. Maltitol is a sugar alcohol associated with wheat.
Xanthan gum: Is a natural food thickener. It's created when sugar is fermented by a type of bacteria called Xanthomonas campestris. When sugar is fermented, it creates a broth or goo-like substance, which is made solid by adding an alcohol. It is then dried and turned into a powder. IMPORTANT: Xanthan gum is a byproduct of sugar. It is not sugar.
Overall impressions. Not bad, Sola. Not. Bad. At. All. My only concern after looking at the labels was the texture of the bread. You'll see that wheat gluten is the second ingredient in both breads. That means there is a good amount of it in the bread. That's good for the stats because wheat gluten is protein. So the 6g of protein achieved in each slice is possible, in part, by the bread having a higher level of wheat gluten than the average bread (with a negligible amount of protein coming from milk products, the egg, and the nuts and seeds).
I'm not gluten-sensitive but I am a texture gal. And I remember P28 bread (spoiler alert: I hate it!). Last I tasted it, stuff is like chewing a piece of terrycloth. (And no, I do not care to try it again!) I prayed that would not be the case here.
Was it? Keep moving forward…we'll get to that! But first…
The Aesthetics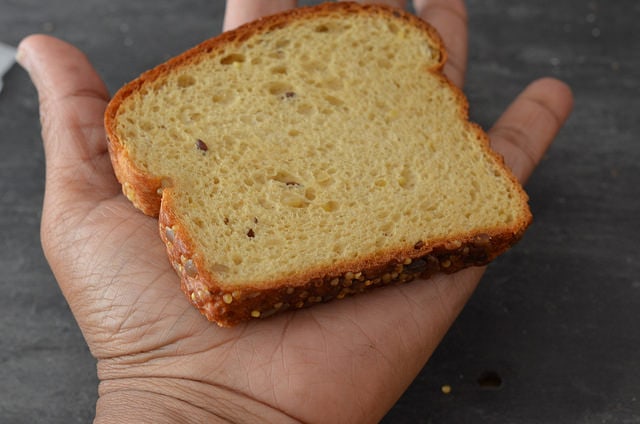 When I first got these two loaves of bread, I honestly thought they had somehow gotten into the wrong packaging. The Honey Wheat had lots of seeds and the Delciously Seeded didn't have as many apparent seeds. But once I cracked it open, I saw that they were in the right packaging!
The next thing I noticed was the size of the bread. It's not huge. That's good! (For me, anyways.) One piece seemed manageable, especially with what I had planned for it. (We're getting there, Foodies. Bear with me!)
So far as touch, it isn't a soft, pillowy bread (only Wonder Bread seems to do that and I don't even want to think about how they make that happen). It's firm. Not super-duper dense, but more dense than your average slice of bread. The Deliciously Seeded had little seeds dispersed throughout. All in all, an appealing looking bread that wasn't intimidating for my "sometimes not-bread-loving" pouch.
Ok, next is the moment you've been waiting for.
The Texture/Taste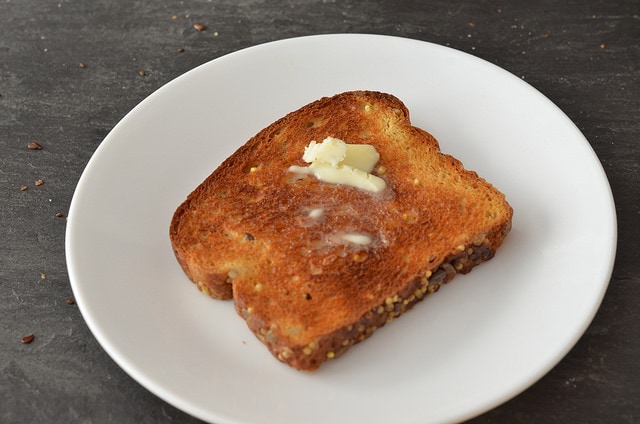 You should know that for any bread to work for me, it has to be toasted. That is non-negotiable. Un-toasted bread leads to pain. I don't like pain. Therefore, I don't eat un-toasted bread.
So I toasted the bread. But just toasting the bread seemed so…pedestrian. (That's my word lately.) So I decided to go one step further and treat myself to one of my favorite breakfasts: poached eggs!
Just thinking about poached eggs makes me happy. Now I know a lot of you have contraptions to make poached eggs, but I use a good old pan, some water, vinegar, eggs and a slotted spoon. And it takes about the same amount of time to cook (once the water is simmering) as the bread did to toast. So that was perfect.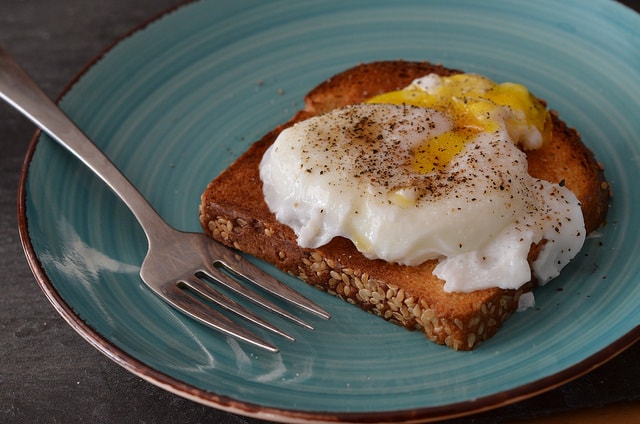 (NOTE: If you are in the Foodie Nation Facebook group, you can see the process of me poaching an egg to go on Sola bread on this post. If you aren't in the group, though, you won't be able to see it. I promise I'll make a version to go up on YouTube soon!)
So. Let's recap a moment here. I had my slice of Sola (I tried each slice on different mornings). I toasted it. I poached two perfect eggs on it. (Which was itself a feat. I usually bust open at least one and have "ghetto egg drop soup" on my hands.) So how did it taste? How was the texture?
I'm going to break this out by bread:
Deliciously Seeded: I liked it BUT the seeds burned a little in my toaster. I have my toaster set to toast things thoroughly (again, that's the only way it's working for me). The bread didn't burn but the seeds got over-toasted. The bread was chewy but not obnoxiously so. The biggest thing I noticed about the texture was that I did have to work with my knife a little to cut into my poached eggs. It was very filling.  The flavor was earthy, like a good wheat bread. I was distracted by the burnt seeds, though. I decided to try this slice again on a different day and managed not to burn the seeds, but the bread wasn't toasted thoroughly as a result and I could only eat half a slice (which maybe was a good thing). All in all, I liked it!
Honey/White Wheat: Of the two, this was my favorite. Solid wheat flavor (I love the flavor of wheat bread). Toasted up nicely. Was also kinda chewy, but I didn't mind it. (Chewing things makes my brain think I'm eating more. #Facts) And I managed both a thoroughly done piece of toast that did not have anything overcooked in it.
It is of note that even though I had to cut my toast with a butter knife, the spill from the poached eggs softened that up a bit, so the entire thing was very manageable.
The Value
This one was hard for me to assess. I usually use the price-per-protein gram (a metric I totally made up) to assess products. But bread isn't inherently a protein product. And this doesn't advertise itself as protein bread. I'll still give you the PPG on it, but I think there are a few other considerations. So let's examine this.
Where's it sold: It's sold on Amazon, Harris Teeter, Hyvee, HEB, and Meijer. Their store locator can tell you if it's sold locally near you. Just be sure, when you get return results, to click on the "X products" (1, 2, etc.) link on each location result. That tells you exactly which Sola products should be available at that location.
Price: On Amazon, Sola bread cost $19.99 for two loaves. In my local Harris Teeter, it cost… Each loaf has about 14 slices.
So, going off the Amazon price, the price-per-protein gram is $0.23 for each gram of protein you are getting.
The Verdict
Would I buy Sola bread?
Well, yes and no.
I don't buy bread very often and, when I do, it's bread for my kids. Would I buy my kids Sola bread? Probably not.
But when I do buy bread for me (which happens, just not that often) I invest in good bread. Quality bread. Healthier bread. Now before Sola bread, that usually meant going to the baker and buying bread and, frankly, it didn't cost that much less than Sola bread (I'm a bread snob) and the stats were a lot heavier on the carbs and sugar. Seeing as I can get Sola bread locally, I would say that when the bread mood hits me, yes, I would invest in Sola bread. And I'd take their advice and freeze the HECK outta that mofo to make it last! Because me = cheap.
But the real question is this: Would you try Sola bread? Sound off in the comments. Tell me if you a) eat bread at all b) if you do, what standards have you set for bread and c) if Sola seems like a bread you'd want to try.
To find out if Sola bread is available at a store near you, be sure to visit their website!
Oh…before you leave…have you checked out the 2018 Bariatric Foodie No-Flour, Sugar-Free Cookie Collection? If not, here's the complete rundown on this year's cookies, all made with Sola sweetener! Or, if you're more of a "cut straight to the chase" kind of person, you can fill out the form below to download the recipes into a FREE ebook!