~~posted by Jen
I know everyone is rushing around trying to get everything ready for Christmas. I have a few more last-minute homemade Christmas gifts to share with you tomorrow morning that don't require any cooking, but we can't forget our furbabies! Since these do take a little bit of time to bake, I wanted to make sure you had the lowdown in time for "Santa Paws."
Not to mention this is a great project to keep the kids occupied since they're home from school and you probably could use something to keep them busy!
Zeus and Mickey get very excited about Santa Paws, they even like to open presents. (Zeus likes to "help" wrap too, but that's more about him being nosey.) That's my "Poodle Patrol," they now live with Ken and Pop.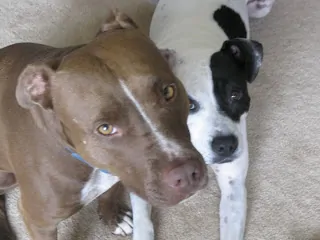 I have these pretty girls, or as our pal JaimeK calls them, "The Pit Patrol", at my house now. Maya is the gorgeous tawny colored one on the left. She's my snugglebug! Peanut butter is her ABSOLUTE favorite. Indeed her love of PB is rivalled probably only by Nik's!
I started making these treats for them awhile back, and they are Maya's absolute favorite. My "boys" Zeus and Mickey love them too, and even the picky Miss Finn (her name is short for "Finnicky" because she has such high standards) scarfs these down.
Super easy to make, put them in a cellophane bag with a raffia bow, and it's the perfect gift for the pets in your life, or even a friend or neighbor that has a beloved dog. If this is a gift for a human (to feed to their pet of course), make it even more special by tying an index card with the recipe (or even a link to our blog) printed on it and a cookie cutter to the bag or jar. Here's how to make them:
Maya's Favorite Peanut Butter Treats
This recipe makes about 75 small biscuits (36 large)
Ingredients:
1 1/2 c. whole wheat flour
1/2 c. all-purpose flour
1/2 c. cornmeal
1/2 c. rolled oats
1/2 c water
1/2 c. canola oil
2 eggs
3 tbsp creamy peanut butter
Cooking Spray
Directions:
Preheat the oven to 400 degrees. Spread a good sized piece of wax paper on the counter, this is where you'll roll out the dough to cut it.
In a large bowl, mix together the flour, cornmeal and rolled oats. Little by little, add in the remaining ingredients until it's mixed well.
Spray your hands lightly with cooking spray, this is a little known trick when working with sticky dough to help keep it more manageable so you don't end up with dough-covered hands!
Now knead the dough for just a minute or two with your hands, then place it on the waxed paper. Spray the dough lightly with cooking spray. Spray your cookie sheet with cooking spray and set it down near your work area. Spray a rolling pin lightly with cooking spray and roll the dough out to about 1/2 inch thickness.
Use cookie cutters to cut the treats out into desired shapes and sizes. I used gingerbread cutters this time, since most of these are being given away for gifts. Place the treats on your sprayed cookie sheet with a bit of space in between.
Bake small sized treats for 8-10 minutes at 400 degrees (let the larger sized ones bake about 12-15 minutes), then turn off the oven. Let the cooked treats hang out in the oven for at least 20 minutes, so that they will harden.
Here's a tip: if you're making several different flavors, as I usually do for gifts, use a different shape for each flavor. This is great especially if you have several dogs and they each have different favorite flavors (not that there are any high maintenance dogs in my life, nosirreebob!) Like I also made a big batch of
Zeus's Favorite Cheesy Treats,
so I used bone-shaped cutters for those.
I'm planning to make some Cluck Cluck Chicken Treats (recipe coming soon!) that will be shaped like snowmen, and the Cheesy Bacon Treats (recipe is a variation on Zeus's, at the bottom of the page) will be snowflakes.
My boys Zeus and Mickey will love their presents from Santa Paws!! That is if I can keep Maya and Finn out of the kitchen long enough to get them all baked and packaged up. Somehow they know when the cookie cutters and pans come out that they can expect something yummy!