~~posted by Jen
Let me start off by saying: No, we're not giving up on making great "people food" for y'all. Most all of our friends on FaceBook and OH have pets, and you've all probably heard tales of my boy Zeus, not to mention Nik's poodle Precious. Who could forget the puppy napping incident? Well it occurred to me that you may want to pamper your pets, too. So occasionally we'll be sharing some homemade pet treat recipes, just for a change of pace.
Anyway, since you're leading a healthier lifestyle these days, shouldn't your pooch get the same treatment? Not only are these much fresher than commercially made treats, they are also considerably less expensive than the fancy "doggy bakery" treats that my boy Zeus prefers. He's just like his Momma, bless his heart. The boy's got Champagne taste on a beer budget!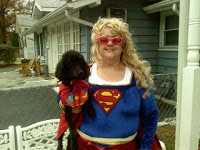 Zeus and I Last Halloween as SuperMan and SuperGirl
So yesterday afternoon I was baking some treats for Maya and Finn, the two pitbull rescues that live with me. They're my roommate's dogs but have attached themselves to me, and they are the sweetest things you could imagine. Of course, I have to take some over to Zeus and his brother Mickey. I'm going over to visit Pop tomorrow for his 81st birthday, so I'll see the boys then.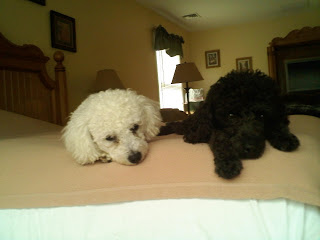 Mickey and Zeus, The Poodle Patrol
Baking treats always reminds me of Charlie, our 16 1/2 year old Shorkie Tzu who absolutely loved homemade treats. He passed away on August 13, but he'll always live on in my heart. He was the tiniest little thing but he could eat more than Maya and Finn put together! I was enjoying cutting out the shapes and wishing Nik's divas were here to hang out with me and make treats, they love to help cook and are a hoot and a half to spend time with.

Charlie
Then I started remembering when my niece and nephew were little and how much they loved helping with anything in the kitchen. Just a few weeks ago, my 26 year-old niece Brandi told me that some of her favorite childhood memories were times she spent in the kitchen with me coloring Easter eggs and baking Christmas cookies. Now that she's grown and married with kids of her own, she is carrying on the traditions I started with her and her older brother Josh.
Now school is back in session, the weather is getting cooler, and the holidays will be here before we know it. Everyone is probably looking for inexpensive weekend activities to do with the kids.This is a perfect "rainy day" activity for the whole family to do together. What a fun way to get your kids involved in the kitchen AND make some healthy treats for your four-legged "kids".
If you don't have a pooch of your own, these make a great gift for friends who do have treasured pets. I make some every year for my neighbors' dogs at Christmas, and also a big batch that I take to our local animal shelter. We also bring a bag to Zeus and Mickey's groomer and their vet's office, since they usually give out treats constantly.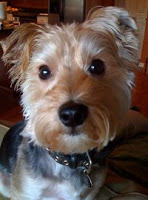 Chippie
Zeus loves these cheesy treats, and since his pal Chippie ("son" of my good friend LizDotCom99 on OH) just had knee surgery, we're sending some his way as a get well present. I know Nik's divas will get a kick out of making these for their dog, too.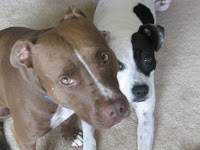 Maya and Finn, my faithful sous chefs
Since the divas weren't here, Maya and Finn stepped in to be my sous chefs. They always know when I am baking treats for them, it's downright hilarious. They'll both stand guard by the oven door just waiting for the timer to go off. So cute! Here's the recipe so you can make some treats for your pooch pals!
Zeus's Favorite Cheesy Treats


Ingredients:
2 cups whole wheat flour
1 8oz package shredded cheddar cheese
1/2 cup vegetable oil
1/2 cup milk
1 tbsp garlic powder
Cooking spray
1 jar Hormel real bacon bits (optional–I usually make half with and half without)


Directions:
Preheat oven to 350 degrees. Spread a good sized piece of wax paper on one counter, this is where you'll roll out the dough to cut it. In a large mixing bowl, combine flour, cheese, and garlic powder with a whisk. Add milk and vegetable oil and stir mixture together until it is completely combined. Dough will be slightly sticky.


Knead the dough for just a minute or two with your hands, then place it on the waxed paper. Spray the dough lightly with cooking spray. Spray your cookie sheet with cooking spray and set it down near your work area. Spray a rolling pin lightly with cooking spray and roll the dough out to about 1/2 inch thickness.


Cut out shapes with cookie cutters and place them on your sprayed cookie sheet. These don't spread out much so you can put them closer together than you would cookie dough. Bake at 350 for 25-40 minutes, depending on the size of the treats. I usually check them at about 15 minutes and flip them over so they brown evenly on both sides.


Store in an airtight container or treat jar at room temperature. Your dogs will thank you!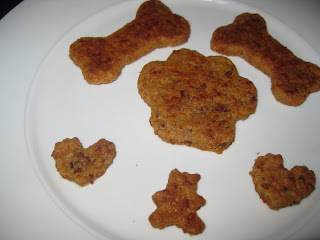 Cheesy Treats, for dogs big and small