I love squash. I love yellow squash. Zucchini squash. I love acorn squash and butternut squash and spaghetti squash. By far, for me, squash is about the easiest vegetable to get down. It's full of water and lends lots of color and flavor to any dish!
So last night I made myself an Egg Burger for dinner and wanted a side. As you all know I am the owner of the ORIGINAL Wonder Pouch™. Which means I can eat more than most of you ever want to be able to eat. And I figure it this way. I can use this skill for good or I can use it for evil. MOST days I choose the former, using my enhanced capacity to get in veggies that most of us just don't have room for!
Anyhoo…I'm in the kitchen..playing with my veggies and I came up with a spice/herb combo for my squash that was out of this world! (And I do NOT use terms like "out of this world" lightly!)
Nik's Sauteed Squash Medley


Non-stick cooking spray OR a small pat (like 1/2 tbsp) butter
1 medium sized zucchini, sliced into thin rounds
1 medium sized yellow squash, sliced into thin rounds
1/4 tsp. garlic salt (I used McCormick Roasted Garlic salt – NOM!)
1/4 tsp lemon pepper
1/4 tsp Herbs de Provence (it's a blend of French Herbs that is amazing but if you can't find it, Italian seasoning works too)
Directions:
If you are using non-stick, spray your pan generously and let it get hot. Use a non-stick pan as well. The pan in the picture was NOT non-stick and guess what? It stuck! Anyhoo…once the pan is hot, drop the heat down to medium.
Throw the zucchini and squash rounds in the pan and cover with the spices. Cover the pan and allow the veggies to cook, stirring occasionally. About 5-ish minutes. Usually while this is happening I'm doing dishes.
Continue to cook until it's at YOUR personal level of done-ness. Some of you simply like your veggies steamed through. I like to get a crust on mine. I'm weird like that.
Serve alongside any upstanding protein choice! Oddly enough, this tastes like pizza. I kid you not. Maybe it's the Herbs de Provence? Who knows? I take pizza tastes where I can get them and I don't ask questions!
It was so good I had it again today for lunch with some grilled chicken tenderloins: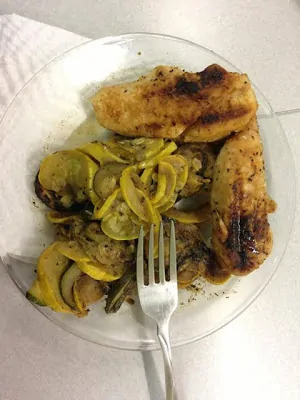 Play with your food!