~~ by Jen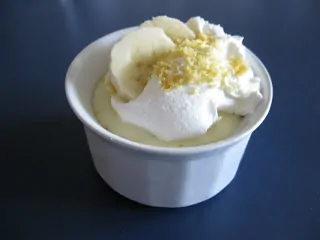 So we asked "how do our Pouchers wanna go bananas?" and you answered, mostly "Banana Cream Pie!" I was secretly hoping for Banana Pudding, because my StepMom makes THE BEST banana pudding you ever put in your mouth, and I come from a long line of great Southern cooks. So, since this is my recipe, I decided to combine what I love about Mom's banana pudding and create a pie filling for the banana cream pie. Her pudding substitutes sweetened condensed milk for part of the regular milk, but I could not find a sugar free version and Mom says she doesn't know of one. Sooooo, I used cream cheese! It gives it the same consistency as the sweetened condensed milk without all the sugar and carbs. Thanks for waiting so patiently for the recipe, I had to put it through Nik's "3 Trials Before Posting" method to make sure I worked all the kinks out of it for y'all.
While I was tinkering around in "the lab" I also came up with a new version of a WLS friendly crust for those who aren't too keen on the Fiber One version that we normally use. (I like it ok, but I must not make it right or something, because I can always taste the Fiber One in mine. Maybe I just want Nik to make me pie!! Yeah, that could be it!) The secret ingredient is……wait for it……Sugar Free Shortbread cookies!!!!!!! I used the Voortman's brand (side note, these things are TOO damn good and not something I could keep around. Even the non-ops in my house were scarfing them down!) My original plan was to use SF Graham Crackers, but the grocery stores in my new 'hood don't have them for some reason.
The ins and outs of crust creation are covered in detail in a separate "BF Basics" post, because I came up with quite a few different versions that work. The Shortbread one is perfect for any type of cream pie or I also made a strawberry pie with it (yes, there will be a recipe posted soon). It's great with the bananas and would be good with lemon or any other fruit flavor, because it's a basic flavor, just like graham crackers. If you don't feel so inclined to make a crust, and we all have those days, you could always order some SF
graham cracker crusts online if your store doesn't sell them.
S'anyway, let's go bananas, shall we? Oh, before I forget, I made individual pies in ramekins
for fool-proof portion control. I love this set
and use it quite often because it's perfect for my egg custard creations or meal-size mini quiches. Even at two years out I still am not the best at "eye-balling" a dessert portion (mainly because the fat chick in my head starts screaming "MMMMMMM–PIE–NOMNOMNOMNOMNOM" and I lose concentration) so it's best if I make them individual size.
Jen's Banana Cream Dream Pie
Ingredients:
For The Crust:
1 cup SF Shortbread cookie crumbs (if you use Voortman's that is 8 of the shortbread swirl cookies)
1/4 cup melted butter (yes, I use REAL butter feel free to use whatever you like)
2 tbsp Splenda
Directions:
Combine all three ingredients until well mixed, then press evenly into the bottom of a pie plate or if you make individuals like I did, split the crust mixture evenly among 6 ramekins. Press evenly to cover the entire bottom and sides of the pie plate or just the bottom of the ramekins. I set mine in the freezer for a couple minutes, this gives the crust time to firm up so it doesn't fall apart when you slice the pie.
Ingredients for Pie Filling:
1 box Instant Sugar Free Banana Cream Pudding Mix
1 scoop Vanilla Protein Powder
1 cup 0% Greek Yogurt (I used Chobani because it was on sale, any brand is fine)
4 oz cream cheese softened (you can use reduced fat, but I didn't)
1 1/2 c 2% milk
16 oz container of SF Whipped Topping
1 or 2 fresh bananas (optional)
Directions: Set whipped topping aside. In a large mixing bowl, combine Pudding mix, protein powder, yogurt, cream cheese, and milk with an electric mixer on low speed until well combined. Once it is mixed, set it aside for a couple of minutes so the pudding can set a bit. Remove your crust from the freezer, and pour in the filling. Now top with the container of SF Whipped topping. If you choose, you can slice a fresh banana or two and put those on top of the filling before you add the whipped cream topping. I opted NOT to do so, because I have an issue (yes, I have more than Reader's Digest, thanks for noticing) with bananas getting slimy & brown when they oxidize. Not to mention bananas are hella carby and not everyone tolerates them too well post-op. What I chose to do, as you can see in the pic, is top mine with a slice of banana, and some more of the shortbread crumbs. Cover the pie and refrigerate for 3 or 4 hours before serving. (You can get plastic lids for the ramekins, these are INVALUABLE when you're early out.) Your family will love it, and they won't even know it's good for them, I promise!!!!