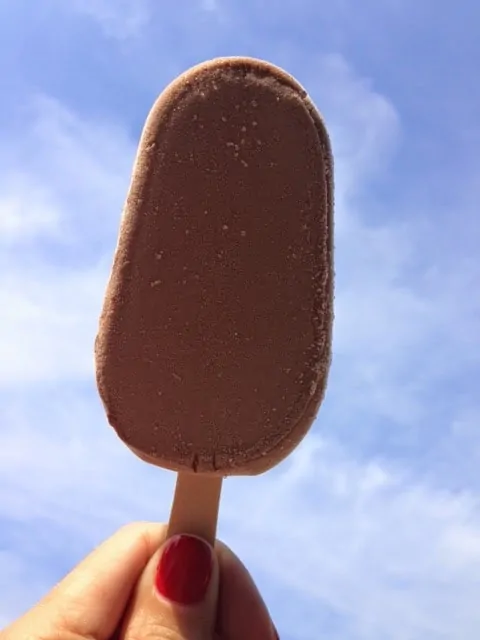 FCC Disclousre: The reviewer of this product was given free product for the purposes of this review, however was not monetarily compensated. The opinions expressed in this review are those solely of the individual reviewer and may not express the opinions of Bariatric Foodie.
Enlighten Ice Cream. The good for you ice cream. We'll just see about that won't we???
Admittedly this review is hella late (as is my custom at times). My apologies. But since there are a few more weeks of warm weather yet, I'm hoping this review will help you satisfy your end-of-summer ice cream cravings.
At first glance, I admit Enlightened has potential. Per their website, the bars come in FIVE different flavors: Fudge, Coffee, Orange Cream, Toasted Almond and Peanut Butter. Here are the stats on the fudge bar, which is what is being reviewed here. This is per the
Enlightened website
.
70 calories

2g fat

14 total grams carbohydrates

5g fiber (bringing the net carbs down to 9g)

3g sugar

6g erythritol (a sugar alcohol BUT one that tends to have very little impact on the human digestive system)

8g protein
So let me pause and say this. From the numbers alone this appears to be a pretty decent bar. Which is exactly what makes me suspicious! That's why I asked my Foodie-pal Cindy to review check these bars out for you. Her mission: to find out if an ice cream bar could be both good and good FOR you.
I asked Cindy to review the product based on the following criteria: packaging, aesthetics (smell, look of the product), taste, nutritional value and to give an overall verdict. Here's what she had to say.
Q: What did you think of the packaging? Was it informative? What could you tell simply by looking at the package?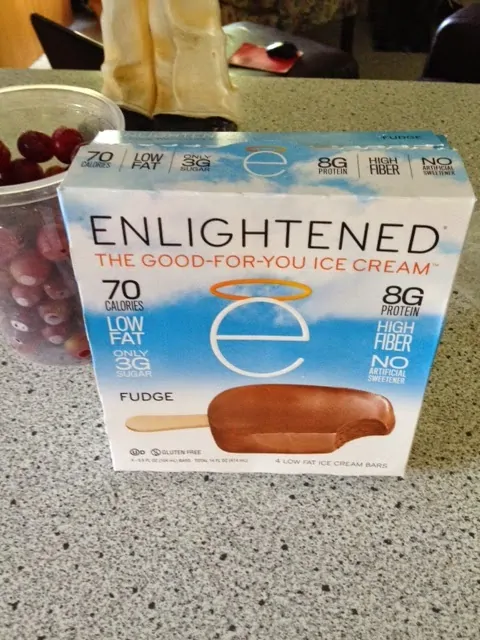 Cindy: The small "e" with a halo
above it makes it look like an Angelic item…..blue sky and clouds. Very nice. There was lots of information to catch your eye on the front of box. Information WILL
catch a Bari patient's eye. Just from looking at the package I learned it has 8 grams of protein and only 70 calories. It has only 4 bars
in one box. And it looked tasty.
Q: What did you think about the product's aesthetics? How did it look, smell?
Cindy: If anything I'd say the product had a frozen smell, not mediciny or foody, just icy. When I first bit
into the bar it was a bit hard, so it does freeze well. Then after a few bites
– as it thawed a – the bar became softer softer.
Q: How did the Enlightened bar taste?
Cindy: I ate a few bars over the course of a week before answering this question to be sure of my opinion. These bars are yummy, thick,
creamy and fulfilling. Not as creamy as a Dove bar but thick and creamy
almost like that. Some fudge bars taste like ice milk, this has a creamy ice
cream taste to it. I do have to say I have to bite the first couple bites as I
mentioned earlier, but after a couple creamy licks, the flavoring of the
fudge was also spot on.
Q: What did you think of the nutrition?
Cindy: This would be considered a
high protein product, since there are 8 grams of protein and only 70 calories.
This product does have 14 grams of carbohydrates though. The dietary fibers are
5 grams so subtract that from the carbs and you get 9 grams. It does say on the
label that it has only 3 net carbs. Product contains Erythritol.
Q: What do you think of the overall value of this product? Is it something you'd buy?
The price on the bars is
reasonable (Nik Note: At the time of this writing, the bars were on sale at my local grocery store for about $3.50/box of 4). I did very much enjoy this product. And glad to see they have a
variety of flavors. My next couple to buy are: the Toasted Almond and the Ice
Cream sandwich. I would like to see them have more than 4 items in one box.
Q: So what's your final verdict? Should Foodies purchase or pass?
Cindy: Purchase!
ENLIGHTENED Ice Cream is certified kosher by the Orthodox Union (OU).

It contains all-natural ingredients (yes, erythritol is a nutural ingredient)

Besides erythritol, the bars use monkfruit as a sweetener

The milk used in the bars is hormone-free
Enlightened was kind enough to give me another coupon to try out the bars and I'd love a review of one of the remaining flavors. Wanna be my reviewer?
Leave a comment about which flavor (besides fudge) you'd like to try (along with your email address) and you'll be entered to win! You have until Sunday at noon to put your name in the hat. I'll announce the winner Monday morning.
Good luck, everyone and thanks Cindy!