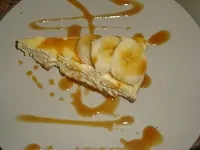 Ok, first of all…how come everytime I'm about to post something really good my camera starts to act stupid? Let's discuss THAT. (or not)
Protein cheesecake…YAY!!!
There is one benefit to my being so late with this. I ended up having to make another one (the sacrifices I make for youse guys!!!) and this time tried one with a hint of banana. OMG…serious yumminess going on here.
So here's the set up:
Crust
2 cups Fiber One Original cereal (the twiggy kind)
2 tbsp light butter spread (I use Blue Bonnet Light)
2 tbsp Splenda
Directions for the crust:
Using a food processor, grind together cereal, butter spread, and Splenda until a course meal forms.
Press into a springform pan (or if making cheesecake squares, into a foil lined and sprayed 9×13 baking pan)
Bake at 350 for 10 minutes and allow to cool
Cheesecake Ingredients
Two 8 oz. packages of Neufchatel cheese (1/3 less fat cheese)
1 cup 0% unflavored greek yogurt
2 eggs
either 2 tsp of lemon zest OR 2 packets of True Lemon
3 scoops of your favorite vanilla protein powder (make sure the calorie range is somewhere around 100-120 calories but no higher)
1/2 c. milk
1 c. Splenda
For the banana hint:
1/2 package of fat-free, sugar-free banana cream pudding mix
Garnish shown above:
3 slices of banana
1/2 tablespoon sugar free caramel sauce
Directions:
In a bowl or cup, mix protein powder and milk until a smooth paste forms
In a mixing bowl combine cream cheese, Greek yogurt, and protein mixture and beat on low until incorporated (it may be lumpy…hell it will probably be lumpy…don't worry…it'll be fine)
Add lemon (or True Lemon), Splenda, and eggs and beat again on medium until everything is incorporated. Again, it will probably be fairly lumpy unless you're using protein that has been formulated for baking. Again, do not freak out. It's okay!!!
Pour mixture over cooled crust and spread to make an even layer.
NOW…if you are making in a baking pan you'd pop it in the oven and bake for 35 minutes
HOWEVER
If you are doing this in a spring form pan you do the following:
1. Line the bottom of the pan with aluminum foil
2. Set the pan in a larger pan (like a roasting pan)
3. Fill the roasting pan with warm water until it goes halfway up the springform pan
4. THEN put it in the oven
Keep an eye on it…especially if you are one of those perfectionists that doesn't like cracks in their cheesecake. Personally? So long as it tastes good I'm good to go.
Once the 35 minutes is up, prop the oven door open and keep the cake in there until the oven cools. Then transfer to a cooling rack to cool another 20 minutes before refrigerating for about 3 hours (this is NOT a quickie treat).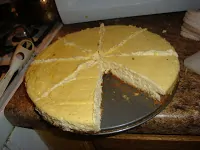 It is…quite simply…lovely…
My next endeavor is to incorporate soft tofu in here somehow and remove some of the cream cheese. Stay tuned for that. Until then…enjoy!
NOTE: These slices are way bigger than I eat. I usually cut mine into 1/16th of the whole cake (these are cut into 1/8ths for the divas consumption). If you make squares they make about 24 good sized squares but as always it's flexible. Cut them as big or small as you like!
Stats: for the basic cheesecake recipe (not including the banana pudding…cuz I was just too lazy to do it up…later…maybe…)
For a round cake cut into 16 pieces: 126.25 calories, 11g carbs, 3.6g fiber, 8g protein
For 24 squares: 84 calories, 7.3g carbs, 2.4g fiber, 5.3g protein
*Note: if you use different ingredients than me, you may end up with different stats, always double check through your own food journal program.
Any way you slice it…much better stats than traditional cheesecake!