So there's a story behind this recipe (of course). I was on the treadmill reading Food Network Magazine (as I was wont to do in my earlier days) and I saw this egg dish that looked very pretty: it was eggs in a cup made of phyllo dough.
Loved the concept. Did not want the phyllo dough. So I decided to play with my food! This recipe replaces the starch with a protein source (a slice of lean deli meat). This is one of MANY neat recipe ideas featured in The Bariatric Foodie Breakfast Book!
That video was made when I was earlier out. I like to see myself back then: how I thought, how I cooked. I'm a work in progress. I hope you enjoy that glimpse of me way back when (I believe that was filmed in 2010).
Eggs Rosettes
(The recipe pictured makes 6 Egg Rosettes in a medium sized muffin tin – not a standard, but not a mini…I should get on finding the actual name for this tin!)
1/4 of a tomato (like the one pictured), seeded and diced
1/4 of a small onion, diced
1-inch piece of zucchini, diced
6 large slices of deli meat (I used low-fat turkey)
2 large eggs, beaten
1/4 tsp. baking powder
Salt and pepper to taste
2 tbsp. shredded cheese
Directions:
Preheat your oven to 350 degrees.
Spray a skillet with nonstick cooking spray, set it over medium heat and allow it to get hot. Add veggies and cook 1-2 minutes.
Transfer to a bowl and add baking powder directly to the veggies and stir. (Doing it at this stage prevents the powder from clumping. Ad salt and pepper.
Spray a muffin tin with non-stick cooking spray. Arrange lunch meat in slots. (TIP: For this size I cut my lunch meat into four pieces and arranged them, overlapping. This doesn't really help with leakage of the egg – some will leak onto the tin no matter what! – but it does help with the shape.)
Using a tablespoon, fill the meat cups all the way to the top. Bake for about 15 minutes before topping each with a little sprinkle of cheese and baking an additional 5 minutes.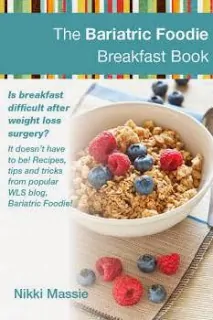 Below you'll find more shots of this dish. But first, I really do want you to check out The Bariatric Foodie Breakfast Book. I know breakfast can be difficult after surgery. That's why I've taken the hard part out of it. There are ideas for nearly anything you like: eggs, protein oatmeal, protein baked goodies, quickie breakfasts, make-ahead breakfasts, even breakfasts that don't feel like breakfast (just in case you aren't a breakfast food person).
So check the book out, read the reviews! If breakfast has you stumped, I have you covered! Check out the book on hardcopy and Kindle on Amazon
.
This wast the photo that first appeared with this post in 2010.
I'm TRYING to embrace the eye-level shot. I really am. I'm so close…