(This is part one of two. Check back later this week for part two!)
I just returned from the Weight Loss Surgery Foundation "Mother
of All Meet & Greets", held at Bally's Las Vegas from May 17 – 19. And now
I wanna tell you ALL about it!
Firstly, a big shout out to
Quest Nutrition
(makers of our
beloved Quest bars, available for ordering using the link to your right) for
sponsoring my travel! It's important to thank companies when they do this for
bloggers so that they will keep doing it! So if you get a chance hit them up on
Facebook or Twitter and say thanks! I think having an actual post-op there
talking about Quest bars was a great thing.
So…here's my official, no-holds-barred recap of my
experience at the event.
I arrived in the wee hours of Friday morning and immediately
hit the sheets, thinking (erroneously) that it would curb jet lag from the time
difference. The next morning I got up and had breakfast with a bunch of
friends!
Later I went and registered for the event and made my star
for the "walk of fame" that would be displayed at the gala on Saturday night.
After that I had some free time (there was a fundraiser
lunch with Carnie Wilson that afternoon but I had no funds so I had to skip
it!) so I headed to the pool for some fun in the sun. Here's me in my bathing
suit! (Don't be scared!)
Side note about bathing suits: don't be afraid to buy
one! They kinda shrink with you. My clothing size generally ranges from 10 to
14 (depending on the store) and this bathing suit is a size…20? I think? Yes.
So all that is to say buy a bathing suit. It can last a while. (/end PSA)
Later that night there was an event called Evening in Paris.
I figured I should dress Parisian but I am generally a thrift store shopper so
I went for haute couture more so than Parisian and this is what I came up with!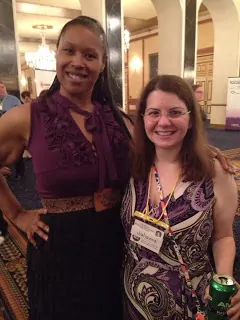 Me with Julianne, a gorgeous member of the #FoodieNation!
Folks wore all kinds of stuff but I think our friend Shelly
(aka
Eggface
) exemplifies the most popular representation of Parisian dress.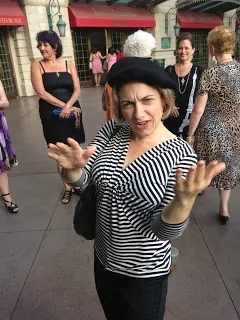 Isn't she a cutie???
On the overall the night was very inspiring. WLSFA showed a
video about some recipients of their weight loss surgery grants (that is the
mission of the organization, to make grants for people who otherwise could not
get surgery). And the date/location for next year's Meet & Greet was
announced. It will be in April and will be part land based in Tampa, FL and
part cruise.
While I enjoyed the night in Paris event, I was a bit thrown
by the food. It was held at dinner time which, to me, means we get dinner but
not so much. There was cheese and crackers, fruit and veggies. Which was nice.
But your girl Nik has the Wonder Pouch. So afterward a bunch of us went out for
food and I discovered a new food love (which, oddly, I did not photograph…I
think my phone was dead): the egg burger! I had several over the course of the
weekend. The first was a turkey burger with cheese, turkey bacon and a fried
egg on top. Oh. My. YUM!!!! I put eggs on everything else. Why had I not
thought of this before???
Anyway, back to business.
On Saturday I worked the exhibition hall telling folks about
Quest Bars! That was so much fun. There were lots of other exhibitors there as
well supporting the event, including some we know very well like Big Train,
Click, Building Blocks Vitamins, Celebrate Vitamins, PB2 (I met the owner!), BJ's Bariatrics,
Slimpressions and more!
I am here to tell you they gave away a LOT of free swag. I'm
trying to figure out how to judiciously give away some of what I got between my
blog, Twitter and Facebook Foodies. Stay tuned on that one!
Mid-day there was a lunch. I blogged the lunch on Facebook
so many of you already know my thoughts about it. I will say my thoughts have
gotten decidedly more judicious since the actual lunch. I think I was hungry
and grumpy when I wrote the things I wrote.
But here's what I will say. While none of these are
universally true, there are a few things you can safely assume are true of MOST
post-op WLSers:
They MAY be intolerant to things like carbohydrates or
sugars and may have a reaction
They DEFINITELY have been instructed to eat a diet
where a majority of their calories come from protein.
They are PRONE to having self-control issues around
things like desserts and bread.
Which is why it baffled me to be greeted at the table by
this:
Before we'd even eaten. Yes, I know we all make our own food
decisions but for me, a food addict (and I know not all WLSers are but many
are) I'd liken it to setting a bottle of whiskey down at a table full of
alcoholics. Why is that a good idea???
From there the lunch quality is debatable. We were served
this:
A vegetarian chili with pretty good stats (they gave them to
us but I forgot). But we got MAYBE a quarter cup of it (at most it was 1/3 cup,
no lie).
And we had this nice little salad (which I made look a lot more
abundant than it actually was by using a flattering camera angle).
All of which led me to believe that finally, FINALLY someone
got the concept of not front-loading the meal so that a post-op is full at the entrée.
But then…
There was no entrée. That was it.
I don't mean to harp on this but this sort of made me angry.
Not only because I was hungry, although for a newer post-op the size of the
portions was probably great BUT because we were greeted by THREE trays of
simple carbs and only a scant amount of protein. What sort of message does THAT
send?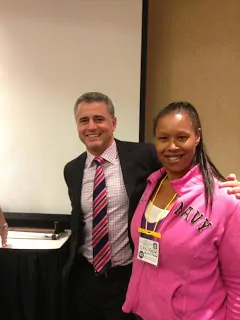 Anyhoo…the speaker at lunch was Dr. Garth Davis (of TLC's
former show "Big Medicine"). As soon as he began speaking I knew what his
subject matter would be. I've heard him make this particular speech before.
Over the past few years, Dr. Garth has been advocating for a
more plant-based food approach for post-ops. I don't remember the nitty gritty
of his presentation but he cites the fact that in countries with low obesity
rates, they eat things we revile (rice, bread, etc.) but don't see the same
levels of obesity. Much of his talk is about good eating sense. Eat cleaner
foods. Eat as close to the source as possible. Balance out your protein with
complex carbohydrates. Initially I was vehemently opposed to what he was saying
(I was taught the same thing as you guys about protein!) until I realized he
wasn't so much advocating against protein, but against MEAT.
I'm still not sure what I think of Dr. Garth's hypothesis
but I will say that clean eating is on my resolutions list.
So I'm going to stop there for now. But in my next post I'll tell you about the "Let Your Star Shine" gala (wherein Nikki made Carnie Wilson cry), the closing breakfast and other highlights!
Look for it!