~~posted by Nikki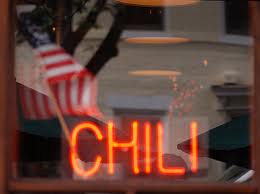 Soup Week is coming to a close. We've enjoyed sharing these recipes with you and hope you've enjoyed them too! Please remember that if you are cooking along with us, that you have until November 7th to email us either a picture of the soup you made from the blog this week OR a picture and recipe of a soup creation of your own. All who do will be entered in a drawing to win a protein prize basket!
We end this great week the way we started it–with chili! Did you check out Jen's drool-worthy chili? If not, go check it out…I'll wait…
You back? Ok! So my chili is a bit different for a few reasons. It seems my love affair with beef came to an end on surgery day–I'm still sad about that break up to tell you the truth.

I also add TVP to my chili to amp up the protein a little bit. I am blessed that both my children love TVP in stuff (I mix into their tuna…makes two overstuffed sandwiches out of one can of tuna! One day I ran out and made them regular tuna and they actually protested!), so I can get away with this. If you think your family might protest and you still want to try it, here's a tip: don't tell them there's TVP in there. I bet you they won't guess.
Now I guess you'd call mine the weeknight version of chili. Like most of my dishes, it goes from raw to ready in about 30-ish minutes. That's with a caveat. To me, it tastes better each day after it's made. But technically it is ready in a half hour. And…if I do say so myself…it is good!
And don't get freaked out about the unusual "secret" ingredient. I'll go into more detail below. Just trust me. Have I ever steered you wrong?
Nik's Turkey/TVP Chili
Ingredients
1 lb. lean ground turkey
1 c. textured vegetable protein, dry
1 onion, finely diced
2 cloves garlic, minced
1 can black beans, drained
1 can dark red kidney beans, drained
1 can light red kidney beans, drained
1 (15 oz.) can diced tomatoes
1 packet chili seasoning (or any blend you like to use. In a pinch I use a combination of garlic, cayenne pepper and chili powder)
2 tablespoons unsweetened cocoa powder
2 cups water
Directions:
Spray a pot with non-stick cooking spray. Cook onions and garlic until tender.
Add turkey and cook until thoroughly browned. Add beans, tomatoes, water and TVP, chili spice and cocoa and mix thoroughly. Bring to a boil and then simmer for about 20 minutes.
Simple, right? Well like I said…you don't get the full impact of the flavors until about the next day.
So about the cocoa. I know, I know…it's strange. But it is unsweetened and what it does is adds a touch of bitterness that gives your chili a very earthy quality. You eat this chili and you start channeling Mexican ancestors you never had who are admonishing you because (I think) chili isn't even a Mexican dish! It's THAT good!
And if you need another reason to give it a shot, consider this. The idea to add this to my chili came by way of La Petite Diva, who read about a prize winning chili recipe that used it and said "hey mom, we should try that." I love my kids and their adventurous taste buds!
Anyway, that does it for soup week! I hope you've been eating as well as we are. Like we always say, this blog is as real as it gets. If you follow the "What are You Eating Today?" thread on the RNY board on Obesity Help, you'll notice that both Jen and I will be posting about eating soup for AT LEAST another week!
Enjoy!