~by Nikki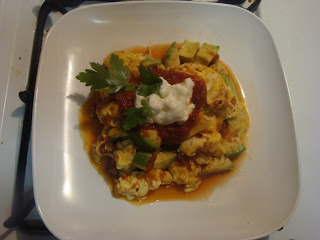 Well. The Holiday Preview is over. (cue "Pomp and Circumstance") I had a great time with all the Pouchers who came out to the event. And let me tell you…we noshed on some EXCELLENT food! Pictures and more details forthcoming, folks. In the meantime, if you missed the event, there's still time to get your Portable Preview, just see the right panel for details.
So let's get back to business, shall we? Breakfast! Important meal…not a lot of people actually eat it. I admit I've had trouble figuring breakfast out since surgery. I had to teach my pouch to accept nutrition in the morning, but even then sometimes it's a challenge. I think that's mostly because I crave real food but the amount I can eat on a plate doesn't match what my mind thinks is acceptable.
One trick I've learned that helps is to make a small amount of food that looks more substantial than it really is. This breakfast is a good example. I love some good ol' eggs and bacon. But I can eat maybe 1.5 scrambled eggs and 2 slices of turkey bacon and I'm stuffed (and that's at almost three years out). The things are deceptively filling!
But when you cook it up and put it on a plate it looks like…absolutely nothing exciting. So I began to play around with it. The idea for a scramble is not new. Denny's has been doing it for ages. I just had to figure out how to do it so that is me-sized and me-flavored.
So here's how it all goes down:
Nik's Southwestern Scramble
Ingredients
Egg Beaters (I suggest egg substitute because our pouch capacities all differ. With an egg, it's hard to eat half an egg without cooking the whole thing. With egg substitute…you want two tablespoons, you make two tablespoons! Use as much or as little as you can eat)
Bacon, chopped (turkey or real, your choice…if you use real you can use pre-cooked. I use turkey. Again, use as much as you can eat. I can eat two slices)
1-2 tbsp Trader Joe's Chipotle Salsa (how much you use depends on how much egg substitute you use)
1 slice Pepperjack cheese (shredded Mexican blend cheese works well too. 1-2 oz. depending on your amount of egg)
Diced Avocado (I usually use half an avocado…adjust accordingly to your pouch capacity)
Optional Garnish: a dollop of unflavored Greek yogurt and a bit more salsa
Directions:
Scramble eggs in a sprayed pan until nearly done. Add bacon pieces and cheese and fold in.
Toss in avocado chunks and mix them so they are well distributed.
Add salsa last (if you add before you cook you get pink eggs. Me no likey! Your mileage may vary) and mix well.
Top with a dollop of Greek yogurt and a bit more salsa and you're good to go!
This breakfast comes together pretty quickly if you have all the ingredients on hand and is a delicious way to start your day. I usually don't post egg recipes because many of us have problems with eggs. For whatever reason, however, my pouch has always liked them. And this recipe was just too yummy to keep to myself!
And there are a million and two different kinds of scrambles you can do. I'll be working on some more in the coming weeks, but if you get any ideas, hit us up! And if you try this one, make sure to send us a picture. We love to see what's cooking with you!