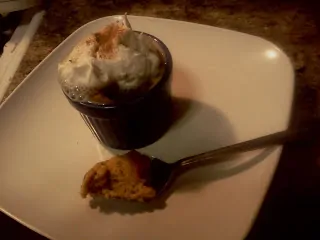 First, let's straighten one thing out. There really is no difference between pumpkin custard and pumpkin pie filling. Pumpkin pie = pumpkin custard in a pie crust.
That being out of our way, I did modify this recipe just a wee bit to make it fit into six ramekins. A traditional pumpkin pie recipe would fill probaby about 8 -10. I didn't want 8-10. In the midst of doing my FINAL final tweaks on the recipes for the 2011 Bariatric Foodie Holiday Food Tasting, I'm already stressed out about the amount of food in my fridge. I didn't need any more stress!
This recipe was at the request of my lovely bariatric coordinator and friend, Cathy, who saw a pumpkin custard at Cracker Barrell. She didn't want to indulge in the high sugar, high fat of that version, so she asked if I have a recipe. And of course I do!
Nik's Protein Pumpkin Custard
2 egg whites
3/4 c. no-calorie sweetener
2 scoops vanilla whey protein
1-3/4 c. pumpkin puree (not pie filling)
2/3 c. nonfat evaporated milk
1/2 tsp. pumpkin pie spice
Directions:
Pre-heat your oven to 350.
In a bowl, whisk egg whites until frothy (don't let it get to stiff peaks, so beat it by hand).
Add the sweetener and whisk until incorporated. Add the protein and do the same.
Add pumpkin and pumpkin pie spice and mix until incorporated.
Pour in evaporated milk and then whisk until the mixture is lump-free.
Place in six ramekins and put the ramekins in a baking dish, like so: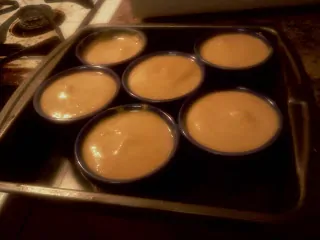 Now technically you don't have to do a water bath, but I did. Why? We are using protein powder, which can sometimes toughen up baked goods. We want a nice, gentle sauna going on in the oven that coaxes the protein powder into melding seamlessly with the rest of the custard.
Stick that in a 350 oven for about 30 minutes, but start checking at about 25 as oven temperatures vary. You'll know it's done if you jiggle a ramekin and the filling inside doesn't quiver at all.
Here's my lil guys, fresh out of the oven!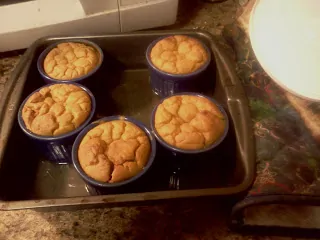 A little real whipped cream on top and this was a beautiful end to a cold day!
While I'm not giving nutrition info on this recipe (here's why), I will say mine tote about 8g of protein per 3 oz. ramekin. Not bad for dessert…