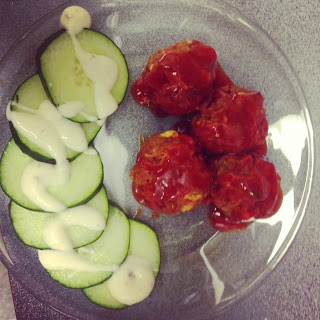 Ok, I am now a live-blog cooking addict. It all started a few weeks ago when I live-blogged on Facebook as I made what would become Yumbalaya. Last night I decided to do it again!
It's fun to post as I'm cooking and see/hear reactions from folks. Plus, there's something about preparing food that just naturally brings out good conversation. So if you're on Facebook or Twitter, be sure to like Bariatric Foodie so you can join in on the fun. There's definitely more of these cooking sessions to come!
Here's the recipe for the Buffalo-Style Meatballs I made last night. For those coming to the Bariatric Foodie BBQ this weekend, I'll be serving these up!
Nik's Buffalo-Style Meatballs
(This recipe yielded me 24 meatballs but they freeze well when properly wrapped! You are also welcome to play around with it to yield
less!)
Ingredients:
½ a large onion, finely diced (I used a Vidalia)
½ a large green pepper, finely diced
½ c. Textured Vegetable Protein, ground into crumbs ("What is that???")
1 lb. ground chicken or turkey (I had turkey this time so that's what I used)
1/3 c. unflavored Greek yogurt
½ c. blue cheese crumbles
¼ tsp. each: garlic powder, onion powder, ground black pepper
1/8 tsp. salt
2 tbsp. + the rest of the bottle of your favorite Buffalo
2 c. Buffalo wing sauce
Directions
Pre-heat your oven to 350 degrees.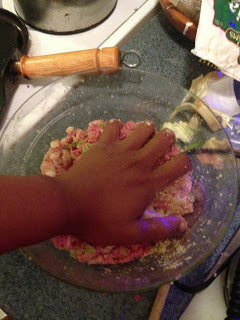 In a bowl, combine onion, peppers, TVP, meat, yogurt, cheese and finally 2 tbsp. of Buffalo Sauce and spices. Mix thoroughly (I do it with my hands) and then allow it to sit for a few minutes. (Why? Because TVP soaks up the moisture of food it is combined with and this process takes a moment or two).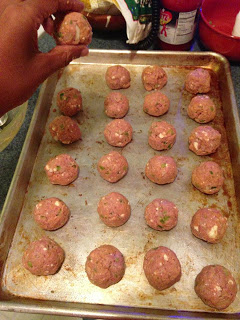 Using a meatball scoop (or, like me, a tablespoon measure), scoop out meat mixture and roll into balls. Place them on a large cookie sheet that's been sprayed with nonstick cooking spray OR for easy clean up, that is lined with parchment paper.
Bake your meatballs for 30-40 minutes or until done all the way.
Most meatball recipes call for you to cook the meatballs in the sauce for some time. I do not call for that in this recipe because if you are freezing some, they should be frozen alone. If you are making them for an occasion where you anticipate serving the entire batch at one time, I would say instead of doing the cookie sheet/parchment thing, use a big casserole dish.
Bake the meatballs for about 15 minutes without the sauce then add it and cook it the additional time until done through.A few notes:
Why use TVP? I got this question a few times on Facebook. TVP is a soy product and has a good protein:calorie ratio (1/2 c. serving = 80
calories/12g protein). So I add it both to up the protein count a little AND because it adds cheap (it's $2.19/lb where I buy it) bulk to my recipes. That comes in handy when I'm making things for a large crowd!
If you don't like/don't use/don't want to use TVP, you can totally skip it! If you do, you may not need the yogurt (depending on the leanness
of the meat you're using. If you use super-lean meat, I'd still add in a few tablespoons for moisture). The recipe will likely also yield fewer meatballs without the TVP so if you want a smaller batch that's an easy way to achieve that!
Yes, this recipe can be made into burgers or sliders instead. Use all the same ingredients just make it into patties of whatever size you like afterward.
I like to dip my meatballs in a bit of low-fat ranch dressing (or if you want to amp the protein factor even more, mix dry ranch mix
with unflavored Greek yogurt!). You do what you like!
And finally…no. No matter how many times and how many ways you ask, I am not giving you the nutritional facts of this recipe! But here's how you can figure them out with what you intend to use to make them!
This is a nifty little meatball. I was a BIG TIME Buffalo wing girl back in the day so I LOVE this concept! The blue cheese flavor stands out nicely against the Buffalo sauce and it has that good tang/spice thing that I usually get from the wings. Winning!
Keep playing with your food!