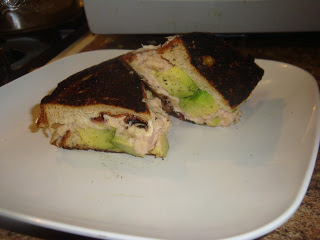 I'm so excited! And I just can't hide it! I'm about to lose control…and I think I like it! (Dear Nik: the Pointer Sisters called and said, "cease and desist." That is all.)
So, if you are our fan on Facebook, you saw that I posted yesterday that I received my shipment of P-28 bread. After Jen's review and delicious recipes, how could I not try it for myself? I have nothing to add to Jen's review…but I did have an idea. It had been percolating in my brain for some time.
Before I lay this all out for you, I have to say this. On the spectrum of post-op eaters, there are two extremes. I think Jen and I represent those extremes well. On the one hand, there's the camp of folks who like to eat real food, not live on any sort of specialized eating plan–just honest to goodness…well, goodness…that's made from healthier stuff.
Then there are freakazoids like me…who LIVE to transform protein into things that look normal…but really aren't. I think for the purposes of this blog, the dual philosophies work well for our readers on either side of those extremes and anywhere in between.
Why do I mention this? Well, because my idea very much comes from "that place" in my heart that loves to get a freakish amount of protein in a very small amount of food. I tried my first bit of the bread last night and the reports are true–it is FILLING. I knew that going in, so my goal was to get as much protein with that bread as possible without making some gigantic monstrosity that I'd never finish eating.
And then the idea came to me…a triangle. Yes, a triangle.
I've been DYING for a sandwich, but they tear my pouch up every time. I don't get "sick" sick but I feel miserable for some time afterward. I was encouraged with the discovery of thinner sandwich bread, but they don't sell it in my area and…it's not terribly protein forward.
So I thought…what if I cut my P-28 slices into little finger sandwich sizes and make my favorite grilled sandwiches out of them? The idea took hold, mostly because there's lots of protein potential here. Today, I post my first offering from what I hope will be a series of triangles. I already have at least 20 ideas for more of them, so look out for them as we go along. If you get any ideas of your own, hit us up.
But for today, I am proud to present…
Nik's Southwestern Tuna Melt Triangle
Ingredients
1 slice P-28 protein bread
1 oz. Nik's TVP tuna (recipe below)
1/2 slice turkey bacon, sliced in half and then in slivers
1 large slice of avocado
1/2 slice Pepperjack cheese
About 8 sprays of "I Can't Believe It's Not Butter" spray (or one of your choosing)
First things first, I always talk about my TVP tuna (if you are going "what's TVP?" click here). My kids love this stuff. I recently found out no longer like tuna without TVP (go figure). So this is my standby recipe.
Nik's TVP Tuna
Ingredients
1 can of tuna in water (liquid and all)
1/4 c. textured vegetable protein
2 tablespoons low-fat mayonnaise
2 tablespoons unflavored, non-fat Greek yogurt
1/4 tsp onion salt
1/4 tsp garlic powder
1/8 tsp ground black pepper
Directions
Put your tuna, liquid and TVP in a bowl and mix it well. Let it sit about 2-3 minutes to let the TVP absorb all the liquid.
While that's happening, mix together your mayo and yogurt and then mix your seasonings into that.
Add to tuna and mix well
TVP tuna has the amount of protein in a 1/2 serving (2 oz.) as a whole can of tuna. That's what got me making it that way. I can't eat a whole portion of tuna (unless I'm eating it alone) so I wanted 1/2 the tuna for all the tuna's protein!
Ok so moving along with the triangle…
So you take your P-28 bread and cut it into triangles of whatever size makes most sense to you (I cut it into four two inch–diameter? I never was good in math–pieces). My camera conked before I could get a good pic of my triangulation but I managed to snag the remaining two triangles on my (not so great) camera phone: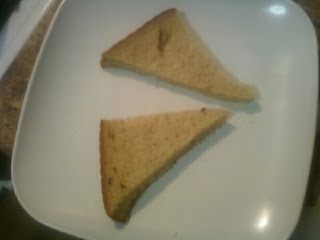 So on on triangle, layer your piece of avocado. On top of that put your tuna mixture. On top of that put your bacon slivers and on top of that put your cheese and top with another triangle.
Spray both sides with low-calorie butter spray and grill in a hot pan until both sides are browned.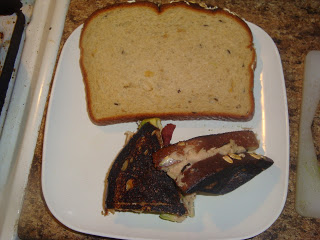 Notice the size of the triangle vs. the size of one bread slice! These two triangles sandwiches are made from HALF of that slice.
I had a dog vs. cat battle happen while I was cooking this, so mine got a little too brown…and clearly I'm going to have to work on my presentation skills with this thing but here it is…
But the REALLY important thing is the taste. So I gave it a go and…
Oh my MARTHA!!! It's good! And small! And my pouch doesn't hurt!!!!
I consider that a success folks!