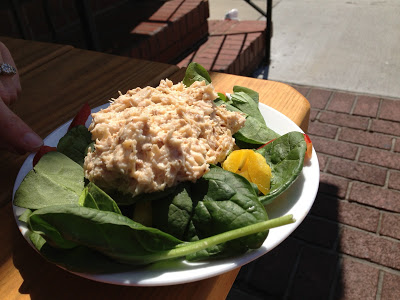 Baltimore is currently having a "heat wave" so I decided to take my lunch outside and enjoy it!
So I know it's been a minute since my last recipe post.
Forgive me! Even Bariatric Foodies get burned out from time to time. And I can
already tell March is going to be a rough month for me from this point forward,
so I thank you for understanding as I exhibited a bit of self-care!
But…eventually you gotta get back to business. Plus, it's
springtime!

Which to me means warmer weather, pretty flowers, cute dresses…and cold salads!
As the weather gets warmer, I'm all about mixing it up with chicken salad, tuna
salad, egg salad. That's what inspired today's offering.
I made this big, BEAUTIFUL rainbow veggie salad with baby
spinach, red and yellow peppers, tomatoes, cukes and carrots but I needed some
protein to top it off. But I didn't want the same old, same old. Here's what I
did.
Nik's Bacon-Ranch
Chicken Salad
(Makes about 2-4 servings, depending on your pouch capacity)
2 heaping tablespoons unflavored fat-free Greek yogurt
1 tbsp. your favorite ranch dressing (I used Aldi's Fit
& Active reduced fat)
1 heaping tsp (not tablespoon!) mayo (I used low-fat)
1/8 tsp each of onion powder, garlic salt and black pepper
A few dashes of your favorite hot sauce
8 oz. canned chicken breast meat
1 heaping tbsp. bacon bits
Directions:
In a bowl mix together yogurt, dressing, mayo, spices and
hot sauce. Give it a taste. I add the onion powder and garlic salt because I
find that one tablespoon of ranch dressing gives a HINT of ranch but it doesn't
come through too strongly. So I beef it up with these spices. I suppose you
could also try just adding a bit more Greek yogurt with some dry ranch mix but
I used what I had on hand! Adjust spices to taste.
Add chicken meat and mix in thoroughly. Add bacon bits and
do the same.
Refrigerate until ready to eat!
This is sooooooo good. I am eating one portion atop my
salad. Tomorrow I'll bring in a lightly salted rice cake to have it on top of
that. This would probably also be good inside my
Angelic Eggs
.
And I'm sure you all have even more ideas. Share them!