~~posted by Jen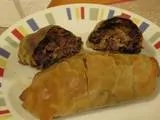 The kids are back to school. Check. Summer's officially over. Check. Now's the time when the Fall dinner party season starts, the boss has to be invited to dinner, or the neighbors want a potluck. So, you need an impressive dish that's WLS friendly but can be passed off as NOT! Well, we've got your back!
Beef Wellington is traditionally a beef tenderloin slathered with mushrooms and wrapped in puff pastry, then baked. It's elegant, definitely a show-stopper at dinner parties, but hello?! Do you have ANY idea how much BUTTER is in puff pastry? Not to mention a whole tenderloin of beef can set you back a pretty penny. (Paula Deen just fainted somewhere because a fellow Georgian took the name of butter in vain.)
S'anyway. Awhile back on the RNY board on OH, we used to have a weekly "Iron Chef" competition where a secret ingredient was posted, and everyone created recipes and posted them with pics. I was digging through my pic files in an attempt to de-clutter my laptop when I came across the Mini Beef Wellingtons I made for the Beef challenge.
They're small enough for a WLS portion, but elegant enough to serve the boss (or even your Mother-in-Law!) for a dinner party. Best of all, the ingredients are easy to find, and not nearly as costly as a regular Beef Wellington. So, here you go!
Make the Balsamic Mushrooms
Heat 3butter and EVOO 3 turns of the pan in a skillet. 

Add in 2 containers of fresh sliced button or baby Bella mushrooms, season with Herbs De Provence and Garlic Powder to taste.

Once the mushrooms are tender, add 3-4 splashes of Balsamic Vinegar.  (This is my standard way to cook mushrooms that will accompany beef or chicken.You can also use cooking spray if you want to omit the butter and EVOO, but that will change the flavor slightly). Let this cook down for a few minutes until the vinegar and oil reduce by about half.

Remove from heat and set them aside to cool. Once mushrooms are cooled, set aside ½ cup of them for this recipe. (Store the remainder in an airtight container in the fridge for up to a week, use with chicken, throw them in a frittata, or even great as pizza topping).
Make the Mini-Wellingtons
Take beef out of the fridge and let it come up to room temperature before you cook it (about 20 minutes is fine.) Preheat oven to 400 degrees.

Put your reserved ½ cup of mushrooms in the mini chopper or food processor and pulse it until they are finely minced.

Cut the beef tenderloin into small pieces, season with Montreal Steak Seasoning and Garlic powder, sauté in EVOO and butter (or substitute cooking spray if you prefer) until cooked through.  Set aside to cool.

Assemble the beef wellingtons as follows:  Place 1 spring roll wrapper on a flat surface, spread 1 tbsp of the bruschetta topping on it, leaving about ½ inch around the outside so you have room to roll it.  Then spread 1/3 of the mushrooms on top of the artichoke topping.  Place 1/3 of the meat on top of that and sprinkle parmesan cheese over the top.

Roll up the wrapper like you would a burrito.  Place it seam side down on a baking sheet.  Assemble the other rolls in the same way.

Bake in 400 degree oven for about 20-25 minutes until the wrappers get crispy and lightly golden brown.  I sprayed the top of each roll with Pam Olive Oil spray, you could also brush them with egg wash or butter or olive oil just to help them brown better.