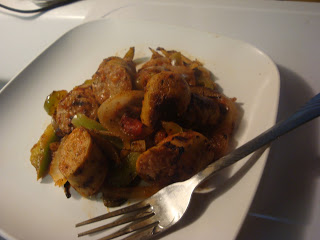 (This recipe is brought to you by Trader Joes. Yummy!)
So the divas and I went to Trader Joe's the other day. For us this is a trek but it's well worth it. I always try to pick up at least one thing I've never tried before to broaden my horizons. So this time I got some Spicy Jalapeno Chicken Sausages. They look like this: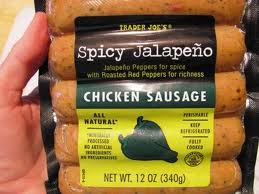 (Not my hand)
Now anyone who knows me knows I don't have the ability to eat food products as they come to me. I have to make it into something else. HAVE TO.
Here's what I did with my sausages.
Nik's Mexican Sausage and Peppers
Ingredients:
1 TJ's Spicy Jalapeno Chicken Sausage, cut into slices
½ of a small onion, cut into strips
¼ of a green pepper, cut into strips
1/3 c. salsa (I used regular medium salsa but TJ's chipotle salsa would do well as well)
¼ c. Mexican blend cheese
Directions:
I cooked my sausage whole on the grill pan while simultaneously sautéing the onions and peppers on my griddle. This worked well since I like my onions caramelized and my peppers fairly soft.
By the time the onions and peppers were about ready, the sausage was done. I transferred it to a cutting board and cut it into slices. If you are newer out, you might want to think about even dicing the sausage into smaller pieces.
Add the sausage pieces to the onions and peppers on the griddle pan and mix them well. Add the salsa and stir until fully incorporated.
Transfer to a plate and sprinkle with cheese while hot. NOM!
TIP: To make this a super tasty breakfast I added some scrambled eggs into the mix which, for me, made this two meals. Without the eggs, for me, it is one. Your mileage, of course, may vary.