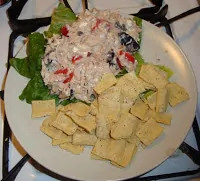 So I'm not doing the meat thing on Fridays. Which means I gotta get protein without meat (scary).
This idea came from Whole Foods. I was there one day and bought some mediterranean tuna salad ($4 for 4 oz.) and thought "I could make this myself for way cheaper."
It utilizes a bunch of stuff you probably already have in your kitchen and it is good. These are served with a side of Kay's Naturals Parmesan protein crisps
, but these days I much prefer Glenny's Soy Crisps (lightly salted flavor for this recipe).
Mediterranean Tuna Salad
1 can of tuna, drained
3-4 large black olives, pitted and sliced (or 1 tbsp already sliced black olives from the can)
2-3 tbsp unflavored greek style yogurt
1 tsp (not tbsp…tsp) low-fat mayonnaise
2 tbsp (1 oz.) chopped tomato
2 tbsp (1 oz.) crumbled feta cheese (I used fat free feta…I dare you to say that five times fast!)
2 tbsp onion (any kind you like. I like vidalia), diced
Salt and pepper to taste
Directions:
Put everything except greek yogurt and mayo in a bowl and mix together
Add yogurt and mayo and mix it in to thoroughly coat.
Serve over a lettuce garnish (as shown), in a Flatout wrap, on an Arnold Thin
or any other way you might like it!