by Nikki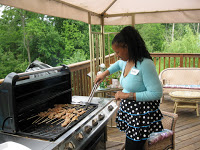 Last week when I was at the farmer's market I saw something that made me very, very happy. A child devouring a big ol' hunk of meat on a stick. I thought to myself "summer must be coming."
Meat on a stick, to me, evokes memories of state carnivals, funnel cakes and other types of summer time fun. Sigh…I love the summer.
(Focus!)
Mmmmkay! So the day before I got to live out my skewered meat dreams at Debbie's Grillin' and Chillin' Pouch Party where we made Thai Chicken skewers. These skewers were a hit with the whole crowd. I make it with a peanut sauce that my kids absolutely love!
I would like to point out that the method used to marinate this chicken is not exclusive to Thai chicken. You can substitute whatever marinade ingredients you like and it'll work just the same! So try it…especially if, like me, you like your meat…good and tender (ew…ok…brain scrub…mind was in gutter…it's all Jen's fault!)
Thai Chicken Skewers
Ingredients:
1 lb. chicken breast tenderloins
1 cup unflavored Greek yogurt
2 tsp minced ginger
2 tbsp low-sodium soy sauce
a pinch of red pepper flakes
2 tsp. minced garlic
Equipment:
A grill
Skewers
(if using bamboo
, soak in water one hour before grilling…grill fires are no fun!)
Directions
Combine all ingredients in a bowl or resealable bag. Marinate for at least 3 hours (or up to overnight).
Place 1-2 tenderloins (depending on size) on each skewer and grill for 5 minutes on each side.
Serve with…
"Easy Peasy" Peanut Sauce
Ingredients:
1 c. creamy peanut butter (no not PB2…peanut butter…but if you're looking to up the nutritional ante, try this
)
1 tsp ginger
1 tbsp. low-sodium soy sauce
Directions:
Combine all ingredients in a microwave safe bowl. Mix well.
Nuke for 30 – 60 seconds.
Garnish with whole sesame seeds if desired.
And if you like this recipe, you'll probably love our recipe for Thai Iced Tea and "Ghetto Pad Thai."