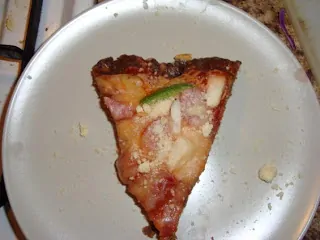 Yesterday I was going over some old online photo albums I have on the web. I came across this recipe I used to make ages ago. It's totally not mine. I heard about it from my friend, Plump Kitty, who also inspired a few dessert recipes of mine as well.
This one is interesting to me because it's the one time where the kids totally loved it and I was on the fence. I didn't dislike this. It was just that it confused my tongue and brain a little.
So anyway, here's the recipe.
Meat Crust Pizza
(Depending on diameter of the crust you roll our, this makes about a 6-8 slice pizza)
Ingredients


Crust:
1 lb. lean ground meat
1/2 packet of dry onion soup mix
1/4 tsp. fresh ground black pepper
One medium egg
Toppings (on this pizza):
Ham
Pepperoni
Green peppers
1 c. jarred spaghetti sauce (adjust to your tastes)
1.5 cups part-skim mozzarella cheese
1/4 c. grated Parmesan cheese
Directions:
(Sorry, this was taken so long ago I don't have process pics!)
Pre-heat your oven to 350 degrees.
In a large bowl, mix your meat, soup, spices and egg. The mixture should be work-able. If it is too wet add a few tablespoons of bread crumbs, but I seriously doubt that'd be a problem unless you use a really large egg.
Lay out a large piece of plastic wrap on your counter. Place the giant "meatball" in the center of it and fold the plastic wrap over it. Using a rolling pin, roll your meat into a disc of whatever size you want. I used to roll it until the disc as about a 1/2 inch thick.
Spray a cookie sheet or pizza baking sheet with nonstick and place your disc, plastic removed, onto it. Bake for 30 minutes. At this point the meat should be cooked through.
Remove from the oven and top first with spaghetti sauce, then with cheese and toppings. Return it to the oven and bake it another 10-15 minutes or until the cheese is melted and cooked to your desire (I like my cheese a bit brown).
Top with Parmesan cheese, red pepper flakes or whatever else you want to add.
Literally, my kids LOVED this. After thinking about it, I think my confusion with it is that I am comparing the meat crust with a pizza crust. It does not taste like a pizza crust. It tastes like meat. Sort of like a "pizza meatloaf" if you will. When I thought of it that way, I enjoyed it much more. I will say, though, that the edges of this thing take on a decidedly pizza-esque quality to them. It was crunchy and, as with most outer edges of meat, the seasonings concentrated there and it was VERY flavorful.
And it got pretty good reviews when I posted it on Obesity Help originally.
So..Bon Appetit! If you make it, I'd love to know what YOU think. Leave a message in the comments.