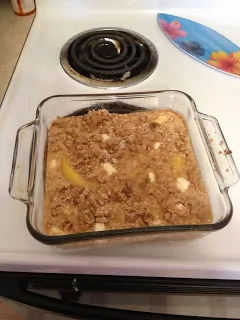 But first…a public service announcement.
Yes, I will sound like a broken record but the 2013 Bariatric Foodie Pledge is coming! I want you guys to be up on what it is so you can all participate. The exciting thing about this year is that there is more than one grand prize! As a reminder, the grand prize is drawn from people who pledge goals and check-in on those goals for all four weeks! And I have some great stuff lined up. On Facebook I've already announced TWO grand prize sponsors:
Be sure to like or follow them both and write a note of thanks for supporting the Foodie Nation. Showing our appreciation helps me get more companies involved in future giveaways!.More prize announcements to come!
Ok, back to business. So…Malia is a fellow Foodie who claims she doesn't cook much. But after getting pics of how she was playing with her food it became apparent to me that while she might not cook frequently, she does cook well!
Here's her recipe for Peaches & Cream Protein Baked oatmeal. She also sent a recipe for chocolate chip that I will post later this week.
You may notice I've suggested some modifications to Malia's recipe. You are welcome to make the original recipe or use my suggestions. Either way, it's good!
Malia's Peaches & Cream Protein Baked Oatmeal


Ingredients:
1.5 c. quick oats
1/8 tsp. salt
1/3 c. no-calorie sweetener (Malia used Ideal Brown Sugar Substitute)
2 scoops protein powder (Any powder, any size scoop, doesn't matter. Malia used this. I would use this.)
1.5 c. milk
2 eggs, beaten
1/2 bag frozen peaches (Or the equivalent of one frozen peach, sliced. But my suggestion would be to instead drain 1-2 no-sugar added cups of diced peaches and use those instead.)
1 oz. cream cheese, cubed (Malia didn't specify but I suggest Neufchatel cheese, or 1/3 less fat cream cheese)
Streusel topping:
3/4 c. Ideal Brown Sugar substitute
3/4 c. flour (see my note below)
1 tbsp. water
1.5 tbsp. cinnamon
1.4 c. butter, softened
Nik Note: Much as I loved me some Streusel back inna day, I'd probably skip the topping. I'm not opposed to indulgence (have you read this blog???) but I am opposed to blood sugar crashes. For those with reactive hypoglycemia (which is becoming increasingly common with post-ops) the topping with the oatmeal and the fruit might be problematic. But, as always, use your best judgment! If anyone is willing to experiment with streusel using Atkins mix, I might be willing to provide said Atkins Mix…leave a comment if you're interested. Just sayin'.
Directions:
Preheat your oven to 350.
In a bowl, mix together oats, salt, sweetener and protein powder.
Add milk, then cubed cream cheese, then the peaches and mix well.
Pour into a casserole dish (8 x 8 shown here) and bake for 12-15 minutes or until set and edges are browned.
Cool completely before cutting. When refrigerated, these turn into great breakfast bars or you can pop them into the microwave for 15 seconds or so to warm them up. Malia likes to eat hers on the go!
Other Protein Baked Oatmeal recipes: