Remember back in the day when ignorance was bliss? When you could o to a restaurant, order some food and, even though overwhelming evidence to the contrary, delude yourself that there is some redeeming health value.
Yeah…well those days are over.
This recipe started because of that fact. The "not-so-bariatric boyfriend" and I were at a restaurant where they served Lobster Mac 'n Cheese. Said restaurant also posted the nutritional information for all its food. Now I'm all for information. Knowledge is power. And that knowledge did empower me to do the right thing – skip the Lobster Mac 'n Cheese. But I wasn't happy about it!
Ever since that dish has been on my mind. I'd been thinking of making a WLS-friendly version but here was my challenge. There are two dynamics that make this dish WLS-unfriendly. #1 – All the carbs in the macaroni! But we can get around that. We've done it before. #2 was a bit harder. The fat. Ohhhhhh the fat.
So I thought on it and had resolved in the next week or so to figure it out and that's when fate stepped in. It all started with this baby: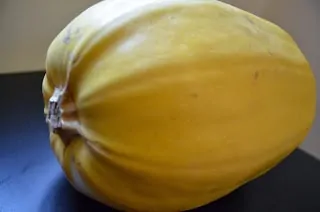 Yes, a spaghetti squash. Now originally I was going to do this dish with cauliflower, in the same manner as my cheesy mashed cauliflower but this squash literally called my name from the middle of the farmers market. (It really did. It said, "Niiiiiiiikkkkkiiiii…Come take me home!"). Plus I've heard from a few of you that you like the
faux mac 'n cheese
concept but just don't like cauliflower so I figured I'd use something different.
Now…let's talk indulgence. Because the way I made this is indulgent. But it doesn't have to be! I am going to go over some substitutions you can make if you wish. But this is a good example of why
I do not give nutritional information for my recipes
. With so many variables, you need to be on top of what goes in your own food!
So here goes…
Nik's Lobster Faux-Mac 'n Cheese

Ingredients:
The yield of one small spaghetti squash (The one pictured above would be considered large. Here's how I normally cook my spaghetti squash.)
4 – 6 oz. lobster meat (I used four 4 oz. lobster tails – they were on BOGO at the supermarket. If you don't want to use lobster, for the look of this, imitation crab meat will work OR you can go with a different protein entirely, just make sure to cook it first!)
Half a lemon
2 tbsp. butter (You can use a lower-cal butter substitute if you like)
2 tbsp. low-carb baking mix (I used Big Train pancake and waffle mix, which is essentially the same thing. Click that link to check it out but you can also use a store-bought brand or, if you are comfortable with it, regular flour)
1.5 c. milk (whatever kind you use, although I would not use almond and I'll explain why in a moment)
1.5 c. very sharp cheese (I used Cabot Extra Sharp Cheddar), divided in half
1.5 c. any other kind of less sharp cheese you like (I used Italian blend shredded, which included mozzarella, asiago, provolone, fontina and romano cheeses), divided in half
Optional: 4 slices of pork bacon, cooked
Salt, pepper and any other spices you like (I used garlic powder, onion powder and Old Bay Seafood Seasoning)
Directions:
Preheat your oven to 350 degrees.
Cook your squash until it is tender enough to be pierced with a fork (NOTE: Many of you have your own ways of making spaghetti squash and if you do, that's great! Go with what you know!).
Meanwhile if you're using raw lobster tails, use a pair of kitchen scissors to cut the shell all the way down to the end tail. From there I squeezed some lemon into the tails.
Put about an inch of water in a deep pan and throw the remnants of your lemon in there. Once the water comes to a boil, use a steamer basket to steam the lobster (It takes about 5 – 7 minutes. Lobster will go from dark in color to bright orange and the meat will pull away from the shell). NOTE: If you have a favorite way of cooking lobster, again, go with what you know! Just make sure it gets cooked!
Remove lobster from the shell and cut into small pieces and set aside.
In a pan set over medium heat, melt the butter, then whisk in your low-carb baking mix or flour until full incorporated into the butter. Add milk and allow it to come to a slow boil (just bubbling). Whisk so that the flour doesn't stick to the bottom of the pan.
Add one cup of each kind of cheese and keep whisking. Drop the heat to medium-low. Your cheese will first become gritty, but eventually it should get smoother (although if using real cheese from a block, as I did, it may not melt completely). Be sure to whisk as you go so that the cheese sauce does not burn or stick to the pan! Add desired seasonings to the cheese sauce.
Once cheese sauce is finished, empty it into the bowl of spaghetti squash and stir well!
Add the lobster pieces, crumble the bacon (if using) and stir again.
Transfer to an 8 x 8 casserole dish (or
ramekins
work well…I'd say this recipe would make 6-8 of them though!) and top with remaining cheese (I put extra Parmesan on mine). Bake at 350 for 30 minutes or until cheese is melted and the desired shade of golden or brown that you like.
I invited my bestie over to try this with me. He is also six years post-op. We both enjoyed this a lot! My ONLY critique is that spaghetti squash has a natural sweetness to it that can be difficult to play down (and lobster is also slightly sweet. This is why I said don't use almond milk. Even the unflavored variety would add more sweetness to the dynamic!).
My original instinct was to go with all sharp cheese but I thought it might be too much so I backed down at the last minute. When I do this dish again, I'll go with that instinct as the sweetness of the squash can stand up to the sharpness of the cheese (and maybe even buttermilk instead of regular milk for the cheese sauce). Either that or you can use cauliflower rice, which is flavor neutral.
But other than that I really liked this! It's like seafood comfort food! I couldn't eat much of it. Had it not been for the size of the squash, I wouldn't have made so much of it! But I've notified my family and friends of this and they all seem to be of the mind that free lobster is something you don't turn down so I have faith that I won't have too many leftovers of this one.
Welp, Foodies, I do believe that is my last recipe of 2013! I'm going to post a "Year in Review" (hopefully) on New Years Eve so we can remember all the yumminess of this year.
Until then…play with your food!